August ended on a negative note for Wall Street, with the Dow, S&P 500, and Nasdaq Composite all experiencing declines. This poor performance was fueled by concerns over inflation and the possibility of future interest rate hikes. Despite these headwinds, there are still several large-cap stocks with strong momentum to consider for September. Here are our top picks:
Cooling Economy and Resilient Consumers Give Hope
Economic data released recently indicates that the economy is cooling, with job growth and consumer confidence showing signs of decline. However, personal consumption expenditure remains strong, suggesting that a near-term recession is unlikely.
Our Top Picks
We have identified five large-cap stocks with positive earnings estimate revisions in the last 30 days. Each of our picks has a Zacks Rank #1 (Strong Buy) and a high Momentum Score. Here are our top five picks:
NVIDIA Corp. (NVDA): NVIDIA is a leader in AI-based solutions and has seen strong revenue and earnings growth.
Workday Inc. (WDAY): Workday's cloud-based business model and emphasis on AI integration make it a solid choice.
Amazon.com Inc. (AMZN): Amazon benefits from a strong AWS services portfolio and expanding content offerings.
Super Micro Computer Inc. (SMCI): Super Micro Computer designs and sells energy-efficient server solutions.
Splunk Inc. (SPLK): Splunk has experienced significant customer growth and has partnered with Microsoft to enhance its product portfolio.
For more details, including the price performance of our top picks, see the chart below: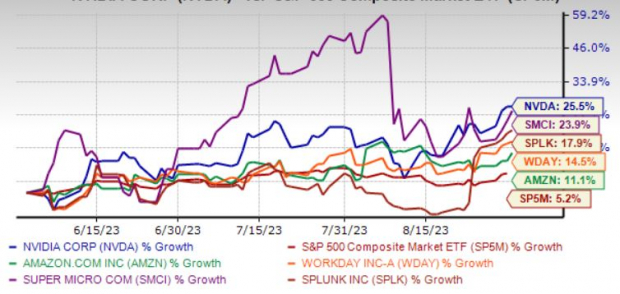 Image Source: Zacks Investment Research
Each of these stocks has strong potential for the remainder of 2023 and has received positive earnings estimate revisions in the last 30 days.