Louisiana-Pacific Corporation, popularly known as LP Building Solutions (LP), has extended its distribution partnership with BlueLinx Holdings Inc. (BXC).
Under this partnership extension, BlueLinx's Seattle and Spokane, WA branches will distribute LP SmartSide Trim & Siding and LP SmartSide ExpertFinish Trim & Siding. Additionally, BlueLinx will also distribute LP's SmartSide Trim & Siding through its Gulfport, MS unit.
This extension expands upon the previous distribution partnership, now including the Southeast region's Jacksonville, Tampa, and Lakeland.
Robust Stock Performance Amidst Industry Growth
LP's performance has outpaced the Zacks Building Products – Wood industry in the past three months, reflecting its strong position within the market. This trend is projected to continue as LP focuses on its Siding business, cost containment measures, and enhancing shareholders' value.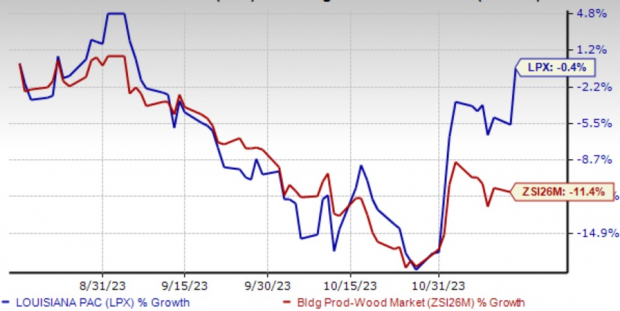 Image Source: Zacks Investment Research
LP has been strategically increasing the penetration of Siding products in repair/remodeling while rolling out innovative SmartSide products. The company's decision to exit the fiber product line in favor of higher-margin SmartSide strand products has proven advantageous. LP also launched ExpertFinish within the Prefinish product line to further strengthen its market presence.
The company has been experiencing a surge in demand for Smooth SmartSide and ExpertFinish products. Moreover, LP recently announced the expansion of its Siding Capacity by restarting productions at Peace Valley.
Zacks Rank Insights
Currently, LP holds a Zacks Rank #3 (Hold), showcasing stability and positioned for potential growth in the future.
Insight Into BlueLinx
BlueLinx holds the distinction of being the largest wholesale distributor of residential and commercial building products in the United States. Despite an expected negative earnings growth rate for 2023, the forecast for 2024 reflects a positive growth rate of 28.3% year over year. Additionally, the company has exceeded earnings expectations, with an average surprise of 1.7% as a Zacks Rank #3 entity over the past four quarters.
Promising Investment Considerations
In the thriving Construction sector, investors might find value in exploring the potential of companies such as Willdan Group, Inc. (WLDN) and Sterling Infrastructure, Inc. (STRL).
Willdan Group is a reputable nationwide provider of professional, technical, and consulting services to utilities, government agencies, and private industry, with an expected earnings growth rate of 50% for 2023. WLDN currently carries a Zacks Rank #2 (Buy).
Sterling Infrastructure, with a Zacks Rank #2, offers transportation, e-infrastructure, and building solutions, coupled with an anticipated earnings growth rate of 32.3% for 2023.
Intriguingly, Zacks experts have identified 5 Stocks Set to Double, each representing an exceptional investment opportunity projected to gain +100% or more in 2023. With previous recommendations soaring +143.0%, +175.9%, +498.3%, and +673.0%, these handpicked stocks promise significant growth potential, presenting a unique opportunity for astute investors.
If you're interested in exploring these opportunities, you can access the complete list of today's Zacks #1 Rank (Strong Buy) stocks.
You may also opt to download 7 Best Stocks for the Next 30 Days directly from Zacks Investment Research, providing a comprehensive overview of the latest recommendations.
For more detailed insights and information on the companies mentioned, you can access their respective Free Stock Analysis Reports below:
Louisiana-Pacific Corporation (LPX) : Free Stock Analysis Report
BlueLinx Holdings Inc. (BXC) : Free Stock Analysis Report
Willdan Group, Inc. (WLDN) : Free Stock Analysis Report
Sterling Infrastructure, Inc. (STRL) : Free Stock Analysis Report
Gain access to the complete article on Zacks.com by clicking on the following link.
The views and opinions expressed herein are the views and opinions of the author and do not necessarily reflect those of Nasdaq, Inc.