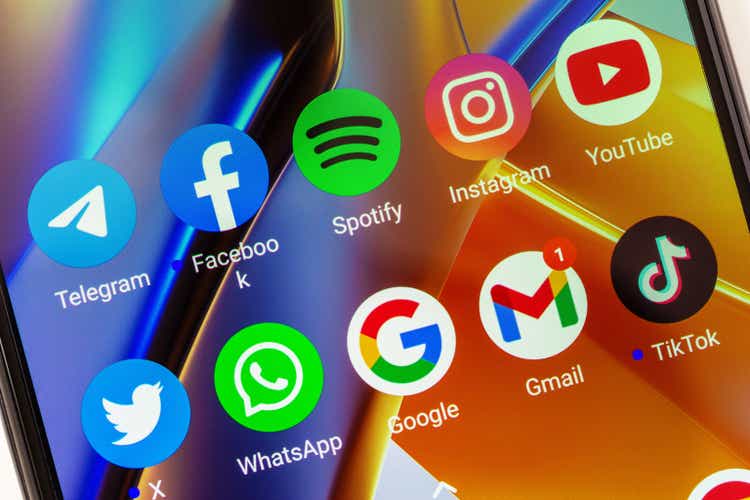 According to Wedbush Securities, Alphabet (NASDAQ: GOOG) (NASDAQ: GOOGL) and Meta Platforms (NASDAQ: META) are "well positioned" to benefit from the growing digital advertising industry, as mentioned ahead of their respective third-quarter results. Analyst Dan Ives, who maintains outperform ratings for both Alphabet and Meta, highlights the positive outlook for digital advertising in the second half of 2023, despite ongoing macroeconomic uncertainties.
Ives points to data from research firm Magna, which reveals that digital ad growth rose to 8.7% year-over-year in the second quarter, with further growth expected. He notes that Magna's Fall 2023 Update raised the firm's outlook for 2023 U.S. digital advertising growth to 9.6% from 7.9% year-over-year. Additionally, research firm Skai's data shows a healthy backdrop for digital advertising in the third quarter, with over $9 billion in spending over the past five quarters.
Skai's data also indicates a 35% year-over-year growth in retail media spending, 5-6% growth in paid search (up from last quarter's 3%), and a 3% year-over-year decline in paid social spending, an improvement from the previous quarter's 4% decline, which bodes well for both Meta and Pinterest (NASDAQ: PINS). Wedbush currently has a neutral rating on Pinterest.
Ives further explains that rising ad prices and the absence of price pressure seen last year and in the first half of 2023 should benefit Meta and the social channel in the upcoming quarters. While the data from Skai is more positive for retail media and search, Ives believes that underlying social trends are improving sequentially, highlighting the mix dynamics that limit the correlation between Skai's data and the broader social segment.
Looking specifically at Alphabet, Ives predicts that the company will benefit not only from continued ad growth but also from its focus on operating expenses and the pace of capital spending. Recent reports of layoffs in various divisions, including Google News, Verily, and Waymo, demonstrate Alphabet's commitment to sustaining operating margins around 28-29% through 2025. Ives emphasizes Alphabet's investments in AI, retail, and YouTube, projecting robust free cash flow generation (30.4% FCF margin through FY23, increasing to 34.6% by 2025).
Alphabet is scheduled to release its results on October 24. Analyst consensus estimates indicate the company will earn $1.45 per share on revenue of $75.76 billion.
Meta, on the other hand, has been more proactive with layoffs, undergoing three rounds of job cuts over the past year, resulting in approximately 25,000 employees being let go, compared to around 12,000 for Alphabet.
Analyst consensus estimates for Meta suggest the company will earn $3.60 per share on revenue of $33.43 billion.
More on Alphabet, Meta Platforms, etc.