Altria's (NYSE:MO) stock has experienced a slight decline in recent days following missed earnings. However, when it comes to MO stock, earnings performance should not be the determining factor. Instead, it is considered more of a "dividend play." In this article, we will delve into the company's long-term prospects and analyze whether its current yield is truly attractive.
Demographic Trends Working Against Altria
Altria has managed to maintain acceptable revenue levels by continuously increasing cigarette prices despite its existing customer base shrinking. However, demographic trends may soon push the company's revenue into an inevitable decline.
According to a recent Gallup poll conducted in July 2023, only 12% of US adults smoked cigarettes in the past week, marking a historic low in smoking trends over the past 80 years. Young adults, in particular, are less likely to be smokers, gravitating towards alternatives like vaping and marijuana.
As there are no new customers entering the pipeline, Altria's customer base will inevitably "age out." Looking at the latest data from the CDC, 14.9% of smokers are aged 45-64, while 8.3% are aged 65 and older. As the older generation passes on, there is no new generation of smokers to replace them.
These trends may already be affecting Altria's revenue numbers. In 2021, the company's revenue peaked at $21.1 billion, but recent quarters have seen a downward trend. This could be attributed to worsening economic conditions or other underlying issues.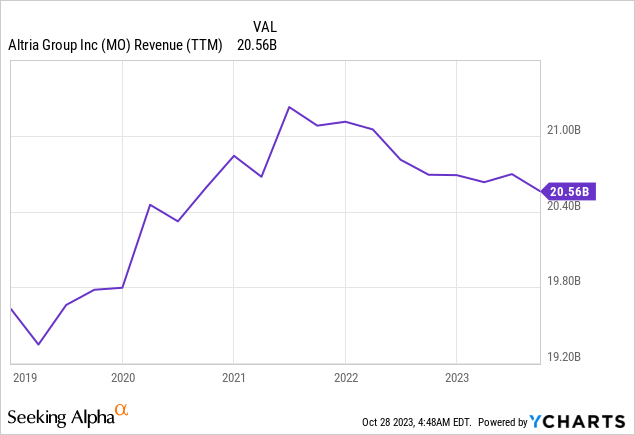 In Q3 2023, Altria's revenue dropped by 2.5% to $5.3 billion compared to the previous year. This decline was primarily driven by lower shipment volumes and higher promotional investments in the Smokeable products segment. Despite these challenges, Marlboro still maintains a dominant market share of 42.3%.
Can e-Cigarettes Save Altria?
Altria's future prospects heavily depend on its ability to establish dominance in the e-cigarette business. Vaping remains popular among young adults, surpassing cigarette smoking with an 18% usage rate. Although Americans view vaping as harmful, it is considered less harmful than cigarette smoking.
To strengthen its position in the e-cigarette market, Altria has shifted its strategy by acquiring its own e-cigarette brand, NJOY, and dumping its minority stake in JUUL. Currently, NJOY holds a 2.5% market share, while Vuse and JUUL have market shares of 41.8% and 24.7%, respectively.
Altria's logistics, supply chain, and marketing capabilities can leverage NJOY's potential for growth. The company expects NJOY's premium product, ACE, to be distributed in 70,000 stores (representing 70% of e-cigarette volume) by the end of the year.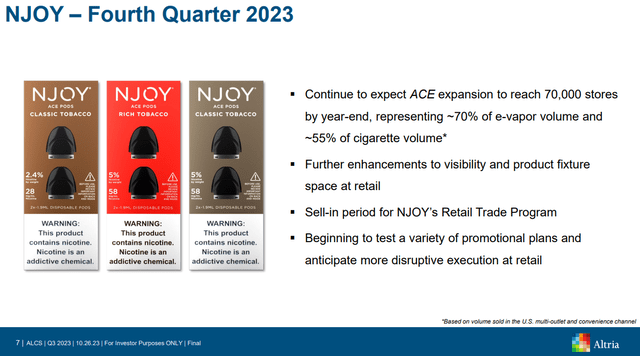 In addition to expanding NJOY's market share, Altria has filed lawsuits against other brands violating California and FDA restrictions on flavored e-cigarette products. These lawsuits aim to address the illicit e-vapor market and prompt further action from regulatory authorities.
Although NJOY has the potential to catch up, it is unlikely that Altria will dominate the vaping market as it does the traditional cigarette market.
MO Stock Yield is Not as Attractive
The sharp rise in interest rates has made investing in Altria less attractive compared to bonds, as the yield spread has significantly narrowed.
For example, from 2020 to 2021, Altria's TTM dividend yield ranged from 6.5% to 8.3%, while 10-year US Treasury yields were between 0.5% to 1.5%. From 2022 to 2023, 10-year US Treasury yields increased to 1.5% to 4%, while MO stock dividend yields ranged from 7.3% to 9%. Despite the recent drop in price, MO stock still remains relatively expensive.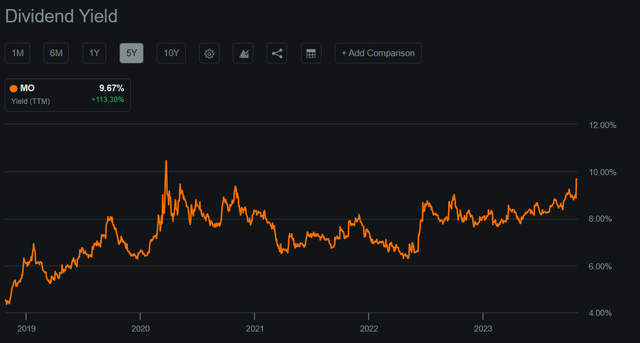 Investors are drawn to MO stock primarily for its dividend yields. The attractiveness of a dividend stock like Altria lies in its ability to sustain long-term dividend growth. However, the issues discussed above cast doubt on its potential for future growth.
Considering the risks associated with Altria's future, it is arguable that the stock should trade at a lower spread to US Treasuries. This suggests that there may still be room for further decline. In order to have a spread closer to 650 bps, MO stock would need to fall to around $30 to $31.