Introduction
Altria (NYSE:MO) recently reported its Q3 earnings, and the market's reaction has been less than favorable. The stock has experienced a significant decline, trading below $40 and hitting a new 52-week low. However, I view this as a short-term setback and an opportunity to accumulate more shares. Despite the negative sentiment, I believe Altria presents an attractive investment opportunity for those looking to collect substantial dividends. In this article, I will dive deeper into why I am confident in Altria's long-term prospects.
Earnings Disappointment
In its Q3 earnings report, Altria missed both top and bottom line estimates. Earnings per share came in at $1.28, falling short of analysts' expectations by $0.02. Revenue also missed, totaling $5.28 billion, $150 million below estimates. While this may be disappointing for investors, it's important to remember that companies experience ups and downs. Altria's narrowed full-year guidance still shows growth, and the recent acquisition of NJOY presents potential upside. As a long-term investor, I see this as an opportunity to accumulate more shares at a lower price while enjoying the significant dividends Altria offers.
The Smokeable Segment Decline
The smokeable products segment saw a decline of 5.3% in revenue due to lower shipment volume and increased promotional investments. Domestic cigarette volumes also saw a decline of 11.6% in the third quarter. While these numbers may seem concerning, it's important to note that the acquisition of NJOY is still in its early stages. The distribution of ACE, NJOY's flagship product, has already expanded significantly, positioning Altria for potential growth in the e-vapor market. Additionally, the decline in traditional smoking is being offset by the growth in oral tobacco products, providing another positive aspect for Altria's future.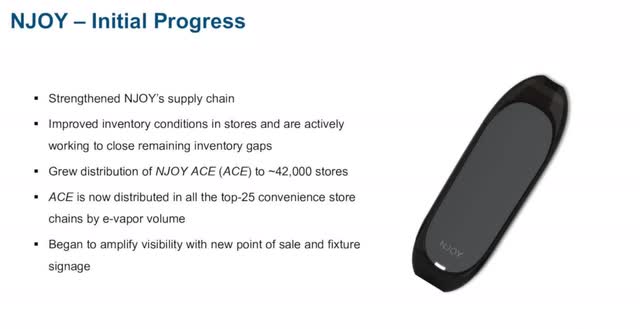 Focus On The Positives
While there are some challenges ahead, Altria has several positive factors to consider. One of these is the recent rise in adult vapers, indicating a potential shift towards healthier alternatives to traditional smoking. With NJOY's distribution expanding and more convenience store channels carrying their products, Altria stands to benefit from this trend. Furthermore, Altria continues to increase its dividend and repurchase shares, demonstrating its commitment to returning value to shareholders. The recent increase in oral tobacco growth, coupled with Altria's strong track record, make it an attractive investment despite short-term setbacks.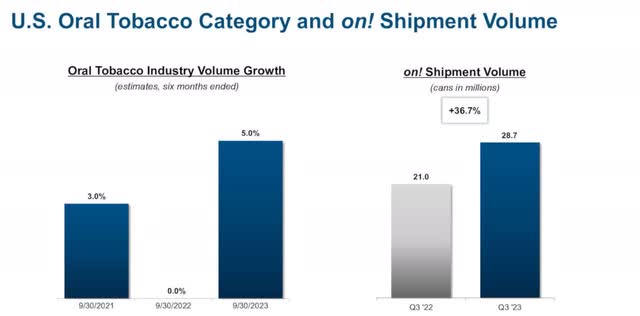 Risks
Altria does face some risks, such as the ongoing decline in cigarette volumes and the threat of illegal flavored disposable e-vapor products. Additionally, stricter tobacco laws and regulations pose challenges for the company. The flavor ban in California, for example, has created an illicit marketplace and negatively impacted revenues. Economic recessions and increased competition from discounted cigarette brands are also risks to consider. However, Altria's track record and dividend stability provide some level of reassurance. Investors should closely monitor these risks while evaluating their long-term investment strategy.
Conclusion
Despite the recent earnings disappointment, Altria remains an attractive investment for those with a long-term outlook. The company's acquisition of NJOY and its focus on oral tobacco growth present new opportunities. While challenges exist, such as declining cigarette volumes and regulatory risks, Altria's dividend history and commitment to shareholder value make it a compelling investment. As the price has dropped, I see this as an opportunity to increase my holdings and enjoy a favorable margin of safety.