Investors in Altria Group Inc. (NYSE:MO) may be in for disappointing returns as the discount segment of the company faces significant decline. In this analysis, we will explore the reasons behind this decline and why a $35 price target is justified.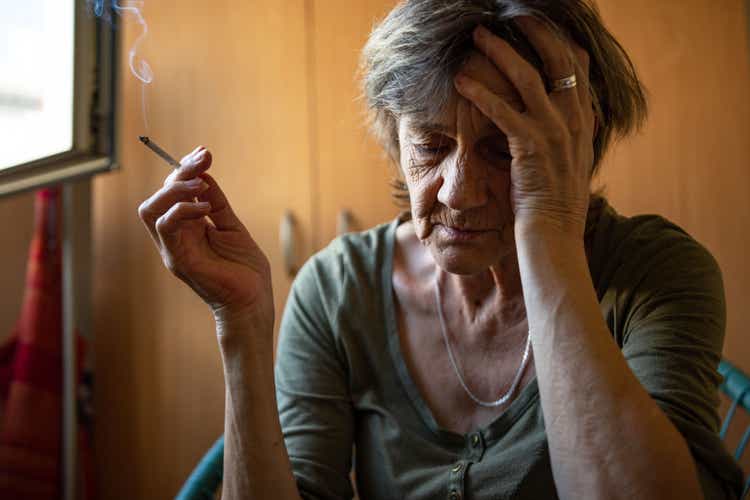 The Decline of Altria
Altria had a rare double miss in its Q3-2023 results, with both revenues and earnings per share falling short of expectations. This is concerning, considering the modest expectations from the sell-side community. The industry decline rates show no signs of abating, and Altria continues to underperform these rates quarter after quarter.
The discount segment, in particular, is experiencing a shocking decline of 28.9%. This segment's decline has been accelerating, and it may become a footnote sooner rather than later. It is clear that the market has underreacted to this news, and a target price of $35 is necessary to reach fair value.
The Factors Behind the Decline
Altria identifies several factors contributing to the decline in cigarette consumption. There is a secular decline rate of 2.5%, driven by factors such as cigarette price elasticity (revulsion to price hikes) and various other industry factors, resulting in a 4% annual decline rate.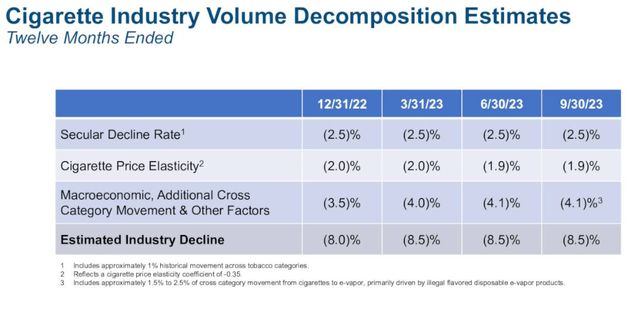 Despite these industry-wide declines, Altria continues to underperform. The discount segment has been hit the hardest, with a decline of 28.9%. Other segments also showed decline, albeit to a lesser extent. Altria's inability to mitigate the decline rates raises concerns about its long-term prospects.
The Outlook for Altria
Looking forward, Altria will face the challenge of offsetting these declines through price hikes. However, there is only so much consumers can tolerate in terms of price increases. As the decline rates continue to accelerate, reaching virtual zero cigarette volume within a decade is a distinct possibility.
While the lower stock price may benefit Altria's buyback effectiveness, the growth stories of adjunct products like IQOS and NJOY remain questionable. These growth stories do not justify investment, especially considering the laughable margins of NJOY and the delayed timeline for IQOS. Furthermore, equity investments cannot outweigh Altria's significant liabilities.
The Verdict and Price Target
The stock may appear cheap, and the dividend yield may be appealing, but the numbers speak for themselves. Investing in Altria has not been fruitful for the past five years, and the risk of reaching zero cigarette volume within a decade is a significant concern.
Therefore, the fair value for Altria is determined to be $32.50, reflecting the maximum price one should pay for the stock. We maintain a "hold/neutral" rating, as this is not a short selling opportunity but a cautionary approach. Investors should conduct their own due diligence and seek professional guidance.