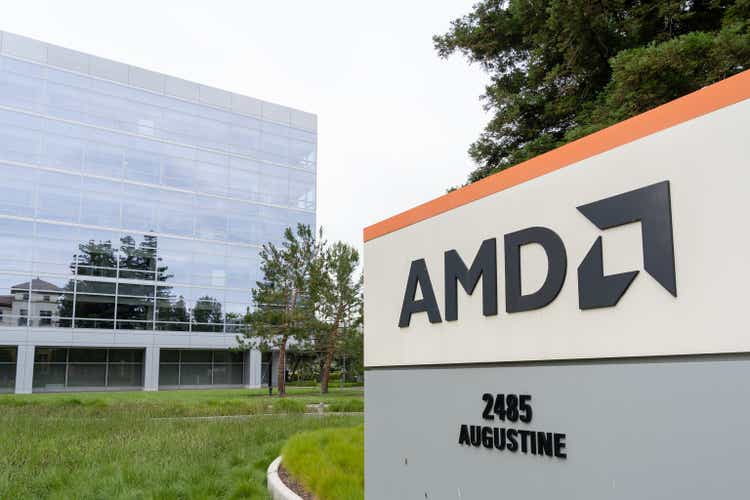 Intel's (NASDAQ:INTC) stronger-than-expected quarterly results and guidance are likely to have positive ripple effects for good portions of the semiconductor industry, including for AMD (NASDAQ:AMD).
Piper Sandler analyst Harsh Kumar said that Intel's vision that the 2023 PC market is likely at roughly 270M units and 300M in 2024 should be "good news" for AMD, given it is the only other "major participant" in the PC market. The Dr. Lisa Su-led company gets roughly 21% of its revenue from PCs.
Additionally, Intel (INTC) talked up its pipeline for artificial intelligence, including the fact that its pipeline for its Gaudi line of processors has doubled in the past 90 days. While Nvidia (NASDAQ:NVDA) is the undisputed leader when it comes to AI accelerators, Kumar said AMD's upcoming MI300 should surpass Gaudi in performance, resulting in products in the marketplace from multiple companies that AI-focused companies will want.
Intel also said that supply is a "major concern" relating AI, something Kumar said bodes well for AMD.
"In our view, this bodes well for AMD's upcoming MI300 launch and the AI space in general as demand is far ahead of supply at this time," Kumar wrote in an investor note. He has an overweight rating and $150 price target on AMD.
The Pat Gelsinger-led Intel also weighed in on the China export control update, and said that the laws are "generally meant for the high-end of training." As such, Kumar believes the new export controls will likely to impact Nvidia, AMD and Intel all to some extent.
On the more negative side, Intel (INTC) said the field programmable gate array market is "weakening" as it continues to burn down inventory. Intel's FPGA business competes with AMD's Xilinx, which Kumar said is likely to negatively impact the company's embedded segment. As such, he's forecasting a 13% sequential decline in the segment and a 10% drop in the coming quarter.
AMD (AMD) is slated to report its own third-quarter results on October 31. A consensus of analysts estimate that the company will earn 68 cents per share on $5.69B in revenue.
More on Advanced Micro Devices