In a groundbreaking move, Apple (NASDAQ:AAPL) has introduced a range of updated Mac computers, including the highly anticipated MacBook Pro models equipped with state-of-the-art M3 processors. Designed to deliver unprecedented performance and cutting-edge advancements, these new processors feature 3 nanometer technology and come with GPU upgrades, setting a new standard in the industry.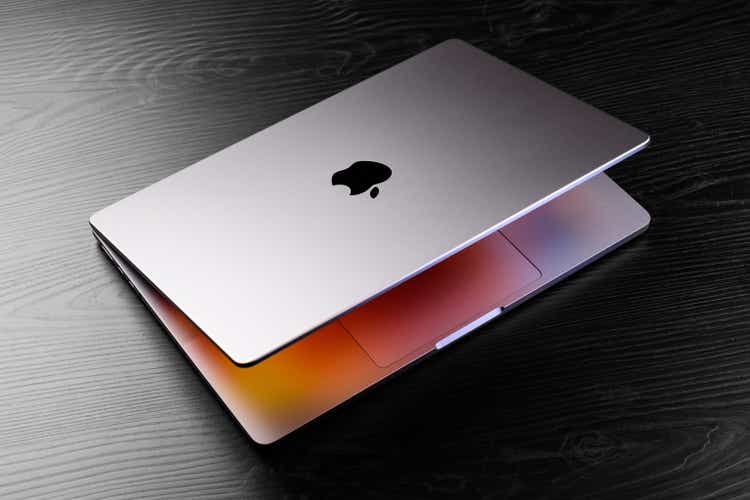 The Power of M3 Processors: Revolutionizing Mac Performance
Headed by Johny Srouji, senior vice president of Hardware Technologies, Apple's engineering team has successfully harnessed the potential of 3 nanometer technology to create the remarkable M3, M3 Pro, and M3 Max processors. These revolutionary chips not only enhance overall performance but also introduce GPU upgrades and other groundbreaking features.
Redefining Graphics with Ray Tracing
One of the most exciting capabilities of the new M3 chips is the inclusion of ray tracing. Traditionally reserved for high-end GPUs, ray tracing brings a new level of realism and visual quality to Mac users. This cutting-edge technology opens up endless possibilities for graphics-intensive applications, revolutionizing the way designers, photographers, and content creators work on their Macs.
Unmatched Processing Power: M3 Max Takes Center Stage
The pinnacle of Apple's processor technology, the M3 Max, boasts a staggering 16-core CPU, a 40-core GPU, and an astounding 128GB memory capacity. These exceptional specs allow for unparalleled performance and efficiency, enabling smooth multitasking, resource-intensive tasks, and seamless execution of complex workflows. With an impressive 92 billion transistors, the M3 Max outshines its predecessors and sets new standards in the realm of computing power.
MacBook Pro: The Epitome of Cutting-Edge Innovation
The highly anticipated 14-inch and 16-inch MacBook Pro models have finally arrived, equipped with the groundbreaking M3 processors. These sleek and stylish laptops are not only powerhouses in terms of performance but also deliver exceptional battery life and an immersive user experience. Let's delve into the key features of these impressive machines:
14-inch MacBook Pro: The Perfect Balance
The 14-inch MacBook Pro, powered by the M3 chip, offers an astounding 60% increase in performance compared to the 13-inch MacBook Pro with the M1 chip. This compact yet powerful laptop is designed for efficiency and portability without compromising on power. With its unprecedented processing capabilities and 22-hour battery life, the 14-inch MacBook Pro is the perfect companion for professionals on the go.
16-inch MacBook Pro: Unleash Your Creativity
For those who demand even more power and screen real estate, the 16-inch MacBook Pro is available with either the M3 Pro or M3 Max chips. This flagship model offers an impressive 40% increase in performance compared to its 14-inch counterpart. With its larger display, 128GB of unified memory, and exceptional processing capabilities, the 16-inch MacBook Pro is the ultimate machine for content creators, developers, and professionals seeking unparalleled performance.
Pricing, Availability, and Exciting Additions
Apple has carefully considered the needs and preferences of its users when it comes to pricing, colors, and availability. Here are the key details:
MacBook Pro Pricing and Availability:
The 14-inch MacBook Pro, with the M3 chip, starts at $1,499.
The 16-inch MacBook Pro, available with either the M3 Pro or M3 Max chips, starts at $2,499.
All MacBook Pro models are available for order starting today.
Exciting Additions: iMac and Colorful Choices
Aside from the MacBook Pro lineup, Apple has also introduced an updated version of its iMac desktop, now powered by the M3 processor. This sleek and powerful machine comes in seven vibrant colors, including green, pink, and blue, allowing users to personalize their workspace while enjoying top-tier performance. The new iMac starts at $1,299 and is available for order starting today, with shipping set to commence next week.
A Surprising Unveiling: Apple Shakes Up the Industry
Apple's decision to unveil these groundbreaking products, despite having recently announced updated Macs and showcased the highly anticipated iPhone 15, caught many industry analysts off guard. The tech giant's relentless pursuit of innovation and its commitment to providing cutting-edge technology to its users demonstrate its unrivaled position in the market.
Looking Ahead: Apple's Upcoming Fiscal Fourth-Quarter Results
As we eagerly await the future of Apple's innovative product lineup, it's worth noting that the tech giant is scheduled to report its fiscal fourth-quarter results on November 2. Analysts expect a consensus of $1.39 per share in earnings on $89.37 billion in revenue.
This breaking news is set to reshape the world of computing and solidify Apple's position as a leader in the field. Stay tuned for more updates as Apple continues to push the boundaries of technology and redefine what is possible.