Applied Industrial Technologies (AIT) is a leading industrial distributor that supplies essential components, equipment, and value-added services to various industries, including manufacturing and utilities. With an extensive network of suppliers and locations, AIT offers customers access to a wide range of products, such as bearings, power transmission components, fluid power components, and industrial supplies.
Currently holding a Zacks Rank #1 (Strong Buy) rating, Applied Industrial Technologies has a track record of upward trending earnings revisions, indicating a positive outlook for the stock. Moreover, AIT has consistently delivered impressive long-term returns.
Over the past 25 years, Applied Industrial Technologies stock has achieved an annual compounded growth rate of 16.2%, double the average annual return of the S&P 500. This strong performance has resulted in significant total returns for investors.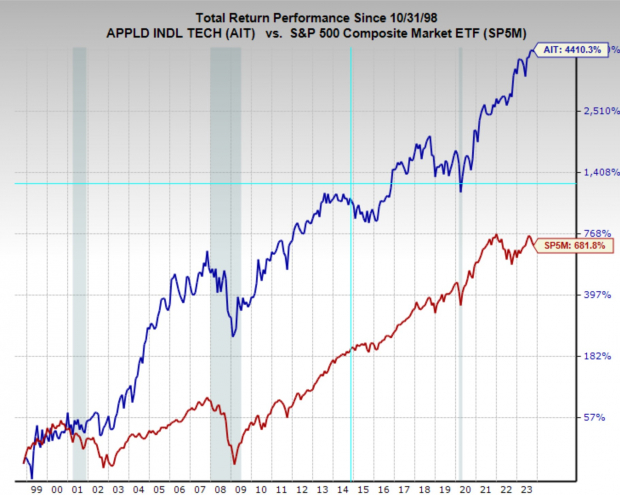 Image Source: Zacks Investment Research
Earnings Estimates on the Rise
Applied Industrial Technologies' earnings estimates have been consistently increasing over the past three years, accompanied by a rise in the stock price.
In the last two months, current quarter earnings estimates have been revised higher by 0.5%, with a projected year-over-year growth of 5.1% to $2.07 per share. Furthermore, fiscal year 2023 earnings estimates have increased by 1.3% and are forecasted to grow 4.3% year-over-year to $9.13 per share.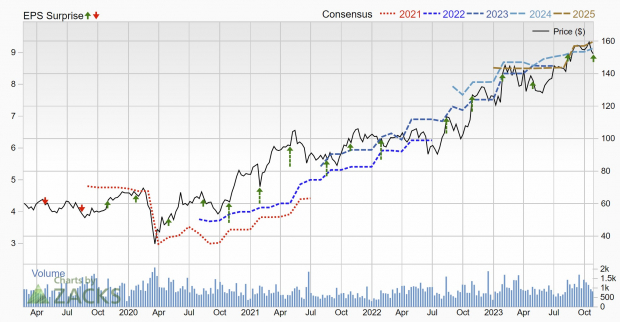 Image Source: Zacks Investment Research
Strong Free Cash Flow and Financial Discipline
Applied Industrial Technologies boasts a compelling free cash flow (FCF) yield of 5.3%, surpassing the industry average of 3.5%. This signifies the company's robust financial performance. Additionally, AIT has consistently generated positive free cash flow, demonstrating its commitment to financial discipline. The company has achieved a compound annual growth rate of 12.5% in annual FCF.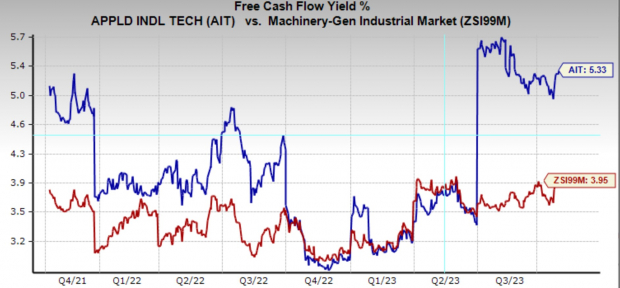 Image Source: Zacks Investment Research
Impressive Relative Strength
Despite a challenging and volatile market, Applied Industrial Technologies displays considerable relative strength compared to the broad market. While the S&P 500 and other leading stocks have been trading sideways or lower since mid-summer, AIT has demonstrated resilience and has outperformed the market by nearly 20% during that period.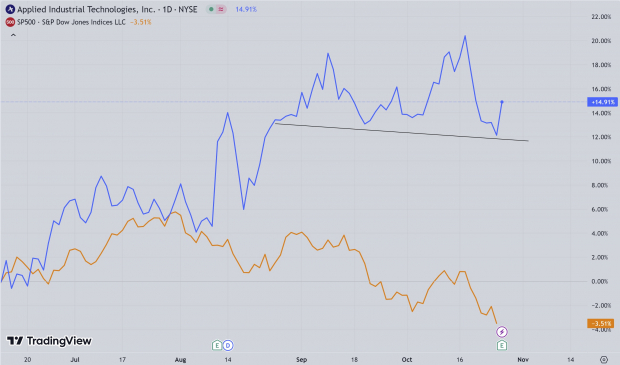 Image Source: TradingView
Attractive Valuation and Dividend Yield
Applied Industrial Technologies is currently trading at a forward earnings multiple of 16.7x, below the industry average and in line with its 10-year median. Moreover, the company offers a dividend yield of 0.9%, with an average annual increase of 3.1% over the past five years.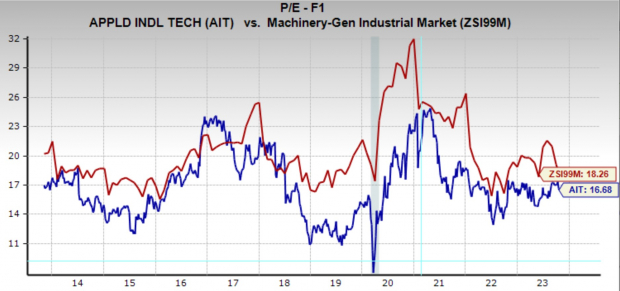 Image Source: Zacks Investment Research
Conclusion
Applied Industrial Technologies has a strong history of earnings growth and is positioned as a reliable investment option. With proven industry leadership, positive earnings estimates, solid free cash flow, and attractive relative strength, AIT offers investors the potential for long-term capital appreciation. Furthermore, the stock's valuation and dividend yield make it an enticing choice in the industrial distribution sector.
"Applied Industrial Technologies is an incredibly durable company with a very long history of earnings growth. Since 1994 it has increased its EPS from $0.34 per share to $8.75, an incredible compound annual growth rate of 11.9%. Because it creates products that have been, and will continue to be used for many decades, the earnings growth can be expected to persist."