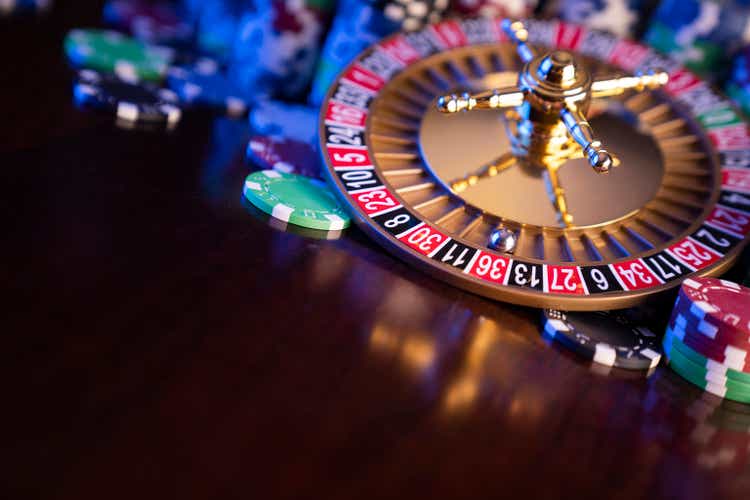 Dear subscribers,
Over the past few months, I have been consistently increasing my stake in VICI Properties (NYSE:VICI). Recently, when the share price briefly dropped below $30/share, I saw an even more compelling opportunity to invest in this company.
I believe it is important to provide an update on VICI Properties and explain why I expect double-digit earnings growth and potential multiple expansions for this stock.
Let's dive into the reasons why VICI Properties is a great choice for investment.
Working with VICI and its Upside
Since its initial public offering, VICI Properties has shown attractive valuation levels, trading at around 12-15x Price/FFO. The company has transitioned from a junk-rated to an investment-grade-rated company, currently rated at BBB-. It offers a dividend yield of 5.14% and has demonstrated a strong track record in both high and low share price movements.
Even during the COVID-19 decline, investing in VICI Properties would have provided significant returns. Those who purchased the stock in 2018 would have achieved a return on investment of approximately 11.8%, outperforming the market.
VICI Properties owns 50 properties and 4 golf courses, with 80% of its revenue coming from publicly traded tenants. The company boasts a 100% occupancy rate and an average weighted lease of 41.8 years, offering stable and long-term returns. Additionally, 96% of the company's leases are inflation-protected, providing further security and potential for growth.
The company has a successful history of capital allocation, having invested in over $30 billion worth of assets and raised $21 billion in equity proceeds. VICI Properties continues to expand its portfolio, with plans to invest in additional experiential properties in various sectors, including the wellness sector.
Despite its concentration on a few major tenants, VICI Properties' assets are considered mission-critical and have demonstrated resilience even during economic downturns. The company owns some of the world's most renowned casinos, making it an attractive investment option.
Analysts are optimistic about VICI Properties, with 19 out of 20 analysts rating it as a "BUY" and an average price target of $37.84, indicating a potential upside of 23.5%.
Investment Thesis
VICI Properties, as a leader in experiential triple-net lease REITs, offers solid fundamentals, competent management, an appealing yield, and significant upside potential.
Considering these factors, only a decline in fundamentals or substantial overvaluation would change my positive outlook on this stock.
Based on conservative estimates, I project a price target of at least $38/share for VICI Properties, with a double-digit upside.
Therefore, I recommend a "BUY" stance on this stock and I am personally adding shares to my portfolio.
Keep in mind, my investment approach involves buying undervalued companies, capitalizing on their potential growth, and continuously diversifying my portfolio. VICI Properties meets all of my investment criteria, except for its current cheapness, and has the potential to outperform over time.
With its strong management team and favorable market conditions, VICI Properties presents an excellent investment opportunity.
Thank you for your continued support.