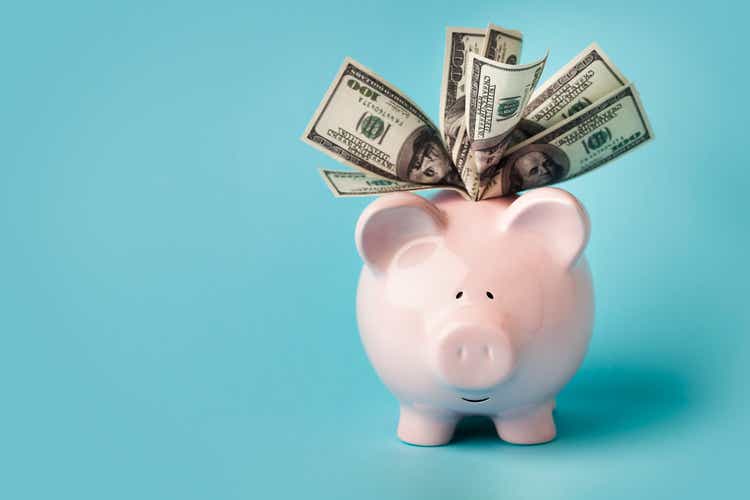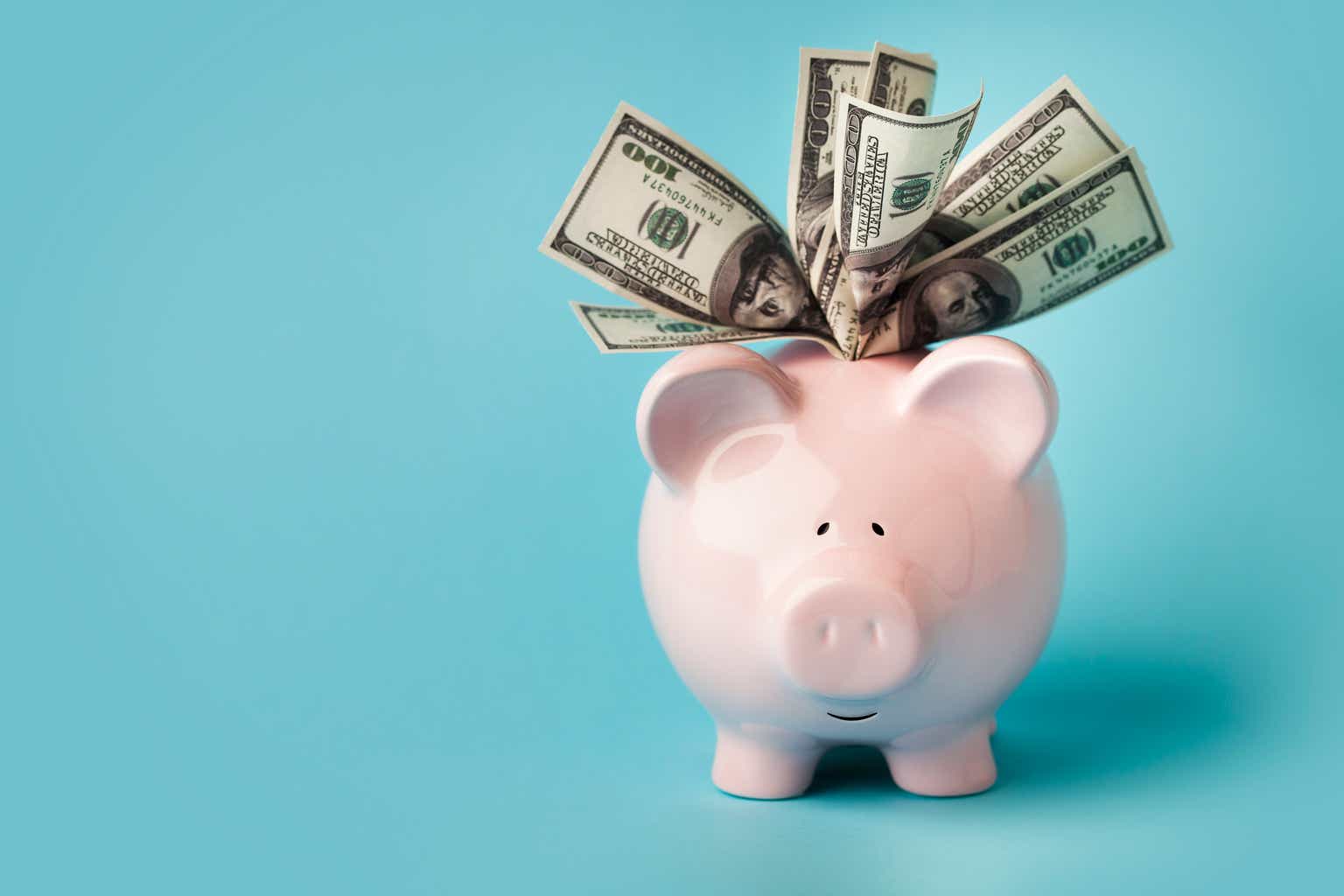 Barrick Gold (NYSE:GOLD) is a leading global mining stock that we last covered back in June. In that article, we emphasized that GOLD was a good buy on the dip in its stock price due to its growing exposure to copper, our bullish long-term outlook for gold, and the discounted valuation of GOLD.
Since then, the stock is up slightly, but over the long-term GOLD stock has generated abysmal performance, significantly underperforming the broader mining sector (GDX) and Gold (GLD) by a wide margin:
As a result, many investors write off GOLD as an investment. However, we believe that there are four reasons why it is a great buy right now in spite of its poor track record. In this article, we will highlight these, which add further color to our original thesis on the stock, particularly its dramatically improved balance sheet and the improved interest rate outlook for the economy since our last article, which sets gold up for a potentially exciting move higher in the near future.
Unlocking Hidden Potential
One big reason why GOLD has a much brighter future today is because its balance sheet is in much stronger shape today than it has been in years past. As you can see in the chart below, GOLD's crashing stock price coincided with its massive spike in debt to equity back in the early 2010s. GOLD aggressively leveraged up as it paid up for assets in an attempt to increase its production during a period of very high gold prices. However, once the gold price crashed, GOLD's business was put in danger of insolvency as its debt burden weighed heavily on it while its profitability plunged.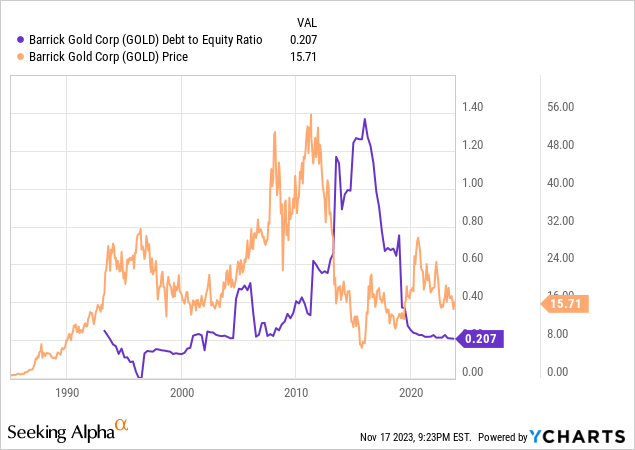 However, since then GOLD has worked hard to sell off non-core assets and pay down its debt aggressively. Today, it is under new management and has a very clean balance sheet that gives it much greater flexibility to be able to weather gold price volatility while also investing opportunistically in organic growth, stock buybacks, and/or M&A depending on the availability of attractive deals. As a result, GOLD's risk profile is much lower today than it has been historically.
Cashing in on Copper
Another reason to be increasingly bullish on GOLD stock right now is that the company in recent years has put a much greater emphasis on building its copper business. Moreover, in the coming years, copper will become an increasingly important part of GOLD's overall production profile. This is important because we believe that copper has a very bright long-term outlook.
Goldman Sachs forecasts a meaningful jump in copper prices in the coming years due to an existing supply deficit and strong anticipated demand growth due to electrification (electrifying the grid and electric vehicle growth) that will further exacerbate the problem. As a result, there is a great need for significant investment in copper, which bodes well for GOLD's aggressive investments in growing its own copper production.
Golden Future for GOLD
While GOLD's copper story is exciting, its dominant earnings generator is still gold, and – barring some major copper mine acquisitions – it will remain so for the foreseeable future. As a result, GOLD's intrinsic value hinges more on the future direction of the price of gold than on any other factor.
In our view, gold prices are poised for a significant increase in the near future due to three key factors:
First, central banks, particularly in BRICS nations, have been aggressively purchasing gold, moving away from the U.S. dollar to support their currencies, thereby increasing their demand for gold.
Second, escalating geopolitical tensions in regions like Eastern Europe, the Middle East, and the Far East, including potential conflicts involving major powers like Russia, China, and the United States, are elevating gold's status as a safe-haven asset.
Finally, the increasing likelihood that the Federal Reserve is finished raising interest rates – with potential cuts expected by mid-2024 – historically aligns with strong moves higher in gold prices. These factors together create a bullish environment for gold, suggesting a potential major move higher in the near future.
Unlocking Golden Value
Last, but not least, GOLD stock appears to be deeply undervalued. In an industry where its blue-chip gold mining peers trade in line with or even at a substantial premium to NAV, GOLD trades at a 10% discount to its NAV. Moreover, its EV/EBITDA multiple of 5.5x is well below its historical average of ~7x and its P/E ratio of 13.4x also stands at a steep discount to its historical average of 18.1x.
Seizing the Opportunity
Despite GOLD stock's historical underperformance, its current prospects make it an attractive investment. The company's balance sheet has been significantly strengthened, reducing its financial risk while increasing its capacity to invest opportunistically to create value for shareholders. The strategic shift towards copper, with its promising long-term outlook, positions GOLD well for future growth. Moreover, the bullish outlook for gold, driven by central bank buying, geopolitical tensions, and favorable interest rate dynamics, favors GOLD's primary business. Finally, the stock's current valuation, trading at a discount to NAV and below historical EV/EBITDA and P/E averages, suggests that GOLD is undervalued, offering a potentially lucrative opportunity for investors.
As a result, we believe that the risk-reward for GOLD right now is arguably more attractive than it has ever been and we are buying it hand-over-fist.