Avoiding troubles in the real estate market has been a challenge, even for the largest commercial real estate services company in the world, CBRE Group (CBRE). Headquartered in Dallas, Texas, CBRE offers a wide range of services including property management, investment management, and appraisal. Despite its position as a service provider rather than an investor, CBRE has been impacted by the issues in the industry.
Due to consistent earnings estimate downgrades, CBRE Group has received a Zacks Rank #5 (Strong Sell) rating. Until there is a reversal in earnings revisions or the commercial real estate market stabilizes, it is advisable for investors to steer clear of CBRE.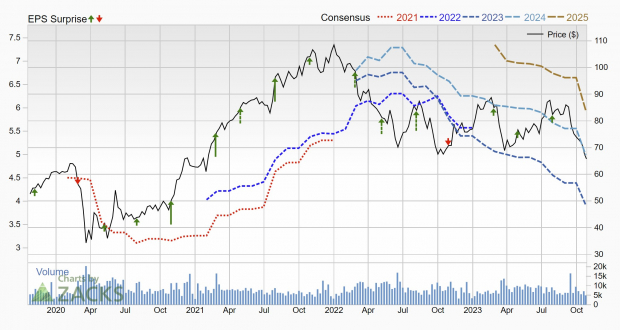 Image Source: Zacks Investment Research
Earnings Estimates
Analysts have unanimously downgraded CBRE Group's stock, with significant downward revisions in the current quarter. Earnings estimates for the current quarter have been lowered by 18.8%, projecting a year-over-year decline of 42.5% to $0.65 per share. FY23 earnings estimates have also been revised lower by 10.7%, with a projected YoY decline of 31.1% to $3.92 per share.
Sales growth, however, is expected to remain positive. The current quarter is projected to see a 1.35% YoY growth to $7.6 billion, and FY23 is estimated to grow by 2.2% to $31.5 billion.


Image Source: Zacks Investment Research
Technical Breakdown
CBRE Group's stock chart confirms the bearish outlook. After a year of trading lower and a period of wide consolidation, the stock price has dipped below the key support level of $66.50. If CBRE fails to hold above this level and closes the week and month below it, it could indicate further downside.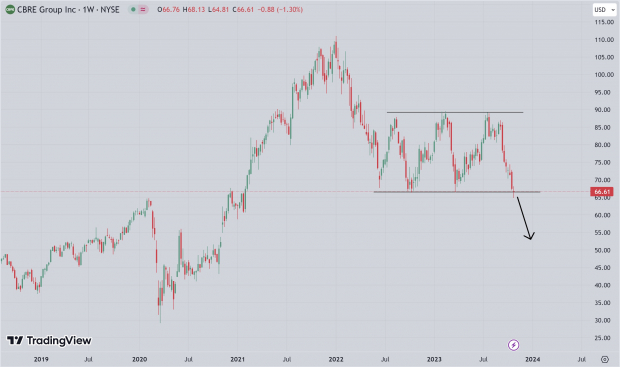 Image Source: TradingView
Bottom Line
Although CBRE Group is likely to eventually recover from the current downtrend in stock price and earnings estimates, a catalyst or event may be necessary to initiate the turnaround. In the meantime, with high interest rates affecting the real estate market, CBRE will need to remain vigilant to navigate this challenging environment.
4 Oil Stocks with Massive Upsides
Global demand for oil is soaring, and oil producers are struggling to keep up. Despite oil prices being off their recent highs, there are opportunities for substantial profits in the companies that supply the world with oil.
Zacks Investment Research has released a special report, Oil Market on Fire, which identifies 4 unexpected oil and gas stocks with huge potential for gains in the coming weeks and months. Don't miss out on these recommendations.
Download your free report now to see them.
Want the latest recommendations from Zacks Investment Research? Today, you can download 7 Best Stocks for the Next 30 Days. Click to get this free report
Read the full article on Zacks.com
The views and opinions expressed herein are the views and opinions of the author and do not necessarily reflect those of Nasdaq, Inc.