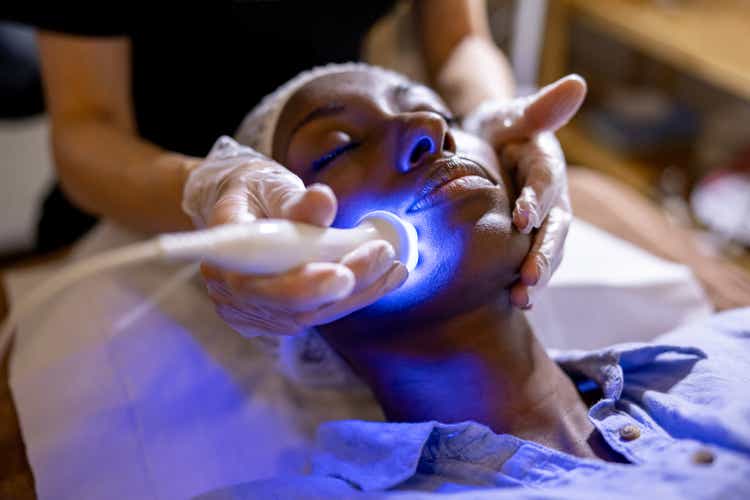 The Beauty Health Company, traded as NASDAQ:SKIN, witnessed a significant decline of approximately 38% in after-hours trading on Monday. The downturn followed the company's downward adjustment of its fiscal 2023 net sales guidance, attributing it to lower-than-expected U.S. revenue and restructuring charges associated with device upgrades.
Adding to the turbulence, the skin care company announced the suspension of its long-term 2025 financial outlook. Moreover, CEO Andrew Stanleick is set to depart from the company on Nov 19, further contributing to the ongoing changes within the organization.
Revised projections now place Beauty Health's net sales guidance for 2023 in the range of $385M to $400M, notably lower than the consensus estimate of $461.3M. The company highlighted that the adjustment in the 2023 guidance is partly due to incurring $63.1M in restructuring charges related to device upgrades of early-generation Syndeo devices.
Providing more context, it was revealed that the decline in the Americas market significantly impacted the company's overall performance, where net sales reduced to $51.7M from $58.4M, unlike the positive year-over-year growth witnessed in Europe and EMEA during Q3. Notably, the total delivery systems sold also saw a decline year over year in the Americas, in sharp contrast to the significant rise in Europe and EMEA.
Additionally, Beauty Health (SKIN) disclosed its delay in filing the 10Q quarterly report, presumably amidst the organizational shifts and financial adjustments. The company's performance in Q3 fell short on multiple fronts, reflecting the challenges being navigated during this period of transformation.
Exploring Further Insights into Beauty Health's Market Dynamics