Are you seeking an investment opportunity that offers superior credit quality, strong coverage, and an attractive yield? Look no further than Blackstone Secured Lending Fund (NYSE:BXSL). In this article, we will delve into the reasons why this well-managed business development company (BDC) is worth considering for investors interested in financial markets.
The recent surge in inflation rates has sparked a shift in market dynamics, and Blackstone Secured Lending, along with other BDCs that focus on floating-rate loans, could benefit from a potential rate hike in November. Let's explore why.
Superior Credit Quality and Rising Rate Environment
Blackstone Secured Lending stands out for its superior credit quality and ability to thrive in a rising-rate environment. With a portfolio consisting mainly of First Lien Senior Secured Debt and a focus on rate hikes, this BDC offers a compelling investment opportunity for passive income investors. Despite trading at net asset value, Blackstone Secured Lending is well-positioned to capitalize on the current market conditions.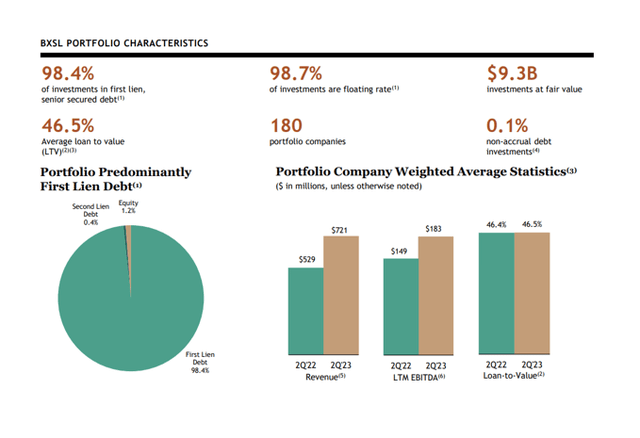 While Blackstone Secured Lending experienced a downturn in its origination business due to higher costs impacting loan demand, the recent resurgence of inflation has prompted a re-evaluation of this BDC's potential. Inflation has risen by 3.7% year-over-year in September, making a rate hike in the near future highly likely. BDCs like Blackstone Secured Lending, which have a significant exposure to floating-rate senior loans, offer cyclical net investment income plays that are attractive in this scenario.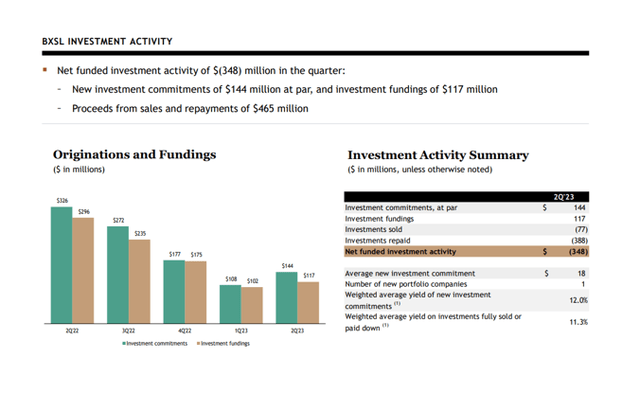 Strong Financial Position and Dividend Coverage
Blackstone Secured Lending boasts a robust financial position with $1.8 billion in liquidity as of the end of the second quarter. This substantial firepower enables the BDC to pursue new investment opportunities. Additionally, the majority of Blackstone Secured Lending's debt does not mature until June 2025, and the BDC primarily finances itself with unsecured debt and equity.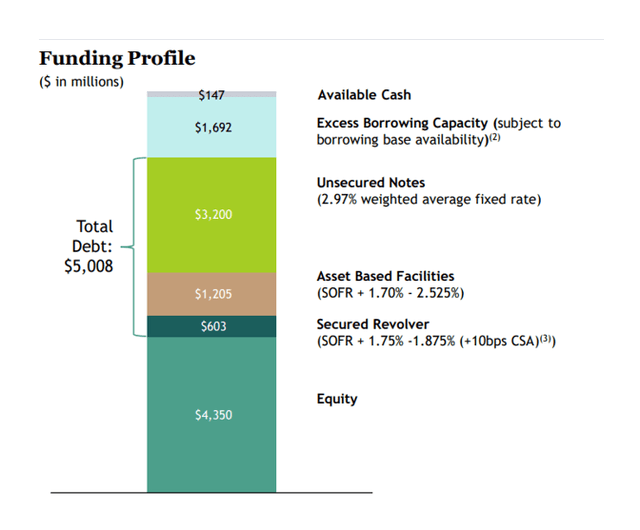 When it comes to dividend coverage, Blackstone Secured Lending shines. With a dividend payout ratio of just 70%, the BDC has ample room to sustain and potentially increase its dividend. In fact, Blackstone Secured Lending raised its dividend payout by 17% at the beginning of the year and has maintained a stable $0.70 per share dividend. Its solid financials make it an enticing option for income-focused investors.

Undervalued with Minimal Premium to Net Asset Value
Despite its strong credit quality and dividend coverage, Blackstone Secured Lending is trading at a modest 2% premium to its net asset value (NAV). Compared to other BDCs such as Oaktree Specialty Lending Corp. (OCSL), Blue Owl Capital Corporation (OBDC), Golub Capital BDC (GBDC), and Goldman Sachs BDC (GSBD), the slight premium to NAV is justified. The market recognizes the BDC's quality and relatively lower loan risks.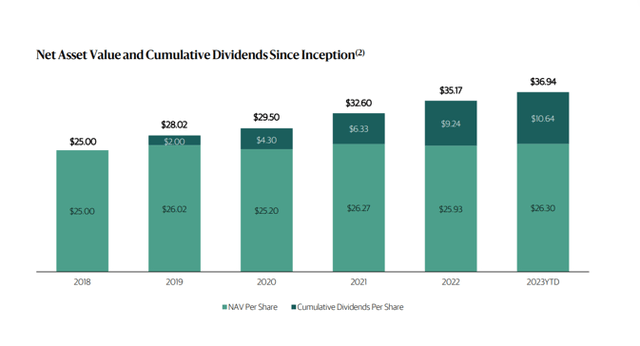 Blackstone Secured Lending has a strong chance of growing its NAV further as long as it maintains its credit quality. However, it is crucial to be aware of downside risks, including the end of the current rate-hiking cycle, an economic downturn, an increase in non-accruals, and a decline in loan originations. To mitigate these risks, overweighting BDCs like Blackstone Secured Lending, which trade at attractive discounts to NAV or have superior credit quality, is a prudent strategy.
Conclusion
In conclusion, Blackstone Secured Lending presents an appealing investment opportunity for those seeking an undervalued BDC with strong credit quality and the potential to benefit from rising inflation. With its focus on First Lien debt and excellent financial position, this BDC stands out among its peers. Despite a slight premium to NAV, Blackstone Secured Lending offers income investors an attractive yield and the promise of future growth.