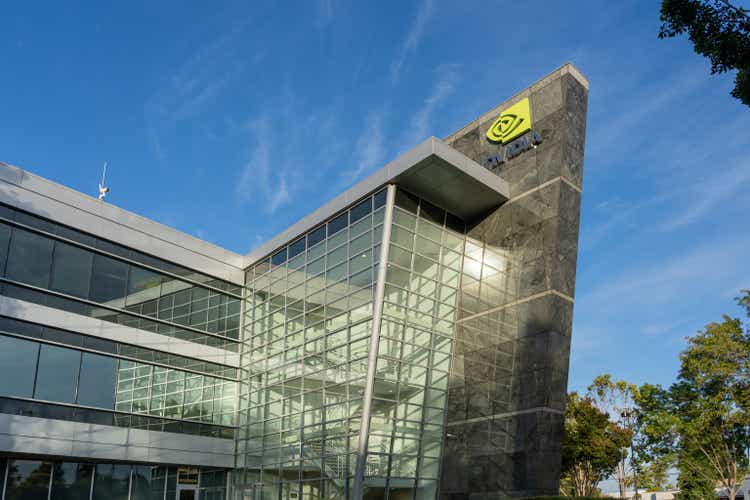 Nvidia's (NASDAQ:NVDA) shares surged in premarket trading on Wednesday, extending their impressive performance since the beginning of the month, as Citi maintains its bullish sentiment heading into the third-quarter earnings announcement.
Atif Malik, the analyst who maintains a buy rating and sets a target price of $575 for Nvidia (NVDA), revealed that buy-side projections for data center revenue in the upcoming quarters significantly surpass the Wall Street consensus. Expectations for the fiscal third-quarter range between $13.5B and $14B, with the fiscal fourth-quarter anticipated to yield between $15B and $15.5B, compared to market estimates of $12.9B and $14.7B, respectively.
In an investor note, Malik highlighted the key focal points for investors leading up to the earnings report, including the impact of US restrictions on AI chip exports to China on NVDA's data center sales outlook in fiscal 2025 and 2026. Additionally, investors are keen to gauge the sustainability of overall data center sales and monitor early indications from Gen AI applications/products, as well as NVDA's new AI hardware roadmap.
Earlier this week, Nvidia (NVDA) unveiled its latest H200 GPU along with the JUPITER supercomputer.
Malik emphasized Nvidia's brisk pace in advancing its artificial intelligence GPU roadmap, especially the accelerated cadence for new GPUs. The successor of the B100 chip, the X100, is anticipated in just one year, compared to the previous two-year interval. "If successful, we view this move by NVDA as the maneuver that will define the AI chip race for years to come," expressed Malik.
Assessing the competition, Malik acknowledged the progress made by Intel's (INTC) Gaudi and Google's (GOOG) (GOOGL) TPUs but asserted Nvidia's (NVDA) H100's leadership, particularly in larger volumes.
Furthermore, Malik highlighted the pivotal role of Nvidia's newly announced H200 AI GPU, which boasts a significant memory enhancement, aligning with expectations amidst AMD's (AMD) strategy to offer greater in-chip memory in its upcoming MI300 GPU compared to the H100.