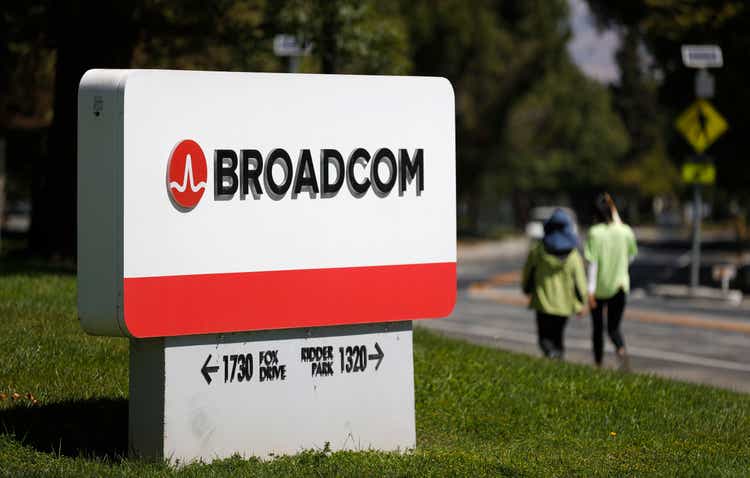 The surge in Artificial Intelligence has greatly influenced the performance of tech stocks this year, and this trend is expected to continue as companies across the board seek to embrace AI in various forms. Broadcom Inc. (NASDAQ:AVGO) has reaped the benefits of AI thanks to its popular networking solutions that cater to diverse AI applications. The growing demand for cloud data centers has further fueled the demand for Broadcom's networking products, leading to strong earnings growth in the face of macroeconomic challenges affecting the chip sector. A closer examination of Broadcom's product portfolio and industry outlook indicates significant growth potential. However, the stock's current valuation raises concerns, as it may not provide a sufficient margin of safety for new investors.
Broadcom's Promising Prospects
There are two primary reasons driving my optimistic view of Broadcom's business:
The flourishing demand for Broadcom's networking segment.
The anticipated diversification benefits from acquiring VMware, Inc. (VMW).
The networking segment delivered significant revenue growth in the last quarter, with a 20% year-over-year increase, contributing to a 5% overall revenue growth. Networking now accounts for 40% of Broadcom's semiconductor revenue, underscoring its growing importance. The surge in AI technology adoption has positively impacted Broadcom's networking business, as data centers investing in specialized GPUs and Tensor Processing Units rely on advanced networking technologies, in which Broadcom is a key supplier. Broadcom's investments in R&D, including the development of silicon technology for data centers and low-latency Ethernet technology, positions the company as a leading enabler of AI technology.
Currently, Broadcom operates in two main business segments:
Semiconductor solutions
Infrastructure software
The semiconductor solutions segment accounts for the majority of the company's revenue, while the infrastructure software segment represents over 20% of annual revenue.
The planned acquisition of VMware will enhance Broadcom's revenue balance and bring numerous benefits, including a broader customer base and a stable revenue stream to counteract semiconductor industry cyclicality. With regulatory approvals already obtained in the UK and EU, the acquisition is expected to boost Broadcom's appeal as a key player in the cloud computing sector, aligning with the emerging markets' increasing investment in cloud technology.
AVGO Stock's Valuation Is Concerning
Broadcom's current valuation, with a forward price-to-earnings ratio of 20 compared to the 5-year average of 14.4, raises alarm bells. Although the company's positioning in the AI space justifies a premium valuation, the lack of a margin of safety is a concern. Additionally, the impending integration of VMware may require aggressive actions such as divestments and potential layoffs, which could affect investor sentiment. Consequently, I am cautious about assigning excessively high valuation multiples that surpass the quantifiable benefits from AI technology growth on Broadcom's stock price. A pullback in the stock would present a more favorable entry point for investors.
Takeaway
Despite Broadcom's strong growth prospects, concerns over the stock's current valuation limit its appeal. The promising demand environment and the upcoming VMware acquisition contribute to its positive outlook. However, prudence dictates waiting for a market correction before investing in Broadcom.