Before making a decision to buy, sell, or hold a stock, investors often rely on recommendations from Wall Street analysts. But how reliable are these recommendations and do they truly impact stock prices? Let's explore the perspectives of these industry experts on Builders FirstSource (BLDR).
According to 14 brokerage firms, the average brokerage recommendation (ABR) for Builders FirstSource is 1.64 on a scale of 1 to 5, with 1.64 indicating a position between Strong Buy and Buy. Out of the 14 recommendations, 9 are Strong Buy and 1 is Buy, accounting for 64.3% and 7.1% of all recommendations, respectively.
Brokerage Recommendation Trends for BLDR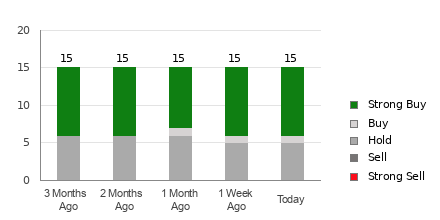 Check the price target and stock forecast for Builders FirstSource here
While the ABR suggests buying Builders FirstSource, relying solely on this information may not be advisable. Research has shown that brokerage recommendations have limited success in guiding investors towards stocks with the highest potential for price appreciation. This is because brokerage analysts often rate stocks with a strong positive bias due to their employers' vested interests.
Instead of relying solely on brokerage recommendations, consider using the Zacks Rank as a more reliable tool for predicting stock price movements. The Zacks Rank categorizes stocks into five groups based on their earnings estimate revisions, ranging from Zacks Rank #1 (Strong Buy) to Zacks Rank #5 (Strong Sell).
Differences Between ABR and Zacks Rank
Although both the ABR and Zacks Rank use a scale from 1 to 5, they are fundamentally different measures. The ABR is based solely on brokerage recommendations and is displayed with decimals, while the Zacks Rank is a quantitative model that incorporates earnings estimate revisions and is displayed as whole numbers.
Research has shown that there is a strong correlation between trends in earnings estimate revisions and near-term stock price movements, making the Zacks Rank a valuable tool for investment decisions.
Is BLDR a Good Investment?
Looking at the earnings estimate revisions for Builders FirstSource, the Zacks Consensus Estimate for the current year has increased by 27% over the past month to $13.18. This growing optimism among analysts, indicated by their strong agreement in revising EPS estimates higher, could be a valid reason for the stock to perform well in the near future.
Considering the recent change in consensus estimate and other factors, Builders FirstSource currently holds a Zacks Rank #1 (Strong Buy). For a complete list of today's Zacks Rank #1 stocks, click here.
Ultimately, while the Buy-equivalent ABR for Builders FirstSource may offer guidance, it is important to conduct your own analysis and consider multiple factors before making an investment decision.