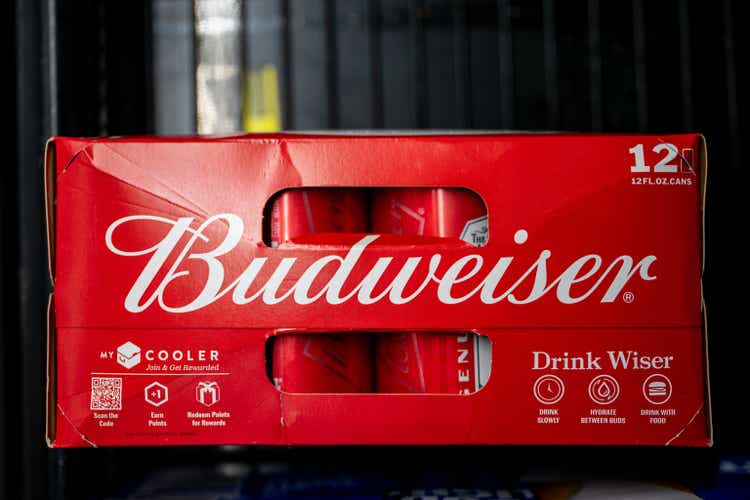 Shares of Anheuser-Busch InBev (BUD) on Tuesday saw a significant rise of 5.3% as the beer giant managed to offset a decline in Q3 volume through effective price hikes, leading to an overall revenue increase.
At present, BUD stock has climbed 5% to reach $56.75 in afternoon trade.
The world's largest brewer reported adjusted earnings per share of $0.86 for Q3, surpassing estimates by 5 cents. Although revenue increased by 5% year-on-year to $15.57 billion, it fell short of consensus by $150 million.
Total volumes slipped by 3.4% in Q3, mainly due to a significant decline of more than 17% in North America.
In a statement, AB InBev (BUD) management highlighted the company's revenue growth in approximately 80% of its markets. They attributed this growth to a 9.0% increase in revenue per hectoliter driven by pricing actions, ongoing premiumization efforts, and other revenue management initiatives.
Management added, "Volumes declined by 3.4%, as growth in our Middle Americas, Africa, and APAC regions was primarily offset by performance in the US and a soft industry in Europe."
The weak performance in the US was primarily attributed to declining volumes of Bud Light beer. Once the top beer among American consumers, Bud Light has faced significant challenges since the summer due to backlash over a controversial ad campaign featuring transgender influencer Dylan Mulvaney.
However, despite the struggles with Bud Light, investors reacted positively to BUD's ability to achieve revenue growth and increased profitability.
In addition to this positive news, AB InBev (BUD) also announced a new $1 billion share buyback program and shared their approval of a cash tender offer for up to $3 billion in bonds. These initiatives reflect the brewer's commitment to reducing its debt pile.
Regarding guidance, the company reaffirmed its EBITDA growth forecast in line with its medium-term outlook of 4-8%, and projected revenue growth ahead of EBITDA.
The Q3 results of AB InBev (BUD) mirror those of its rival and the world's second-largest brewer, Heineken (OTCQX:HEINY) (OTCQX:HINKF), as it also experienced revenue growth despite a fall in beer volumes.
More on Anheuser-Busch InBev