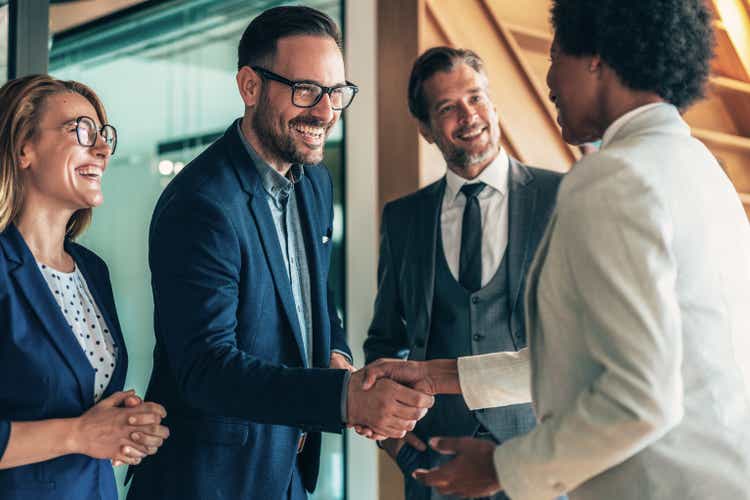 Introduction
In April of last year, Amazon (NASDAQ:AMZN) introduced the feature "Buy With Prime," which many saw as a direct challenge to Shopify (NYSE:SHOP). As an investor in both companies, I recognized the potential advantages for both parties in forming a partnership. Today, that partnership has become a reality.
What is "Buy With Prime"?
Buy With Prime allows customers with a Prime membership to use their Amazon payment information when checking out on Shopify. This integration enables a seamless shopping experience, with the same payment and shipping details as their Amazon account. Initially available for merchants using Amazon's FBA service, the feature will eventually be extended to non-Amazon merchants as well.
The Motivation Behind the Partnership
Amazon's motivation for introducing Buy With Prime is clear. With a projected revenue of $570 billion in 2023, a significant portion of which comes from its shopping platform, Amazon aims to capture additional market share from fast-growing Shopify merchants. By leveraging its superior delivery network, Amazon hopes to outpace Shopify in this competitive landscape.
While Shopify initially reacted positively to Buy With Prime, they eventually prohibited its use due to concerns about payment control. Shopify has established itself as a leader in social shopping and offers merchants greater control over store personalization and customer experience. However, the recent announcement of the partnership indicates a compromise that benefits both Amazon and Shopify.
The Benefits of the Partnership
The collaboration between Amazon and Shopify offers distinct advantages for merchants. Amazon's vast reach and dominance in the US market, with a share of almost 40%, create unparalleled discoverability for products. Additionally, Amazon's exceptional logistics capabilities make it a formidable competitor for any company aiming to deliver products efficiently.
On the other hand, Shopify excels in social shopping and empowers merchants to create personalized stores with complete control over the customer experience. By combining their strengths, Amazon and Shopify can enhance the value they offer to both Prime members and Shopify merchants. The partnership also opens the door for potential advertising opportunities, driving increased traffic to Shopify stores and generating additional revenue for Amazon.
Conclusion
From the initial announcement of Buy With Prime, it was evident that this partnership could be mutually beneficial. The e-commerce market is still expanding rapidly, and there is room for multiple winners. Shopify's strong value proposition and the integration of Buy With Prime further solidify its position as a leading player. As an investor in both companies, I am delighted with this positive development.
Let's continue to grow together!