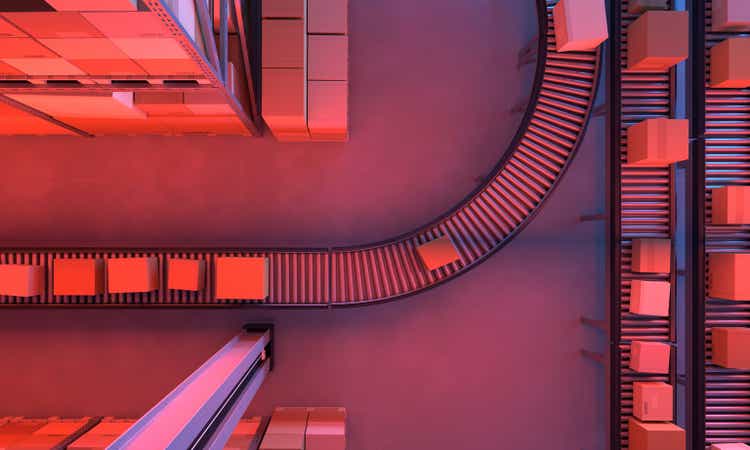 Uncovering Value
Celestica Inc. (NYSE:CLS) has proven its mettle in the tech industry, emerging as an unmistakable force to be reckoned with amidst stiff competition. The recent surge in earnings, along with impressive growth in its Advanced Technology Solutions segment, sets a robust foundation for the company's upward trajectory.
Celestica has solidified its position through strategic investments in artificial intelligence and advanced data center infrastructure, epitomized by the innovative 800G Power Switch. The company's unwavering focus on delivering value to its shareholders is evident through its strong balance sheet and planned share repurchase program.
However, despite its growth momentum and market position, it remains undervalued, presenting an irresistible investment opportunity amid the current market fluctuations and supply chain challenges.
Unveiling Celestica
Celestica shines as a leader in designing, manufacturing, and supply chain solutions for cutting-edge companies spanning various sectors, including aerospace, defense, healthtech, and industrial markets. Its diverse clientele, ranging from tech giants to enterprises, underscores its prowess in advanced manufacturing and optimization of the supply chain despite fierce competition from industry leaders.
Financial Fortitude
In the third quarter, Celestica exceeded revenue expectations with a 6% year-over-year growth, driven by impressive performances in its Advanced Technology Solutions and Connectivity & Cloud Solutions segments. The company's non-International Financial Reporting Standards (non-IFRS) adjusted earnings per share outperformed expectations, marking 15 consecutive quarters of year-over-year non-IFRS operating margin expansion.
Bright Outlook
Celestica's upbeat guidance for the fourth quarter and the upward revision of its full-year forecasts speak volumes about its sustained growth trajectory and unwavering momentum. The company's raised revenue, non-IFRS adjusted EPS, and free cash flow guidance score high on the optimism index, hinting at an upcoming period of steady growth.
Patterned Growth
Looking beyond the numbers, Celestica's strategic prowess in the artificial intelligence and data center infrastructure landscape stands as a testament to its market adaptability and evolving business model. With a significant market share and an impressive streak of margin expansion, the company's commitment to enhancing shareholder value through share repurchase initiatives sets it apart from its competitors.
Fueling Growth
Celestica harnesses robust tailwinds from burgeoning areas such as artificial intelligence, advanced data center infrastructure, and 5G network upgrades, driving its multi-year growth prospects. The company's innovative offerings, including the 800G Power Switch, place it at the forefront of the high-growth AI and machine learning landscape, supported by bullish momentum in its enterprise end market.
Capital Gains
With a strong balance sheet and sound liquidity, Celestica is well-poised to reward shareholders through its commitment to capital return, exemplified by its share repurchase program and solid financial health. Its anticipated buyback program and steady EPS growth contribute to its favorable position for long-term investors.
Assessing Risks and Value
Despite its remarkable growth, Celestica faces potential risks, especially due to its concentrated customer base and reliance on a small number of major clients. However, its deeply undervalued stock, strong revenue growth, and focused strategy on shareholder value make it an attractive long-term investment option, distinct in its robust performance compared to its peers.
In Conclusion
Undoubtedly, Celestica's strong financial standing and promising future make it an appealing investment choice. With a commendable blend of value, growth potential, and resilience, the company's stock presents a compelling opportunity in the tech sector. In the ever-evolving tech landscape, Celestica's strategic positioning and burgeoning momentum provide unequivocal reasons for investors to take notice and consider this hidden gem as a "buy."