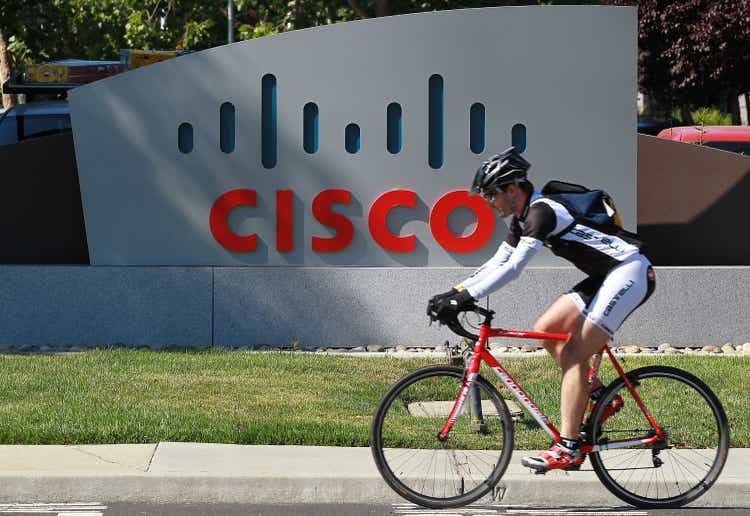 Cisco Systems (NASDAQ:CSCO) is a leading multinational technology conglomerate known for its dominance in the global telecom equipment market.
Cisco's Strengths and Focus
The company specializes in providing software, routers, and switches, with its Nexus 9000 series being particularly sought after in the competitive global data center equipment market. Cisco's solutions and technologies offer high performance, scalability, and reliable data transmission, which positively impact its earnings per share (EPS).
Cisco's management also employs a share repurchase program, which has contributed to beating analysts' consensus EPS estimates in recent years. This stable allocation of cash flow towards share repurchases, along with a remaining authorization of $10.9 billion at the end of fiscal 2023, helps mitigate the impact of short sellers on the company's stock price.
Successful Implementation of AI
The successful development and implementation of AI-based products and services have also contributed to Cisco's growth. For example, the Secure, Agile Networks segment reported a revenue of $8,125 million for the fourth quarter of fiscal 2023, driven by increased demand for wireless and enterprise routing products.
This revenue growth has significantly contributed to Cisco's operating income margin, which stood at 29.44% for the three months ended July 2023, surpassing its competitors in the technology sector.
Cisco's Financial Outlook
Wall Street giants, including Vanguard Group, BlackRock, and State Street, maintain a strong interest in Cisco Systems due to its consistent margin improvement. Cisco's financial results for the fourth quarter of fiscal 2023 surpassed expectations, demonstrating the company's resilience even in a challenging global macroeconomic environment.
Looking ahead, Cisco is expected to report revenue of $14.58 billion to $14.8 billion for the first quarter of fiscal 2024, driven by increased demand for its Catalyst 9000 series, Nexus 9000 series, WiFi-6 products, and services in the Americas and EMEA segments.
Furthermore, Cisco Systems' conservative valuation, as indicated by its low Non-GAAP P/E ratios, and its strong financial position with minimal debt, position the company favorably in the technology sector.
Conclusion and Investment Rating
Cisco Systems plays a pivotal role in cybersecurity and protecting sensitive data for businesses, government agencies, and educational institutions. Although the company's revenue continues to grow, its stock price has seen moderate gains compared to competitors. However, with its solid financial position, successful implementation of AI, and positive growth outlook, we initiate our coverage of Cisco Systems with an "outperform" rating for the next 12 months.
According to our model, Cisco's EPS will be above the median of this range and reach $1.05.