The Zacks Rank #2 (Buy) stock Coinbase Global (COIN) scales the peaks of the US cryptocurrency exchange market. It's where you go to lay down your digital cash for some Bitcoin, Ethereum, or Ripple.
Coinbase's Rocky Earnings History
Coinbase took the plunge into public trading in 2021 and has seen ten quarters of earnings action. Though their past earnings haven't been smooth sailing, the recent quarto haven't been all that bleak. Surprisingly, they've managed to exceed Zacks Consensus Estimates in the last three quarters.


Image Source: Zacks Investment Research
Uphill SEC Legal Bout
Coinbase got tangled in a legal tussle with the US Securities and Exchange Commission. The SEC charged them with running a crypto asset exchange without the necessary securities trading registration. The legal limbo hasn't withered their stock, though. If anything, it looks like a slew of recent legal wins across the crypto sector is boosting investor spirits. The silver lining? The stock is holding its ground against the legal storm.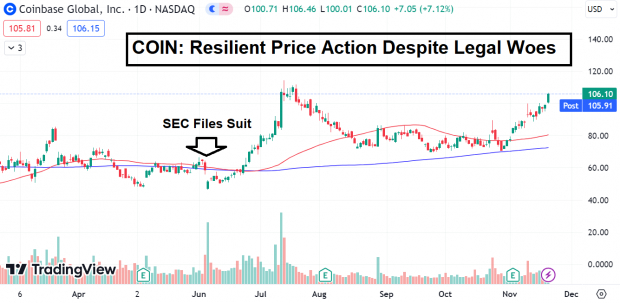 Image Source: TradingView
Future Gazing
Though a loss is looming, Wall Street is optimistic. Investors are eagerly awaiting news about the direction Coinbase's earnings are heading.
Bitcoin Halving on the Horizon
The next Bitcoin Halving is just around the corner, set for the first half of 2024. This event typically leads to scarcity and a surge in Bitcoin's value. Considering Coinbase's close connection to Bitcoin, this could be a bullish jolt for COIN shares.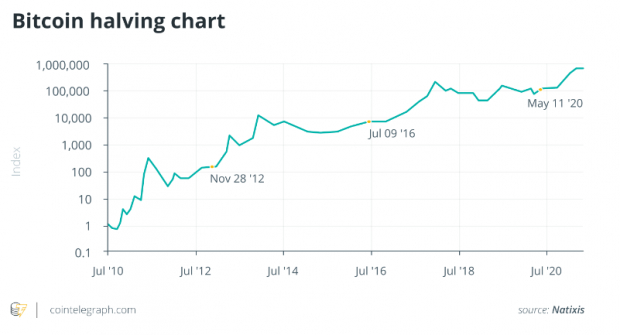 Image Source: CoinTelegraph
Shift to Institutional Investors
Initially, crypto investors were mostly small-timers, but now big-league asset managers like BlackRock (BLK) are eyeing Bitcoin. The possible approval of Bitcoin ETFs could be a boon for Coinbase, as it's the listed exchange for the majority of Bitcoin ETF filings. Even sovereign wealth funds are steaming into the crypto game. Once regulators give a green light, this industry might just be set for a meteoric rise. Watch out!
Coinbase's Sizable Cash Pile
Seth Klarman, a big shot in value investing, turned heads when he dipped into Coinbase. Not a crypto maverick by any means, Klarman revealed that Coinbase's $5 billion in cash, paired with minimal debt, made it an attractive proposition. Despite their financial losses, this hefty cash reserve is a siren call for conservative investors who want a piece of the crypto pie.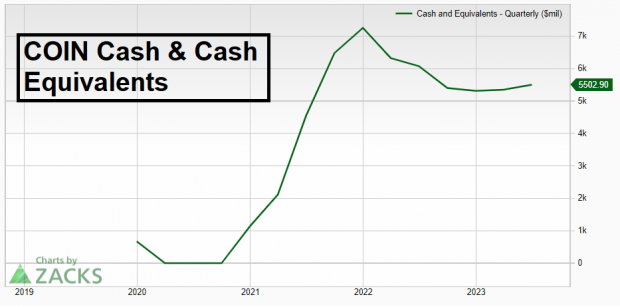 Image Source: Zacks Investment Research
Bitcoin as an Inflation Buster
Bitcoin is increasingly used in countries grappling with inflation, such as Nigeria, Turkey, and Argentina where it hit new peaks. The reason? Bitcoin's resistance to inflation, a trait that's particularly appealing when traditional currencies are being printed without restraint. Year-to-date, Bitcoin has soared a colossal 351% against the Argentine Peso.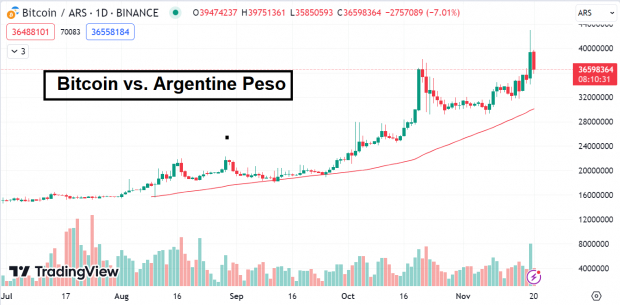 Image Source: TradingView
Disclosure:
The views and opinions expressed herein are the views and opinions of the author and do not necessarily reflect those of Nasdaq, Inc.