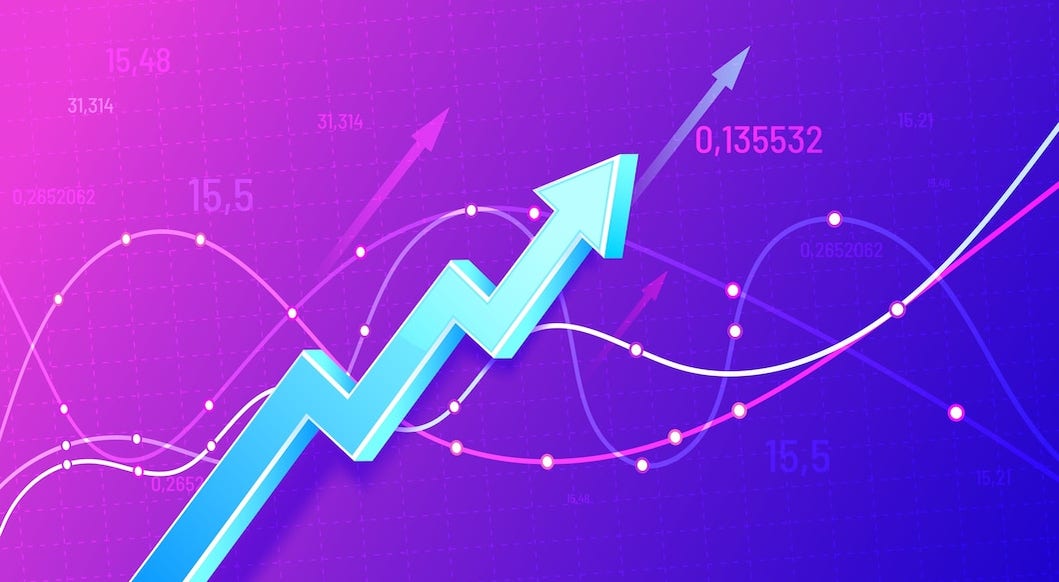 In a bullish midday trading session, the Dow Jones index gained over 150 points on Thursday, signaling positive momentum in the market.
The Dow traded up 0.48% to 33,825.25, while the NASDAQ rose 0.65% to 13,401.03. Similarly, the S&P 500 saw an increase of 0.56% to 4,338.69.
Leading and Lagging Sectors
Communication services shares experienced a notable climb of 1.6% on Thursday, indicating strength in the sector.
However, consumer discretionary shares fell by 0.9%, underperforming in comparison.
Top Headline: Netflix Inc
Netflix reported better-than-expected results for its third quarter, demonstrating strong performance that surpassed market expectations.
The company reported quarterly earnings of $3.73 per share, exceeding the consensus estimate of $3.49, and marking an increase from $3.10 per share in the same period last year. Third-quarter revenue also rose 7.8% year-over-year to $8.54 billion, slightly surpassing the consensus estimate of $8.53 billion.
Netflix's positive earnings report showcases its ability to continue delivering impressive financial results to its investors.
Equities Trading UP
Shares of SeaStar Medical Holding Corporation (ICU) shot up 31% to $1.0095, following the FDA granting the company's Selective Cytopheretic Device Breakthrough Device Designation for hepatorenal syndrome.
Spectral AI, Inc. (MDAI) received a boost, with shares surging 36% to $3.5350, after its DeepView SnapShot® Wound Imaging System obtained UK Conformity Assessment (UKCA) approval, positioning it for use in the United Kingdom and receiving Class 1 medical device classification from the United States Food and Drug Administration (FDA).
Lindsay Corporation (LNN) shares gained 20% to $128.60 as the company reported better-than-expected fourth-quarter financial results and provided optimistic first-quarter guidance.
Equities Trading DOWN
Nxu, Inc. (NXU) shares dropped 36% to $0.0441 after announcing a $3 million public offering of common stock, diluting the value of existing shares.
Semtech Corporation (SMTC) saw a decline of 21% to $15.83 after announcing a $250 million private placement offering, which negatively impacted investor sentiment.
Mullen Automotive, Inc. (MULN) fell 17% to $0.2848 after filing a preliminary proxy statement with the SEC regarding a stockholder meeting to potentially undertake a reverse stock split.
Commodities
In commodity news, the price of oil increased by 0.4% to $88.64 per barrel, while gold saw a slight uptick of 0.1% to $1,970.00 per ounce. Silver, on the other hand, decreased by 0.6% to $22.955 per ounce, while copper rose slightly by 0.1% to $3.5915 per pound.
Eurozone
European shares exhibited a downward trend, with the eurozone's STOXX 600 falling 1.19%, London's FTSE 100 decreasing by 1.17%, and Spain's IBEX 35 Index declining by 0.72%. The German DAX fell 0.33%, the French CAC 40 declined 0.64%, and Italy's FTSE MIB Index dropped 1.38%.
Economic indicators in the Eurozone showed mixed results, with a current account surplus of EUR 30.67 billion in August compared to a year-ago deficit of EUR 26.57 billion. Spain's trade deficit narrowed to EUR 4.4 billion in August from EUR 7.9 billion in the previous year. The manufacturing climate indicator in France dipped to 98 in October from 99 in the previous month.
Asia Pacific Markets
Asian markets closed lower, with Japan's Nikkei 225 falling 1.91%, China's Shanghai Composite Index declining by 2.46%, and Hong Kong's Hang Seng Index dropping 1.74%. India's S&P BSE Sensex also saw a slight decline of 0.25%.
In terms of economic performance, Japan recorded a trade surplus of JPY 62.44 billion in September, a significant improvement compared to the previous year's deficit. Hong Kong's unemployment rate remained steady at 2.8% for the three months ending in September. Meanwhile, average new home prices in China experienced a year-over-year decline of 0.1% in September.
Economics
The Philadelphia Fed Manufacturing Index rose to -9 in October from -13.5 the previous month, surpassing market estimates of -6.4. This signals an increase in manufacturing activity in the Philadelphia region.
Additionally, U.S. jobless claims declined by 13,000 from the previous week to 198,000 for the week ending October 14, surpassing market expectations of 212,000. This decrease in jobless claims suggests improvements in the employment market.
Overall, the market showed positive momentum as the Dow surged, led by strong earnings from Netflix. Despite some sectors experiencing slight declines, the market exhibited resilience and potential for further growth. Commodities experienced mixed performance, and European and Asian markets faced some downward pressure. Economic indicators in the U.S. painted a positive picture, with the manufacturing sector and jobless claims showing signs of improvement.