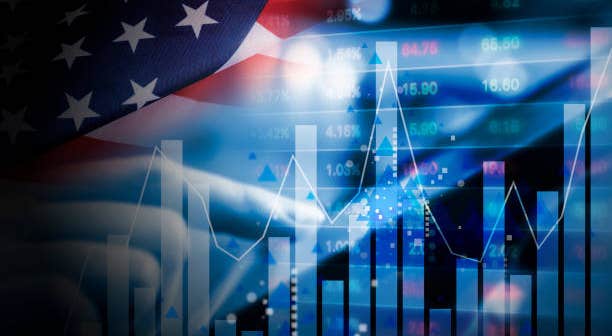 The U.S. stock market experienced a mixed trading session, with the Dow Jones index falling more than 100 points on Friday.
The Dow traded down 0.40% to 32,654.06, while the NASDAQ rose 0.72% to 12,692.72. The S&P 500 also saw a slight increase, gaining 0.04% to 4,138.74.
Leading and Lagging Sectors
Consumer discretionary shares saw a significant rise of 2.6% on Friday.
In contrast, energy shares dipped by 2.4%.
Core PCE Data Disappoints
In September, the core personal consumption expenditures (PCE) prices in the U.S. rose by only 0.3% from the previous month. The annual inflation rate, which is considered the Federal Reserve's preferred measure of inflation, fell to 3.7% in September.
Notable Gainers in Equities Trading
NerdWallet, Inc. (NRDS) shares surged by 36% to $9.04 following the release of strong quarterly results.
Customers Bancorp, Inc. (CUBI) also experienced a boost, with its shares shooting up 13% to $38.27 after reporting better-than-expected quarterly results.
Deckers Outdoor Corporation (DECK) saw a significant increase in its share price, gaining 19% to $574.34. The company reported better-than-expected second-quarter sales results and raised its FY24 EPS and net sales guidance above estimates.
Notable Losers in Equities Trading
Siyata Mobile Inc. (SYTA) shares dropped 49% to $0.6607 as the company announced the pricing of a $1.6 million public offering of common shares.
Betterware de México, S.A.P.I. de C.V. (BWMX) saw its shares decline by 21% to $13.53 after announcing its third-quarter results.
Barnes Group Inc. (B) fell by 30% to $20.95 as the company posted downbeat third-quarter earnings and lowered its FY23 outlook.
Commodity News
Oil traded up 0.6% to $83.69, while gold traded down 0.2% at $1,992.80.
Silver traded up 0.2% to $22.96, and copper rose 1.8% to $3.6475.
Euro Zone Market Updates
European shares saw a decline today. The eurozone's STOXX 600 fell 0.82%, London's FTSE 100 fell 0.85%, Spain's IBEX 35 Index fell 0.47%, the German DAX fell 0.19%, and the French CAC 40 fell 1.29%. Italy's FTSE MIB Index also experienced a decline of 0.84%.
In economic news from the eurozone, Spain's economy grew by 0.3% quarter-over-quarter during the three months to September 2023, compared to a revised 0.4% expansion in the previous period. Retail sales in Spain increased by 6.5% year-over-year in September.
The consumer confidence index in France climbed to 84 in October from 83 in the previous month. The manufacturing confidence index in Italy fell to 96 in October from 96.4 in the previous month, while consumer confidence declined for a fourth straight month to 101.6 in October.
Asia Pacific Markets
Asian markets closed higher on Friday, with Japan's Nikkei 225 gaining 1.27%, Hong Kong's Hang Seng Index gaining 2.08%, China's Shanghai Composite Index gaining 0.99%, and India's S&P BSE Sensex gaining around 1%.
Profits earned by Chinese industrial firms dipped by 9.0% year-over-year to CNY 5,411.99 billion during the first nine months of 2023, compared to an 11.7% decline in the previous period.
Economic Updates
In addition to the disappointing PCE data, other economic indicators showed mixed results. Personal spending increased by 0.7% in September compared to a 0.4% rise in August.
Personal income in the U.S. rose by 0.3% in September compared to a 0.4% increase in August.
The University of Michigan consumer sentiment for the U.S. rose to 63.8 in October from a preliminary level of 63.
These market and economic updates provide valuable insights into the current state of the financial world, allowing investors and traders to make informed decisions.
Sources: Benzinga