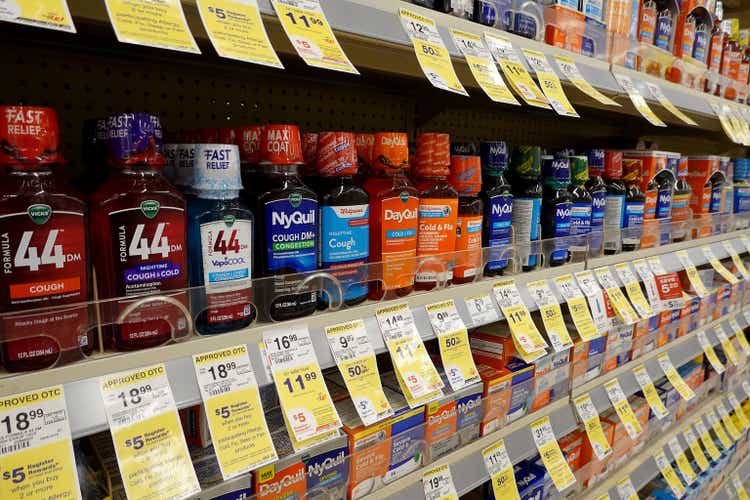 CVS's decision to pull oral medications that contain the controversial decongestant phenylephrine comes as it and several other leading OTC drugmakers and retailers face a growing number of lawsuits related to the drug's effectiveness.
Earlier Thursday, The Wall Street Journal reported that CVS was removing products from its shelves that had phenylephrine as the sole active ingredient. The move comes about a month after an FDA advisory panel agreed that the drug, which has been on the market for years, didn't really work when it was taken by mouth.
While the FDA is not bound to the recommendations of its panels, it generally follows them. The agency has not yet issued a formal decision on whether to allow pills and syrups containing the popular decongestant to remain on the market. Nasal sprays containing phenylephrine do not appear to be an issue.
Meanwhile, a growing number of lawsuits have been filed against drugmakers who made the products and the retailers who sold them.
Last month, two consumers in California filed a lawsuit in the US District Court in Sacramento against makers and retailers of phenylephrine medications alleging that the companies made millions selling products that they knew didn't work. The plaintiffs, who are asking the court to certify their case as a class-action suit, are seeking compensation for consumers in California and throughout the US, according to The Mercury News.
Fourteen defendants were named in the California suit, including CVS (NYSE:CVS), Walgreens Boots Alliance (WBA), Amazon (AMZN), Walmart (WMT), Target (TGT) and Procter & Gamble (PG).
The California suit joined a class action suit filed last month in a federal court in New Jersey that named Kenvue (KVUE), Procter & Gamble, GlaxoSmithKline (GSK) and Walgreens among the defendants.
Last week, a law firm in Illinois filed a class action suit specifically aimed at CVS, alleging that the company misled consumers by manufacturing and marketing a product they should've known didn't work based on past debates about the drug's effectiveness. The firm has filed similar suits against Kenvue's parent, Johnson & Johnson (JNJ), and Pfizer (PFE).