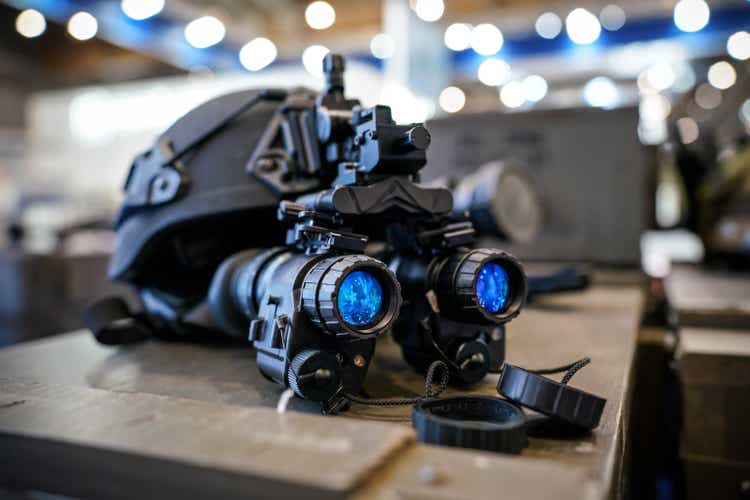 The defense industry has been in the spotlight due to expanding defense budgets, resulting in a surge in defense stock prices. Finding undervalued companies in this sector has become increasingly challenging. One such company is Elbit Systems, which I will discuss in this report, focusing on its recent financial performance and valuation.
Elbit Systems: What They Do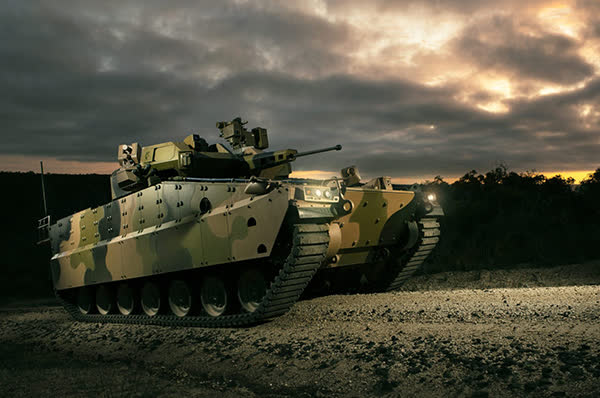 Elbit Systems Ltd. is an international technology company involved in various defense, homeland security, and commercial aviation programs worldwide. They develop and supply systems and products for airborne, land, and naval applications. Elbit Systems' portfolio includes military aircraft and helicopter systems, helmet-mounted systems, commercial aviation systems, unmanned aircraft, land vehicle systems, intelligence and cyber systems, and more. The company operates primarily in the defense and homeland security sectors.
Elbit Systems reports its financial results under the following segments:
Aerospace
C4I and Cyber, providing command, control, communications, computers, intelligence, and cyber solutions.
ISTAR and EW, providing intelligence, surveillance, target acquisition, reconnaissance, and electronic warfare solutions.
Land, which offers Land System solutions.
ESA, the American subsidiary of Elbit Systems.
Unfortunately, Elbit Systems does not provide a breakdown of revenues between commercial and defense sales. However, the company does have some commercial exposure through partnerships with Boeing and involvement in the development of AerSale's wearable Enhanced Flight Vision System. Despite this, Elbit Systems' stock valuation remains a key consideration.
Elbit Systems Financial Results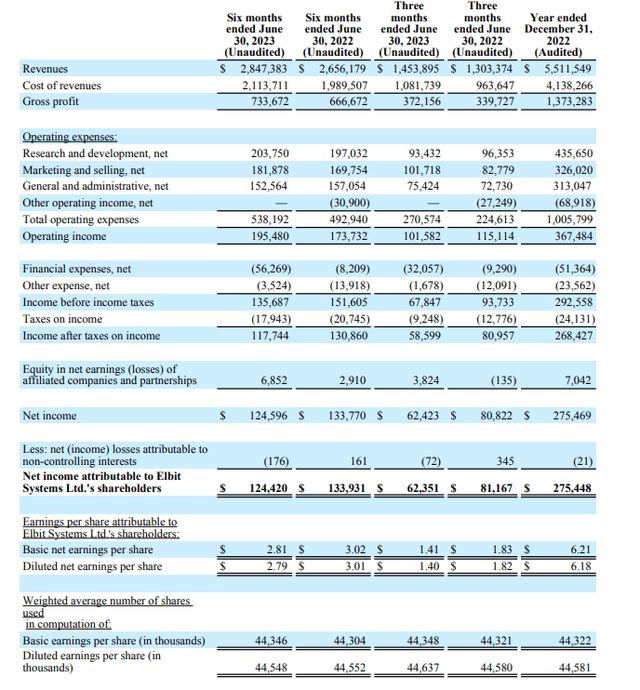 In the second quarter, Elbit Systems reported a revenue increase of 11.5% to $1.45 billion. With a gross profit margin of 25.6%, the company experienced growth in aerospace, C4I and Cyber, and ISTAR and EW segments. However, operating income decreased compared to the same period last year due to higher selling expenses. Adjusted net income also declined due to higher interest rates. Overall, Elbit Systems' top-line growth demonstrates a strong product portfolio with high demand, despite some margin contraction.
Concerns About Elbit Systems
One area of concern is the lack of guidance provided by Elbit Systems. With $5.5 billion in revenues, one would expect some level of guidance. Additionally, the company does not disclose the breakdown of revenues between commercial and defense sales, making it difficult to assess growth rates and drivers in each market.
Although supply chain issues have eased, Elbit Systems' adjusted operating margins declined slightly. Despite higher sales, the expected margin expansion has not materialized due to increased interest expenses. These factors raise doubts about the stock's upside potential.
Is Elbit Systems Stock Worth Buying?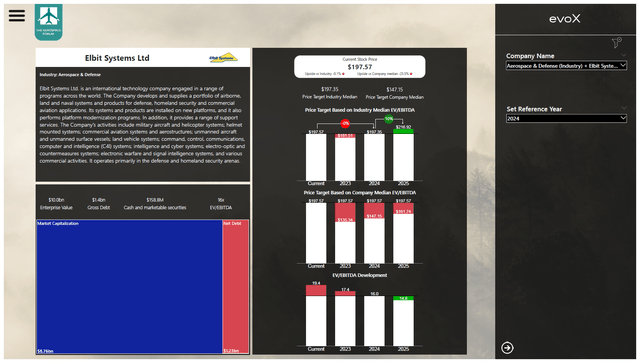 While defense companies are experiencing a surge, Elbit Systems does not appear to be as appealing. Even though the stock initially climbed after the Ukraine-Russia conflict, it has since given back a significant portion of those gains. Based on my analysis using the evoX Financial Analytics tool, it is evident that Elbit Systems is overvalued when compared to industry benchmarks.
Investors may argue that Elbit Systems has value based on its enterprise-to-EBITDA multiple, but even at this expanded multiple, the stock lacks upside potential. With 2023 earnings in mind, the stock is already overvalued. Therefore, I see little to no fundamentally driven upside for Elbit Systems stock at this time. From a valuation perspective, I would consider it a Hold, bordering on Sell if it fails to meet targets or expectations.
Conclusion: Elbit Systems Stock Has Limited Appeal
Elbit Systems stock experienced gains following the Ukraine conflict but, like many companies, it was overvalued and subsequently decreased in value. Even at current prices, the stock offers little to no upside potential. Despite easing supply chain issues, the company saw margin contraction. While it may have long-term value, there is currently no compelling reason to purchase Elbit Systems stock, especially considering potential delays in customer payments. I would expect these delays to be resolved by year-end, but the current projections do not support short-term bank credit and loans.