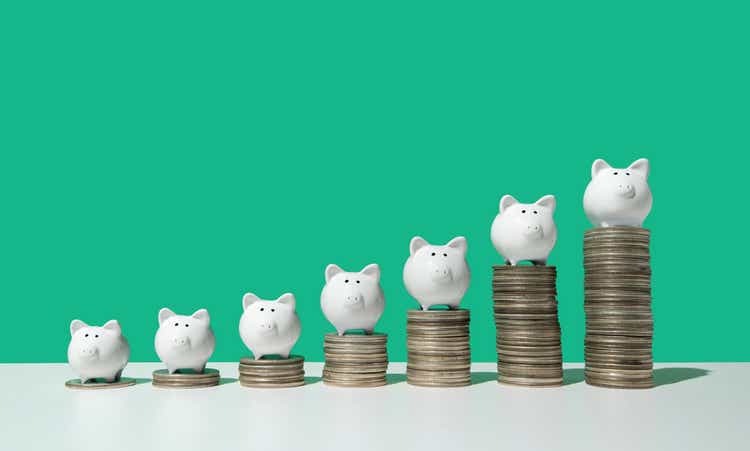 This article was coproduced with Leo Nelissen.
For those of you who haven't seen it, earlier this week, I participated in a Seeking Alpha webinar. One of the things I mentioned was how REITs allow us to invest in certain economic trends without having to bet on specific niche players.
One of these trends is the ever-increasing need for data centers.
Especially since the pandemic, when rates and inflation were low, investors have tried to buy the data stock of the future. This included software companies that often declined by more than 80% when the Fed hiked its rates.
The problem is that betting on the future comes with significant risks. Some companies may not make it. Especially if we add artificial intelligence, picking winners and losers becomes even harder.
That's where REITs come in.
Just like retail REITs don't care for consumer trends, data center REITs don't care about which company has the best software and services. All they care about is offering the best assets for their tenants to get the job done.
While REITs may not have the returns that some high-flying tech stocks offer, they come with a different risk profile, consistent dividend growth, and (when picking the right stock) decent capital gains.
A few days ago, the Wall Street Journal wrote an in-depth article on this trend with the title A Niche Real-Estate Corner Goes Mainstream in the Digital Age. It had an abbreviated title in the print edition.

According to the WSJ, the commercial real estate landscape is witnessing an extraordinary surge, driven by the growing excitement around artificial intelligence.
Previously a niche market, data centers have now become the epicenter of this boom, with developers racing to construct data centers equipped with high-power and cooling systems to cater to the needs of AI servers.
Industry giants like Blackstone (BX) have rapidly expanded their data center development pipelines, growing from $1 billion to more than $15 billion in just two years, while investment firms such as PGIM Real Estate and IPI Partners are actively raising billions of dollars dedicated to data center-specific funds.
Leading tech giants like Google (GOOG) (GOOGL), Microsoft (MSFT), and Amazon (AMZN) Web Services have secured more than 2.3 gigawatts of capacity in North American data centers in the current year alone, surpassing the previous year's record.
The data center industry is now planning a whopping 15 gigawatts in new capacity for North America, enough to power approximately four million homes.
To give you an idea of how much 15 gigawatts is, 1 gigawatt is:
Close to 2,500 million photovoltaic panels.
310 utility-scale wind turbines.
100 million LED bulbs.
1.3 million horses.
2,000 Corvette Z06s.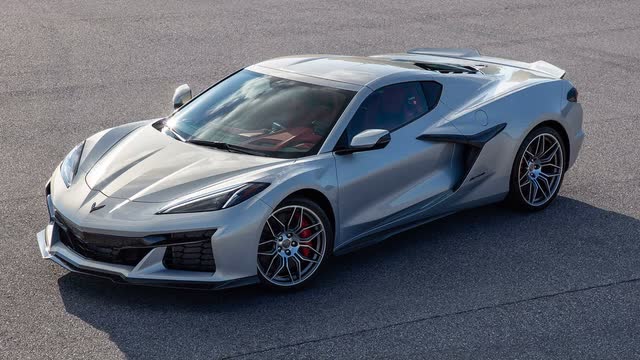 Data centers serve as the physical infrastructure housing the Internet, storing cloud computing resources and processing all digital data.
It's what industrial real estate is to companies like Amazon. Amazon takes care of marketing, its website, and whatnot, while companies like Prologis (PLD) own the warehouses.
(By the way, Prologis is getting into the data center business too. We're working on an article now on that topic.)
Even if Amazon were to go out of business due to a lack of competitive power (for the sake of this example), Prologis would find a new tenant. After all, physical warehouses are needed for companies like Amazon to get the job done.
This also applies to data storage as well – especially in times of artificial intelligence.
Even better, in light of the broader commercial real estate market facing challenges like rising interest rates and weakening demand, data centers are thriving.
The booming business and the willingness of tenants to pay higher rents have shielded data center owners from the impacts of rising rates, which could not come at a better time, as we have all figured out how tough this environment is for REITs.
As a result, this year, the two giants in this industry, Digital Realty Trust (DLR) and Equinix (NASDAQ:EQIX), have outperformed the FTSE NAREIT Equity REITs Index by a significant margin.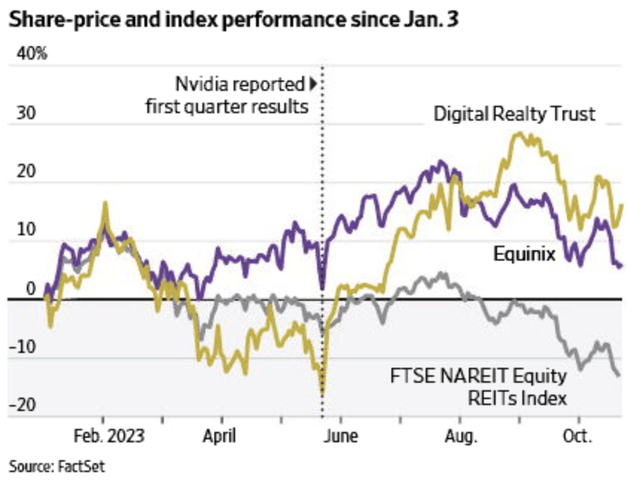 However, this trend didn't start in 2023.
We all know that the current digital age started many years ago.
For example, since 2005, EQIX has returned 17.9% per year. Digital Realty has returned 17.1% per year. The Vanguard Real Estate ETF (VNQ) has returned just 6.0% per year, underperforming the 9.0% annual return of the S&P 500.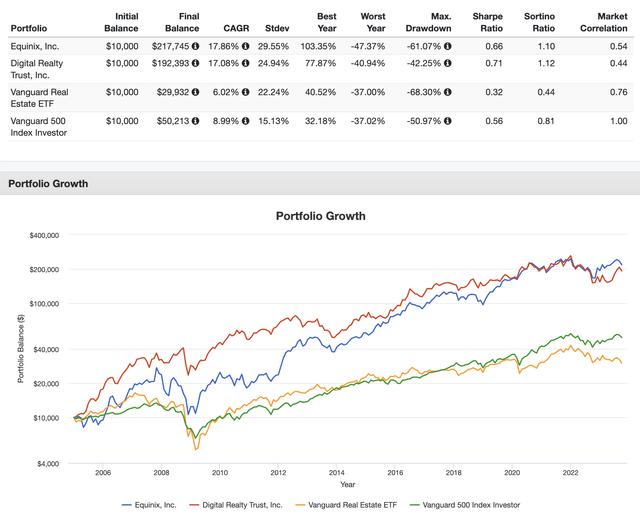 While it seems that EQIX and DLR are similar, EQIX has become a much better performer than DLR.
Over the past 10 years, EQIX has returned 17.6% per year, beating DLR's annual return of 13.1%.
Over the past five years, EQIX has returned 12.9% per year, beating DLR's annual return of 5.2%. The S&P 500 returned 9.8% per year during this period.
Over the past five years, the EQIX standard deviation was 24.0%. DLR had a 26.9% standard deviation.
In other words, EQIX isn't just the bigger player with a $66 billion market cap (vs. $36 billion), but it's also the player with a better risk/reward.
I'm not making the case that DLR is a bad stock(!). I'm just saying that EQIX is where it's at.
So, let's dive into the details!
EQIX Is A Spectacular Data REIT
Equinix just released its 3Q23 earnings, which allows us to get a very fresh perspective on current trends – and use new numbers to assess the risk/reward and health of this company.
Despite a complex macro environment, the company delivered a solid quarter, with revenues of $2.06 billion, marking a 14% year-over-year increase.
This growth was primarily driven by strong recurring revenue and power price increases.
Adjusted EBITDA also increased by 9% year-over-year, while AFFO (adjusted funds from operations) per share exceeded expectations due to strong operating performance, rising 10% on a constant currency basis.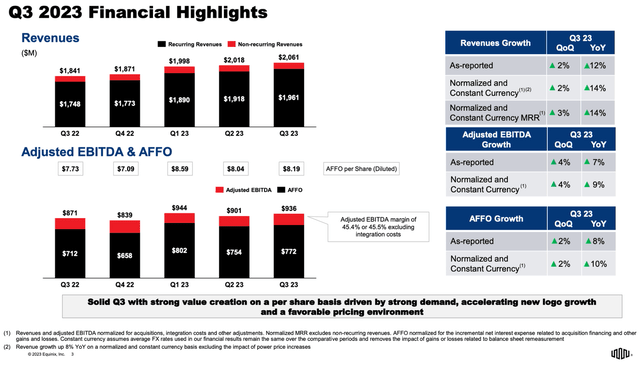 Q3 MRR (monthly recurring revenue) churn was 2.2%, and Q4 MRR churn is expected to remain consistent with the lower half of the 2% to 2.5% quarterly guidance range.
With regard to regional performances, the company saw strength across the board.
EMEA and APAC were the fastest-growing regions, with 26% and 10% year-over-year growth, respectively.
Americas experienced 7% year-over-year growth, with solid performance across key metros and strong public sector activity.
EMEA had a strong quarter, particularly in the U.K. and Dutch markets, and focused on sustainability initiatives.
Asia Pacific had a solid performance, with capacity constraints in markets like Singapore. The company plans to expand its APAC platform in 2024.
Utilization rates were between 78% (Americas) and 81% (Asia Pacific).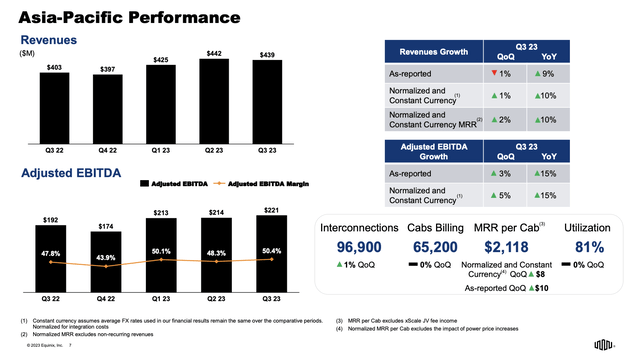 Looking at the bigger picture, Equinix reported that it's operating in an environment characterized by customer caution, but this caution is offset by a commitment to digital transformation and increased interest in AI.
Customers prioritize optimizing infrastructure spend across cloud, network, and other areas, resulting in strong demand.
New logo growth is accelerating, and the company benefits from a favorable pricing environment.
This combination of factors leads to solid revenue growth, a strong forward pipeline, and optimism about Equinix's ability to create value for both customers and shareholders.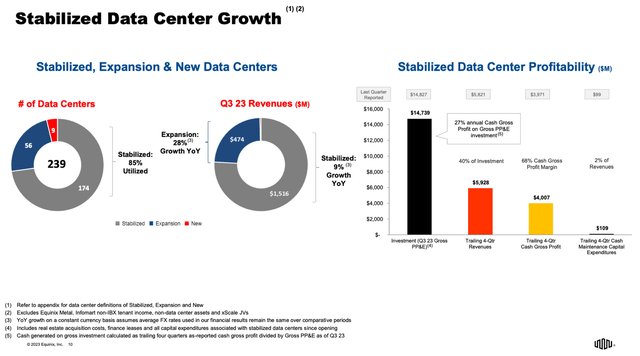 In other words, the company is confirming the trends we discussed in the first part of this article.
Furthermore, Equinix is actively pursuing opportunities in the AI sector, capitalizing on the growing demand for generative AI, which is a form of AI that can create its own content.
The company intends to deploy AI service provider solutions to support on-ramps, inference nodes, and small-scale training needs.
Equinix also is focusing on large-scale AI training deployments, including partnerships with hyper-scalers.
The company also sees a demand for private AI and aims to provide customers with proximity to data and seamless access to public cloud capabilities.
In response to certain operational headwinds tied to rapidly scaling data centers, Equinix is adapting its product portfolio and physical platform to cater to evolving customer requirements.
For example, the company is exploring technologies to support increasing power requirements and has commercialized liquid cooling solutions in various markets.
Equinix is currently involved in 56 major projects across 39 markets in 23 countries, including 14 xScale builds, which are the company's most advanced buildings.

With that in mind, the company maintains a very healthy balance sheet.
The company has a BBB+ credit rating from Fitch, which is one step below the A-range. Its net leverage ratio is just 3.5x (EBITDA). The blended borrowing rate is 2.25%. The weighted average maturity is 7.8 years, which buys the company a lot of time.
Moreover:
96% of its debt is fixed.
This year, it has no maturities.
It recently issued $328 million in Swiss franc debt due 2028 at just 2.9%.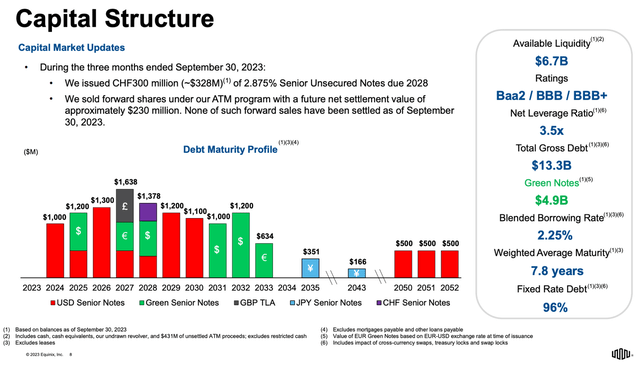 The company also has confidence in its future, which is good news for its dividend.
On a full-year basis, underlying revenue is expected to grow by 14% to 15% (approximately 9% growth, excluding power cost impacts).
Adjusted EBITDA guidance was raised by $17 million due to favorable operating costs and lower integration spending.
AFFO guidance was raised by $27 million to grow between 12% and 14%.
AFFO per share is expected to grow between 10% and 11%.
CapEx is expected to remain in the $2.7 billion to $2.9 billion range.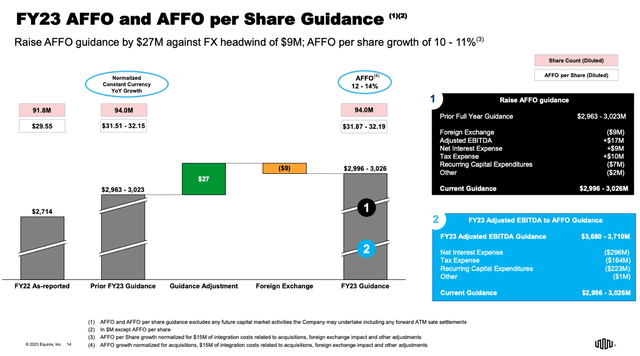 To confirm its confidence, the company announced a 25% dividend hike to $4.26 per share!
(The safest dividend is the one that's just been raised.)
This translates to $17.04 per year, or a 2.4% yield.
Sure, you get a higher yield by buying stocks with slower growth. There's nothing wrong with that. However, EQIX has both growth and value, which makes it a very attractive long-term bet.
Since EQIX became a REIT in 2015, the company has hiked its dividend every single year.
Excluding the just-announced hike, the five-year dividend CAGR is 8.6%, which has picked up momentum in recent years, supported by a low-to-mid 40% payout ratio.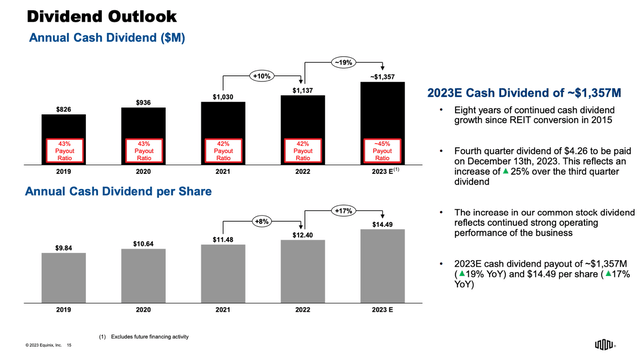 So, what about the valuation?
Valuation
EQIX is currently trading at a blended P/AFFO ratio of 21.6x. Its longer-term average is 25.3x.
This year, AFFO is expected to grow by 8%, which is below the company's guidance. So, we expect an adjustment in the next few weeks.
In the years ahead, AFFO growth is expected to remain in the high single-digit range.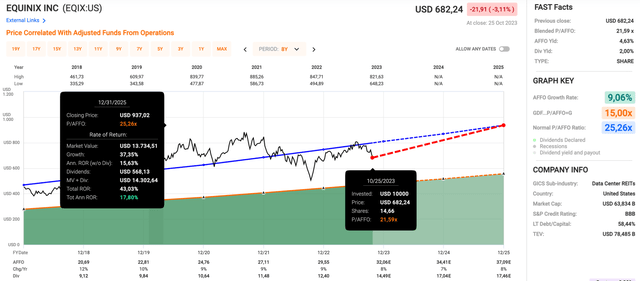 If the company returns to its normalized valuation, which may take a while in a high-rate environment, it could return 17.8% per year, which is in line with its long-term historical performance, which I discussed in the first part of this article.
So, for REIT investors seeking tech exposure, consistent income growth, and a chance to outperform the REIT sector, EQIX is a fantastic pick.
Takeaway
Investing in REITs, especially those in the data center sector like Equinix, can be a wise move in the ever-changing landscape of tech investments.
While betting on individual tech companies can be risky, data center REITs provide a safer way to tap into the growing demand for data infrastructure, particularly in the era of artificial intelligence.
Equinix, a standout player in this space, has demonstrated strong financial performance, steady dividend growth, and a promising outlook.
With its robust balance sheet and commitment to adapting to evolving customer needs, EQIX is well positioned to capitalize on the AI-driven future.
Furthermore, the company's recent dividend hike and attractive valuation make it an enticing option for investors seeking tech exposure and consistent income growth while potentially outperforming the broader REIT sector by a significant margin.
Note: Brad Thomas is a Wall Street writer, which means he's not always right with his predictions or recommendations. Since that also applies to his grammar, please excuse any typos you may find. Also, this article is free: Written and distributed only to assist in research while providing a forum for second-level thinking.