Eversource Energy (ES) is a leading energy delivery company in the United States, providing reliable electric, natural gas, and water services to over 4.4 million customers.
Despite facing stringent regulations and the potential impact of rising interest rates on margins, this Zacks Rank #3 (Hold) stock has been able to capitalize on various opportunities.
Positive Factors
Eversource Energy is committed to organic growth and expanding its operations. To achieve this, the company has prioritized the upgrade of its electric distribution and transmission infrastructure. With a projected investment of $21.5 billion from 2023 to 2027, Eversource plans to allocate $14.2 billion to electric and natural gas distribution networks, $5.3 billion to its electric transmission segment, and $2 billion to clean energy investments in order to strengthen its renewable portfolio.
In addition, Eversource has diversified its operations through the acquisition of Aquarion Water Company in December 2017, enabling the company to enter into the water business. Recognizing the immense potential in this sector, Eversource aims to further expand its water operations through strategic acquisitions. A planned investment of $1.02 billion from 2023 to 2027 will be allocated to the water distribution business, thereby enhancing its operations and efficiently serving an expanding customer base.
Eversource Energy has also made strides in generating clean energy while reducing emissions. The company's regulated companies are spearheading the construction of facilities that will facilitate over 9,000 megawatts of offshore wind generation for Southern New England, signaling its commitment to green energy.
Challenges
However, Eversource Energy recently faced a setback as its $1.6 billion Northern Pass transmission project was shelved due to the New Hampshire Supreme Court upholding the state Site Evaluation Committee's 2018 denial. This development hampers the company's growth plans.
Additionally, the company's operations are subject to various federal, state, and local legislative requirements, along with extensive environmental regulations. The introduction of new mandates could potentially impact Eversource Energy's financial performance.
Price Performance
In the past three months, Eversource has experienced a decline of 10.6% in its share price, compared to the industry's 5.5% decline.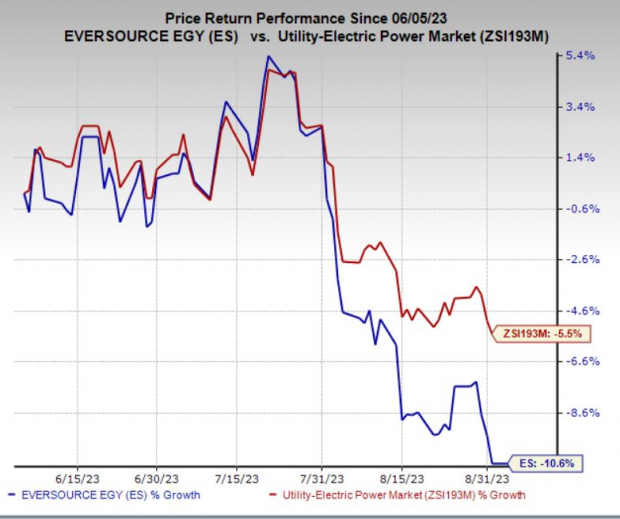 Image Source: Zacks Investment Research
Potential Stock Picks
Consider these alternatives within the same industry:
Otter Tail Corporation (OTTR): With a Zacks Rank #1 (Strong Buy) and an estimated 22.9% increase in earnings per share (EPS) over the past 60 days, Otter Tail offers favorable growth prospects.
Vistra Corporation (VST): Another Zacks Rank #1 (Strong Buy), Vistra is projected to experience a nearly 1% increase in EPS over the past 60 days. The company's current dividend yield of 2.57% surpasses the Zacks S&P 500 Composite's yield of 1.63%.
FirstEnergy Inc (FE): With a Zacks Rank #2 (Buy) and an estimated 0.8% increase in EPS over the past 60 days, FirstEnergy presents a solid investment opportunity. The company also boasts a long-term earnings growth potential of 6.45%.
Click here for a comprehensive list of today's top Zacks Rank stocks.
4 Oil Stocks with Growth Potential
Due to the increasing global demand for oil, the oil and gas industry is experiencing unprecedented growth. Zacks Investment Research has released a special report, "Oil Market on Fire," which highlights four unexpected oil and gas stocks that are poised for significant gains in the coming weeks and months. Don't miss out on these recommendations and download your free report now.
Download your free report now to see them.
To read more about this topic, visit Zacks.com.