The Zacks Business Services Sector currently boasts 21 stocks with a Zacks Rank #1 (Strong Buy) and a total of 232 stocks with this bullish ranking. Notably, over a third of these top-ranked business services stocks belong to the Zacks Technology Services Industry, which ranks in the top 34% of over 250 Zacks industries. The industry's total return, including dividends, is an impressive +28% this year, surpassing the S&P 500's +18% and closely aligning with the Nasdaq's +31%.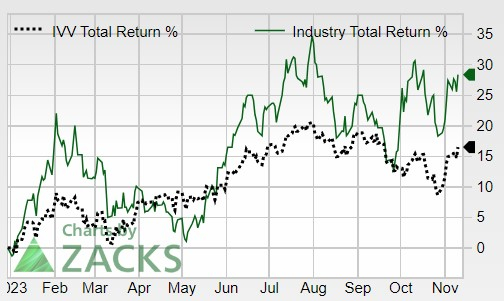 Image Source: Zacks Investment Research
This strong performance is underscored by the Technology Services Industry's average Projected EPS growth of 35.78% in 2023, significantly outperforming the S&P 500's 5.42%. Notably, three Technology Services Industry stocks have recently been added to the Zacks Rank #1 (Strong Buy) list due to their compelling outlooks.
A Growing Online Education Platform
Instructure (INST), an education technology company, has seen a surge in annual EPS forecasts, expected to rise by 10% in fiscal 2023 and another 14% in FY24 to $0.97 per share. The company's positive performance in the third quarter, surpassing both top and bottom line expectations, has led to a 7% and 4% increase in FY23 and FY24 EPS estimates over the last 30 days, respectively. Instructure's focus on delivering a comprehensive learning management system (LMS), learning assessments, and actionable analytics has made it an appealing investment in the online education platform.

Image Source: Zacks Investment Research
An Intriguing Super App
Inter&Co (INTR), a Brazilian-based company, has gained attention with its global payment platform and "super app" offering a wide array of banking, investment, credit, insurance, and cross-border services. With a strong Q3 performance, including earnings slightly surpassing estimates and a substantial year-over-year increase in transactional volume, Inter&Co has attracted over 1 million new customers in Q3, bringing its customer base to over 29 million. The company's high growth forecasts for FY23 and FY24, along with a favorable risk to reward ratio, have led to an impressive stock performance, currently at 52-week highs of around $5 per share.

Image Source: Zacks Investment Research
An Alternative Way to Capitalize on Construction-Related Activities
Procore Technologies (PCOR), which provides construction management software, has seen a significant uptick, especially after surpassing Q3 earnings expectations. The company's annual earnings are expected to rebound, with projections of $0.20 per share in FY23 and a substantial 111% increase to $0.42 per share in FY24. Furthermore, Procore's total sales are forecasted to climb by 30% this year to $938.07 million and an additional 19% in 2024 to $1.12 billion, making it an enticing investment in the construction-related activities niche.

Image Source: Zacks Investment Research
Key Takeaway
The Zacks Technology Services Industry and the broader Zacks Business Services Sector continue to offer potential growth opportunities, with Instructure (INST), Inter&Co (INTR), and Procore Technologies (PCOR) being the latest entries on the Zacks Rank #1 (Strong Buy) list.
To read the full article on Zacks.com, please visit here.
Zacks Investment Research