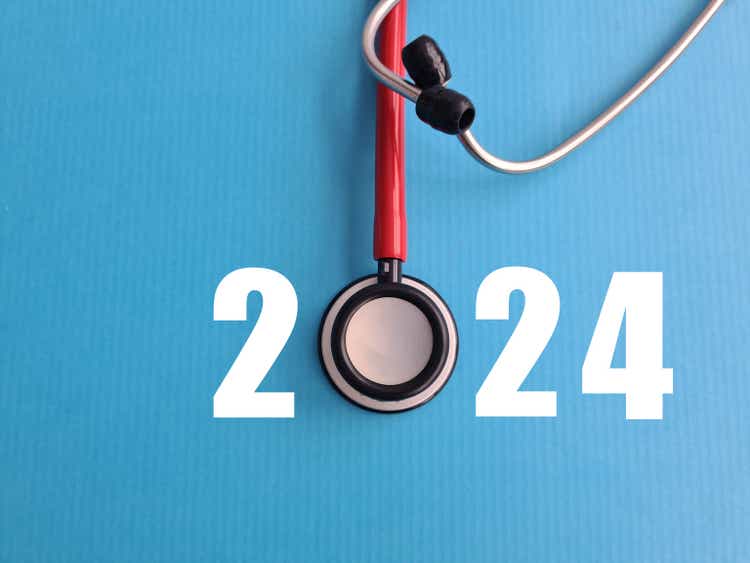 2024 looks to be the year of healthcare revival, as per a survey conducted by Jefferies. Healthcare executives are betting on a resurgence driven by ramped-up M&A activity and the emergence of GLP-1 class of weight loss drugs, with the fading of COVID-19.
Jefferies, in conjunction with its London Healthcare Conference, reported that a growing number of healthcare executives foresee a bounce back in M&A activity in 2024 following two years of sluggish performance.
In 2022, global healthcare M&A numbers and average sizes plunged over 30% and approximately 15%, respectively, as companies adopted a cautious approach amid market flux, according to U.S. consultancy firm Bain & Company. The downward trend persisted this year, with a 44% drop in global M&A value in the initial five months alone.
However, Jefferies' survey, encompassing over 600 senior leaders and investors, reveals a contrasting outlook as 2023 winds down. 68% of respondents anticipate escalating M&A deal volumes in 2024, while only 5% are predicting a decrease.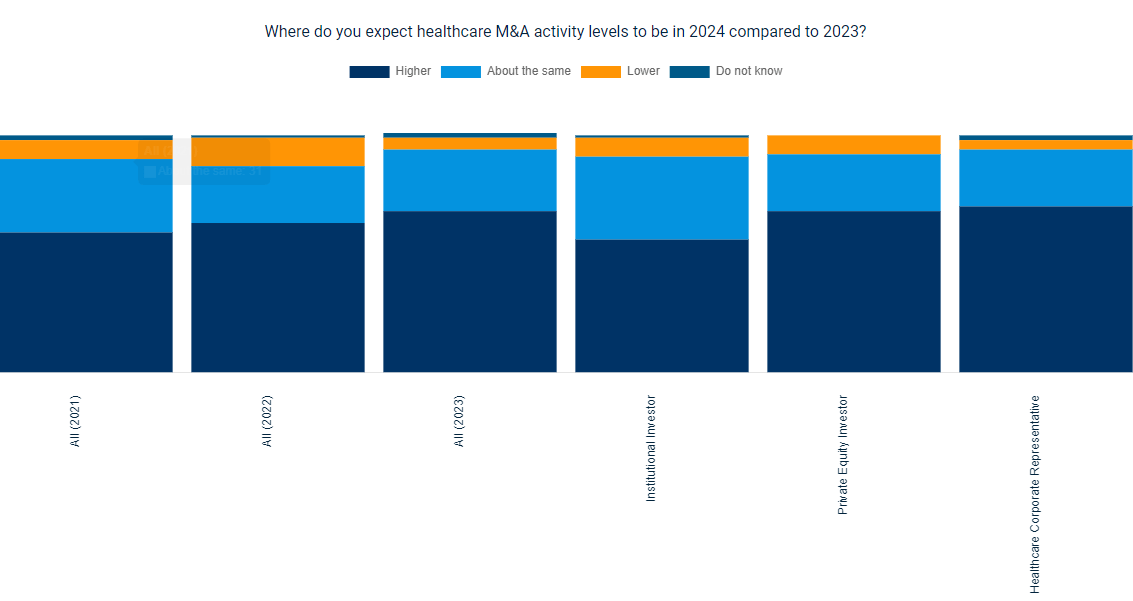 The survey indicates a shift in the drivers of M&A revival in 2024, with 60% and 16% of respondents foreseeing dominance by corporates and private equity, compared to 54% and 15% last year, respectively. Meanwhile, interest in public market debuts stays subdued, as only 6% and 1% opine that IPOs and SPAC-driven M&A will reign in the healthcare sector in 2024, respectively.
Tommy Erdei, Global Joint Head of Jefferies Healthcare Investment Banking, noted, "Sentiment towards Europe, in particular, is improving, with the region increasingly seen as a value opportunity for 2024 – with private equity investors the most bullish."
In addition to M&A optimism, the survey's findings point to a probable uptick in healthcare equity and a growing interest in the new GLP-1 class of weight loss drugs post COVID-19.
Despite the MSCI World Health Care Index's near 6% decline this year until October, trailing the broader market, 54% of respondents are predicting its rise by the end of 2024, with only 15% expecting a fall.
"Institutional investors are the most upbeat, with 92% believing that it will be at the same level or higher, and only 8% predicting a decrease," Jefferies stated.
Weight loss drugs are emerging as a prominent healthcare theme as COVID-19 recedes. Despite the emergence of new variants, 84% of participants do not foresee COVID-19 as a major healthcare theme over the next twelve months.
"The GLP-1 market is a major focus, as companies across the supply chain position themselves within the growth opportunity it presents," Erdei said, referring to drugs like Zepbound and Wegovy developed by Eli Lilly (NYSE:LLY) and Novo Nordisk (NVO).
However, views on the impact of the developing GLP-1 market vary, as 35% express concerns regarding "substantial risks that could deflate the market," while 32% consider the data insufficient to make conclusive predictions.
More on Eli Lilly, Novo Nordisk, etc.