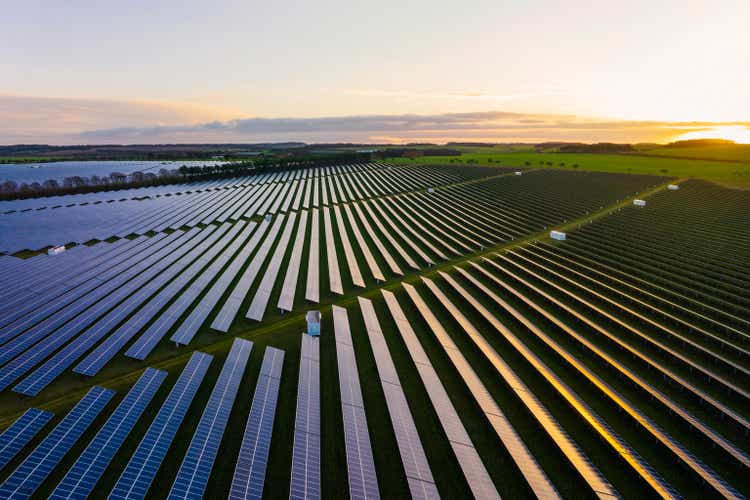 Established in 1990 and incorporated in 1999, First Solar (NASDAQ:FSLR) has become the largest solar panel producer in the United States. Their first commercial production facility in Perrysburg, Ohio, with an annual capacity of 1.5 megawatts, was completed in 2002.
Fueled by the Inflation Reduction Act passed in August 2022, First Solar is currently constructing its fifth manufacturing facility in Louisiana at a cost of $1.1 billion. The plant is expected to begin operations in 2026, adding 3.5 gigawatts of manufacturing capacity per year to their existing 11.5 GW. The company has also invested an additional $1.7 billion for a new site in Alabama and expansion of a facility in Ohio. This continuous expansion demonstrates their commitment to growth.
With a growing backlog that is projected to last until at least 2030, First Solar's order volume is outpacing their production capacity, indicating a positive outlook for investors.
The solar industry continues to receive subsidies, with individuals eligible for up to 30% of the panel cost until 2032. While this raises questions about the industry's reliance on government support, First Solar's strong backlog and potential for growth presents an enticing opportunity.
Valuation and Cash Flow
With a market capitalization of $20 billion, First Solar's stock may be considered slightly overvalued compared to its operating cash flow. Although they have a robust balance sheet and potential growth catalysts through expanding manufacturing capacity, investors must consider the company's lumpy cash flow due to industry subsidies.
Looking at the past four years' cash flows from operations, it is evident that subsidies cause fluctuations in cash flow. Receivables often accumulate and get paid in bulk, leading to sporadic cash flow patterns. First Solar's future cash flows are expected to continue this trend until the industry becomes self-sustaining.
Conclusion
First Solar's consistent growth, strong backlog, and government subsidies position them for continued success. However, the reliance on subsidies and the uncertain future of the solar industry outside government support present considerations for investors. It is vital to assess the relative opportunities and make informed investment decisions based on individual priorities and market conditions.
Note: This article does not evaluate the exact percentage of First Solar's profit reliant on subsidies, but it highlights the importance of government support in the industry. The author suggests considering alternative investments, such as oil and gas, which offer attractive dividends and a more established position in the energy sector.