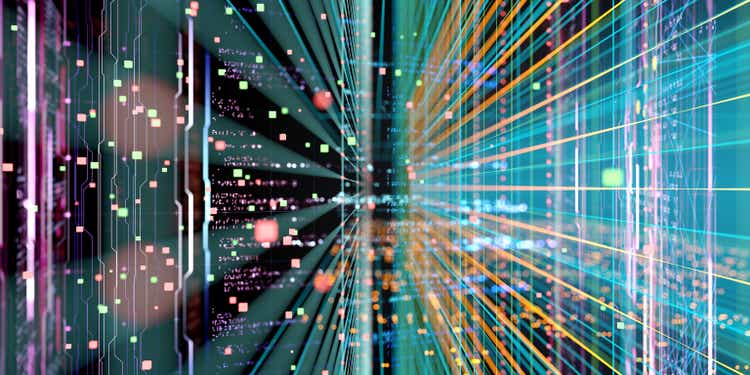 Lumine Group (TSXV:LMN:CA) (OTCPK:LMGIF) is a vertical market software serial acquirer in the communications and media industries that became a publicly traded company after its biggest acquisition (WideOrbit), spinning out from Constellation Software (OTCPK:CNSWF) (CSU:CA).
In this article, I am going to cover Lumine Group with the main goal of determining not just if it is a good investment but also answering the final question, is it a better investment than Constellation Software?
Lumine's Origins
In 2013, the Volaris Group, one of the six Constellation Software operating groups, started acquiring companies in the communication and media software business.
For those readers who are not familiar with Constellation Software, which I will refer to as CSI, and its organizational structure, I would recommend them to check my last CSI article, where I covered this topic in detail. In a nutshell, CSI has over 800 different software companies that operate in many verticals, such as agriculture, security, marine, and healthcare, among many others.
As the number of acquired companies in the communication and media vertical started to pile up, in 2020, after completing 16 acquisitions, they created Lumine as a division of Volaris, gathering them under a unified portfolio managed by David Nyland.
Lumine's companies served a global network of customers, mainly tier-1 telecommunication and fiber operators such as Vodafone (VOD), American Tower (AMT), Motorola Solutions (MSI), or Nokia (NOK).
In December 2022, CSI announced the acquisition of WideOrbit, a software company operating in the advertising market for cable networks, local television stations, and radio stations. The transaction was completed through a merger process with the Lumine portfolio of companies and a subsequent spin-out.
Lumine's Spin-Out
Although CSI conducts most of its acquisitions in cash, the WideOrbit acquisition had some particularities that justified the spin-out.
Firstly, the WideOrbit acquisition was abnormally high from the cost perspective ($490MM), since most of the previous acquisitions had an average purchase price of $11.7MM, and thanks to this particular agreement, CSI was able to pay $222MM to eligible shareholders of WideOrbit in shares.
Also, and I believe this is highly positive, it would be hard to acquire this superior quality company all in cash, since Eric Mathewson, who founded it in 1999, along with other selected shareholders wanted to remain in the business.
WideOrbit has significantly higher net income margins than the Lumine portfolio of companies (25.3% vs 11.8% for 2021) and recurring revenue, due to its great market share, which improves the profitability of the Lumine portfolio.
I see this merger as highly beneficial for both parties. From WideOrbit's perspective, being under the CSI's umbrella improves financial efficiency, reducing interest expenses, providing them access to a global network of clients and cross-selling opportunities, and CSI's long-term acquired know-how and best practices.
For CSI and Lumine, the merger accelerates its expansion into the media space and opens the opportunity for further acquisitions, while at the same time improving profitability.
Financial Structure
The spin-out is a bit messy process and involves some corporate transactions, so I will try to simplify as much as possible since it will be important in the financials section.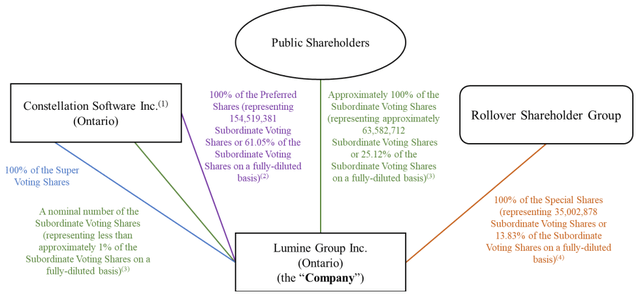 There are basically four types of shares:
Subordinate Voting Shares: distributed to CSI's shareholders during the spin-out and entitled to one vote per share.
Preferred Shares: distributed to CSI during the spin-out, they do not have voting rights but are entitled to receive a 5% annual dividend on the initial enterprise value ($1.6B). Can be converted at any time from the IPO until March 2024 into one Subordinate Voting Share per 2.43 Preferred Shares.
Special Shares: distributed to certain previous WideOrbit shareholders under the same conditions as the Preferred Shares except for the conversion rate, which is 3.42 for each Subordinate Voting Share.
Super Voting Share: there is only one, distributed to CSI to ensure that it has 50.1% of the votes until the conversion of the Preferred Shares.
On a fully diluted basis, CSI indirectly holds 61.05% of the shares, 25.1% of the shares on a fully diluted basis have been distributed to CSI's shareholders, and the remaining 13.83% is owned by a group of previous WideOrbit shareholders.
Organizational structure
After the merger and subsequent spin-out, which occurred on March 24, 2023, the Lumine Group is organized into three operating groups, two operating in the communications vertical, and the media operating group.
I look forward to having CSI's long-term shareholders become long-term shareholders of Lumine Group. I hope my grandkids are still holding Lumine shares fifty years from now.

(Source: Mark Leonard, CSI's Founder and President)
Lumine's Acquisition Approach
Since 2013, Lumine has done 29 acquisitions and currently operates 28 business units, given that the 2016 acquisition was incorporated into Incognito Software Systems, its first acquisition in the communications segment.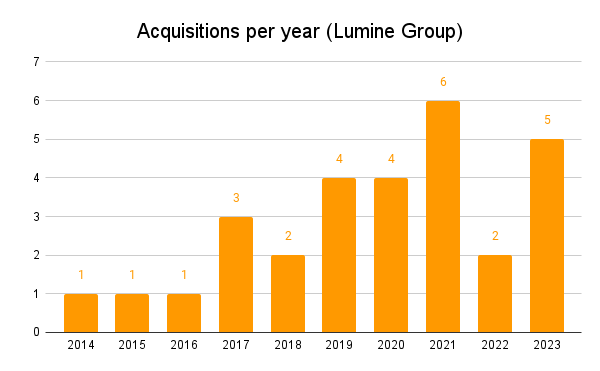 When looking for acquisitions, Lumine's criteria focus on:
Vertical market niche inside the communications and media domain where they have #1 or #2 level of market share.
Proven mission-critical software that solves a major operational need within their customers.
Low churn rate over a long period.
Low-concentration customer base
When diving into each of Lumine's acquired businesses, we can see most of them were founded before the 2000s, so they truly have a long and proven track record in their particular niche.
The average price per acquisition, excluding WideOrbit and Titanium (acquired after WideOrbit for $49.9MM), is $11.7MM, which is higher than the average CSI acquisition (~$5MM from 2009 until 2020). The main reason for that is, that the early acquisitions were mainly directly from owners, and the latest acquisitions were corporate divestitures and private equity sales, which tend to be larger assets.
When Lumine acquires a company, it is always with a long-term focus and the goal of holding it forever, but letting it operate independently in a decentralized structure. The acquired business receives support in many ways.
The acquired business gets access to capital for organic and M&A investments, the Lumine Playbook with over 250 best practices to improve efficiency and growth, and can benefit from synergies and mutual collaboration with other business units under Lumine's umbrella.
I believe this strategy is a win-win since it strengthens the competitive advantage of the acquired business while improving the business performance, and Lumine increases the number of business units creating a stronger network effect, reducing concentration, and increasing its cash flow.
Experienced Management
The CEO is David Nylan, who has been building the Lumine portfolio of companies since 2013, so he has a proven experience in the business. He started his career as a software developer at a Tier 1 systems integrator and moved into entrepreneurial roles before joining Volaris.
The board of directors of Lumine consists of seven directors, four of them appointed by CSI, one by the previous shareholders of WideOrbit, and two independent.
The appointed directors from CSI are: David Nyland, Mark Miller, who is the CEO of Volaris and COO of CSI, Brian Beattie, the CFO of Lumine and Volaris, and Robin van Poelje​, the Chairman and CEO at Topicus.com. The appointed director by the rollover shareholders from WideOrbit is Eric Mathewson, who founded the company and continues as CEO.
Lumine has an outstanding management team with extensive experience and a proven track record of successfully implementing CSI's business model over many years, since Mark Miller co-founded Trapeze, which was the first company acquired by CSI in 1995, and has been working with CSI for over 20 years, and the CFO Brian Beattie joined Constellation Software in 2005.
Apart from a management team that I believe will execute successfully the growing strategy, one of the most positive aspects is the incentive structure, replicating CSI's model, which I believe is superb.
Compensation consists of a base salary and annual bonus paid in cash, but a significant portion is used to purchase shares in the open market and locked up for four years. For executive directors, the portion of the bonus used to buy Lumine's shares has not yet been disclosed, but it is 75% in CSI's case, so I expect a similar rate. For board members, 50% of the fees received will be used to buy Lumine's shares.
The bonus is measured based on the return on invested capital (ROIC), and if ROIC is less than the risk-free rate, no bonus is paid, incentivizing value creation for shareholders.
This compensation structure perfectly aligns management with shareholders and after the spin-out, I believe it is even better since management will hold shares at Lumine and not CSI, which I believe is fairer.
Financials and Valuation
To analyze Lumine's financials, it is important to note that we have to make some adjustments until preferred and special shares are converted into subordinate voting shares since the movement of Lumine's stock affects financial statements.
Revenue
Lumine's revenues are primarily software fees licensed under multiple-year or perpetual arrangements. While most of Lumine's revenues are recurring, the company also has a smaller percentage derived from hardware revenues, implementation and integration services, and customized programming.
Since Lumine's business units operate in niche segments, they have a limited addressable market and usually don't experience high organic growth, but they use the recurring cash flows to pursue new acquisitions, which drives growth in revenues.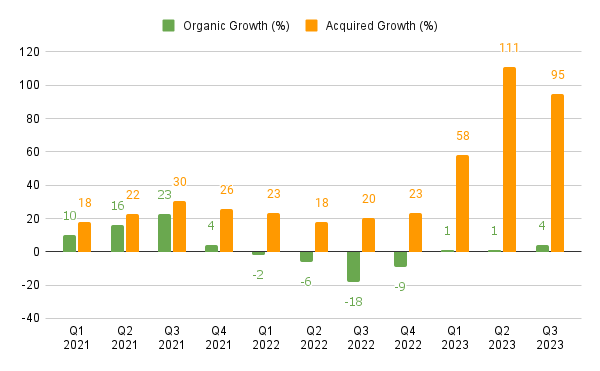 As shown in the chart above, organic growth is slightly above 2% on average over the long term, while acquired growth is significantly higher and revenues have increased from $49.6MM in Q1 2021 to the current $131.3MM in Q3 2023.
The biggest expense, given the asset-light business model is staff, which compromises approximately 50% of revenues. Lumine amortizes its goodwill and intangible assets at ∼10% annually, slower than CSI (∼13% annually), which impacts operating margins. Since the useful life of its products can last for decades, both companies should be valued using cash flows and not net income.
Balance
As mentioned before, it is important to make some adjustments on the balance sheet by matching the positive Preferred and Special Stock Redeemable with negative equity compromised of Contributed surplus and Retained earnings (deficit).