Stock Market on the Rise
Last week marked continued success for the stock market, bringing it close to reaching year-to-date highs. The Nasdaq and S&P 500 are within just 2% of their summer peaks. Bullish winds in the form of tame inflation reports and declining treasury yields have propelled stock buying activity, fostering a positive seasonality rally.
The recent price action is promising for a continuation of the new bull market, with corporate earnings outpacing expectations. Third-quarter earnings are set to witness positive year-over-year growth, marking a pivotal turning point after three consecutive quarters of decline.
DraftKings, a Standout Winner
Leading the pack in the gaming and sports betting industry is DraftKings DKNG. The company reported a smaller third-quarter loss of -$0.61/share, surpassing the -$0.69/share consensus estimate. Revenues soared 57% to $790 million compared to the year-ago period, propelling DKNG shares to a spectacular 240% surge this year.

Image Source: StockCharts
Analyst Optimism and Market Standing
Analysts covering DraftKings have raised their earnings estimates for fiscal 2024 by 50.98% in the past 60 days, with the Zacks Consensus Estimate reflecting an 83.51% improvement relative to this year. DraftKings is part of the Zacks Gaming industry group, outperforming in the top 35% of approximately 250 Zacks Ranked Industries.
Light & Wonder Also Shines
Light & Wonder LNW, a key player in gaming technology products, has experienced market success this year. The company's stock has risen by a notable 47%, with full-year earnings on track to increase by a staggering 430% from last year. Analysts have also boosted their outlook for LNW, with EPS estimates rising by 23.94% in the past 60 days.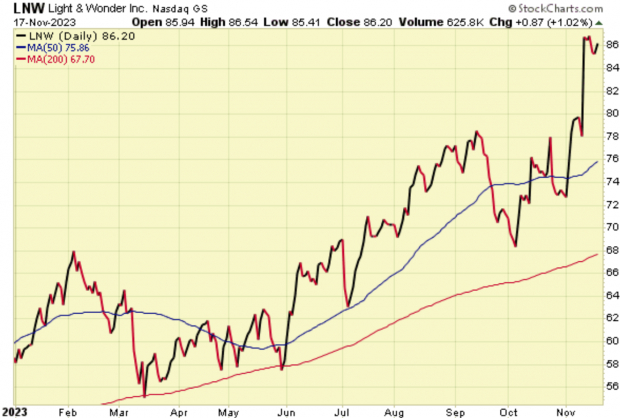 Image Source: StockCharts
Bullish Future Outlook
The robust performance of industries like gaming and sports betting indicates a resilient economy, suggesting that investors can continue to add exposure as the market shows strength. Taking advantage of Zacks' valuable insights can lead to the discovery of leading stocks like DKNG and LNW.
Conclusion
The stock market is signaling an optimistic outlook, with industries like gaming serving as a beacon of success. Investors are encouraged to explore potential opportunities and stay ahead of the curve with valuable resources provided by Zacks.
The views and opinions expressed herein are the views and opinions of the author and do not necessarily reflect those of Nasdaq, Inc.
To read this article on Zacks.com click here.