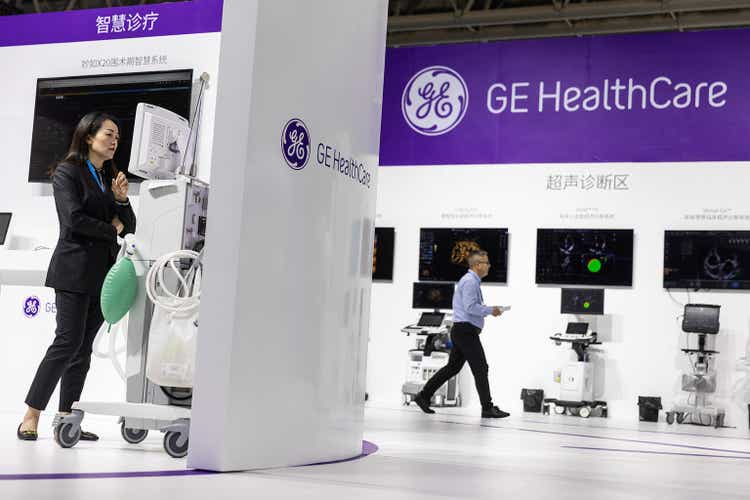 GE HealthCare (NASDAQ:GEHC) shares gained a remarkable 7% during morning trading on Tuesday following impressive Q3 earnings that exceeded Wall Street expectations. Additionally, the company announced an increase in the lower range of its 2023 earnings forecast. This positive news has prompted a surge in market confidence and investor interest.
At approximately 10:45 a.m. ET, GE shares were trading at $67.30, a substantial 7% increase, with a peak of $67.70 recorded earlier.
Yesterday, GE HealthCare reported Q3 adjusted EPS of $0.99 per share, surpassing the consensus estimate by an impressive $0.09. Furthermore, the company achieved a year-over-year revenue growth of 5.2% to $4.82 billion, exceeding the Street's estimate by $20 million.
The largest segment of GE HealthCare, its imaging products, experienced a 5% revenue growth to $2.6 billion. This increase can be attributed, in part, to supply chain improvements, favorable pricing, and successful new product introductions.
In addition to the outstanding earnings report, GE HealthCare has revised its 2023 guidance. The company now projects reporting adjusted EPS in the range of $3.75 to $3.85, up from the previous range of $3.70 to $3.85. The average analyst estimate for 2023 was $3.79.
Moreover, GE HealthCare anticipates a 2023 adjusted EBIT margin between 15% and 15.5%, compared to 14.5% projected for 2022.
Gain Deeper Insights into GE HealthCare Technologies