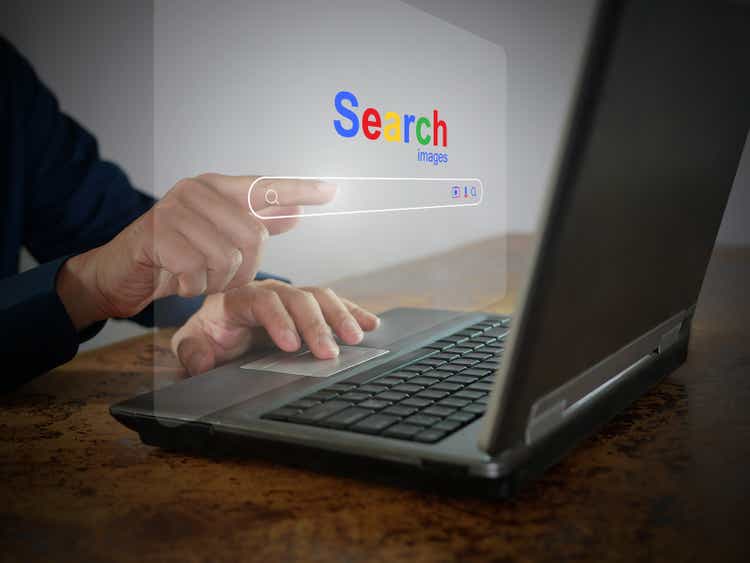 Alphabet (NASDAQ:GOOG) (GOOGL) reported its third quarter 2023 earnings on October 24, 2023, soundly beating analysts' consensus revenue and earnings estimates, driven by strong advertising and YouTube results. However, investors were disappointed in the company's cloud business results. Investors reacted by dropping the stock price by almost 10% the next day to close at $126.67.
Any pullback in stock price gives investors the perfect opportunity to invest in a company ideally positioned to become one of the top Artificial Intelligence ("AI") leaders. Alphabet has a significant first-mover advantage in AI and the financial resources to maintain its position as one of the leading innovators in the space. AI research and development are costly, requiring massive investments. As of the end of September, it has $120 billion in cash and short-term investment against $13.781 billion in long-term debt. It produced almost $78 billion in trailing 12-month free cash flow, primarily from its lucrative Search business model. Only a few companies globally have the financial resources to invest in AI at the pace of Alphabet.
Although Microsoft (MSFT) and OpenAI grabbed many headlines concerning generative AI and Large Language Models (LLMs), Alphabet has arguably been the most aggressive investor in AI and autonomous technologies over the last decade. Alphabet's Google started working on self-driving cars in 2009. The company bought eight robotics companies within six months in 2013 and bought DeepMind in 2014. It was among the first large tech companies to shift from a mobile-first company to an AI-first company, making that announcement in 2016. It invented Transformer, the precursor technology to ChatGPT, in 2017. So, the narrative that Microsoft is far ahead of Alphabet in AI may be overblown.
If you are a growth investor looking for one of the best ways to invest in AI over the next decade, now is the time to start giving Alphabet a serious look.
The company is infusing AI into all its products
Since Microsoft and OpenAI awakened this sleeping AI giant by introducing ChatGPT in November of 2022, Alphabet has sprinted to add generative AI products to its consumer and enterprise businesses. One of the first places that Alphabet incorporated this new technology was Search. When OpenAI introduced ChatGPT, an ex-Google employee, Paul Buchheit, the creator of Gmail and Google AdSense, promoted the idea that OpenAI's new AI technology would quickly destroy Google Search.
Alphabet quickly countered the theory that Microsoft adding ChatGPT to Bing could rapidly annihilate Google Search by introducing Bard's Generative AI capabilities into Search to create Search Generative Experience ("SGE"). This new product improves Google Search and is competitive with the Bing-ChatGPT combination. So far, there is little evidence that Microsoft is gaining much ground in Search. Chief Executive Officer ("CEO") Sundar Pichai said on Alphabet's Third Quarter Earnings call:
With Generative AI applied to Search, we can serve a wider range of information needs and answer new types of questions, including those that benefit from multiple perspectives. We are surfacing more links with SGE and linking to a wider range of sources on the results page, creating new opportunities for content to be discovered.

Source: Alphabet Third Quarter 2023 transcript
The company is also adding Bard to more areas than Search. Bard integrates with Workspace, Maps, YouTube, and Google Flights and Hotels. Alphabet has also added Bard to Google Assistant, thereby introducing generative AI into Android — an advantage over Microsoft, which lacks a viable mobile platform.
Last but not least, it has positioned itself to become a premier AI infrastructure company through its cloud assets. Through the Google Cloud Platform (GCP), companies, developers, data scientists, and engineers can create, train, trial, track, fine-tune, and deploy Machine Learning and AI models. GCP is attractive to early-stage AI companies and large enterprises alike. CEO Pichai said the following during the earnings call:
Today, more than 60% of the world's 1,000 largest companies are Google Cloud customers… [And] more than half of all funded Generative AI startups are Google Cloud customers. This includes AI21 Labs, Contextual, Elemental Cognition, Rytr, and more.

Source: Alphabet third quarter 2023 earnings call transcript
Alphabet has made a big bet on generative AI helping Google Cloud gain ground on Amazon's (AMZN) AWS and Microsoft Azure.
However, the cloud business lays an egg in the third quarter
So far, Alphabet's big bet on AI has failed to pay off in the cloud. Investors expected a lot out of the cloud business in the latest quarter, especially after it only recently attained operating profitability earlier this year, a feat some thought was impossible. However, the cloud produced less growth than investors sought in the third quarter. Google Cloud revenue grew 22% to $8.41 billion, missing Wall Street estimates of $8.64 billion. Adding insult to injury, Microsoft also reported earnings the same day, with its Intelligent Cloud segment and Azure public cloud exceeding consensus analyst estimates. Investor Business Daily reported that KeyBanc Capital Markets analyst Justin Patterson stated in a report, "Google Cloud appears to have ceded market share to Microsoft Azure."
Alphabet has invested a lot in building AI capabilities because it believes the technology can help it differentiate its cloud platform from the competition and appeal to new customers. So, Google Cloud's lack of progress in gaining share from Microsoft's Intelligent Cloud stings. Chief Financial Officer ("CFO") Ruth Porat said on the company's third-quarter earnings call, "The Q3 year-on-year growth rate reflects the impact of customer optimization efforts." During 2022, "customer optimization efforts" often meant that companies were looking to find ways to cut their cloud costs — a poor scenario for increasing Google Cloud sales.
Some additional risks
The most significant risk investors need to watch is that Alphabet faces two antitrust lawsuits by the U.S. Department of Justice ("DOJ"), which filed its first lawsuit in 2020; the DOJ later combined its litigation with a lawsuit by 35 states, the territories of Puerto Rico and Guam, and Washington, D.C. This 2020 lawsuit alleged Google monopolized search and search advertising. The case went before a judge in early September 2023 and should last approximately three months.
The DOJ filed its second antitrust lawsuit seeking to break up Google's ad business in January 2023. The DOJ announced on April 17, 2023, that 17 states had joined it in the second lawsuit. An adverse ruling in either case could crimp Alphabet's most lucrative business, Search advertising. Even if it receives a favorable ruling, the litigation could set the company's business back comparable to the ills Microsoft faced during its long, arduous antitrust trial in 2001. It faces litigation in other areas of the world, too. The European Commission also wants to break up Google's ad business. And recently, Japan's Fair Trade Commission has started investigating Google's Android practices with smartphone makers.
Some of Alphabet's competitors are licking their chops as they realize that anything damaging Google's ad business will help them. These companies include Microsoft, The Trade Desk (TTD), TikTok, Meta Platforms (META), Roku (ROKU), Magnite (MGNI), Snap (SNAP), PubMatic (PUBM), BigCommerce (BIGC), and any other company with a stake in the digital ad market. With government regulators taking a stand against Google, it should be easier for companies to break through Google's Search monopoly.
Last but not least, although it may be difficult for any one company to break through Google's moat without the aid of the government, the era of generative AI makes it possible for all companies to create AI chatbots. Companies like Meta Platforms have already developed 28 different chatbots, each specializing in various topics and having different personalities. The sheer weight of all the chatbots coming onto the market from multiple companies could also break Google's monopoly on Search as people may prefer other companies' chatbots for answers to different questions.
The good news
All the critical metrics outside of Google Cloud were favorable. Alphabet's largest source of revenue, the advertising business, continues to recover after a terrible 2022. Google's total ad revenue grew 9% to $59.65 billion, beating analysts' estimates of $59.12 billion. YouTube ad revenue grew 12% to nearly $8 billion, beating analysts' YouTube ad revenue estimates of $7.82 billion.
Even better, Alphabet is no longer the freewheeling company that spent money like a drunken sailor like it was before interest rates rose. During the third quarter earnings call, CFO Porat said that Alphabet is "looking to grow revenues at a faster rate than expenses as we're focused on delivering sustainable financial value." This focus on controlling costs is helping to reaccelerate earnings growth in 2023, partly behind the stock's rise this year.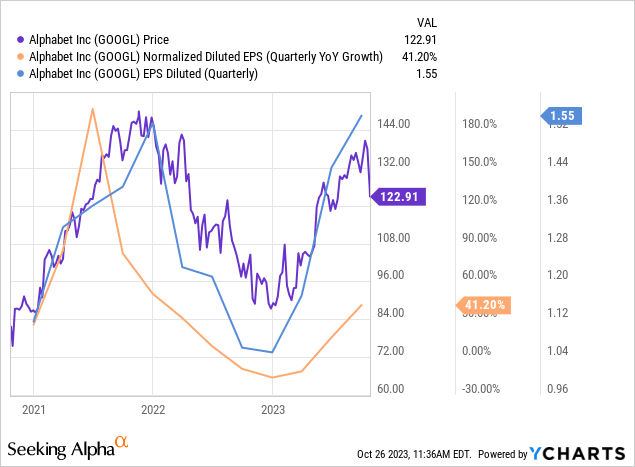 Lastly, while the Cloud unit's underperformance is a concern, investors should also factor in that Alphabet has only recently rolled out many of its AI cloud products that it announced at the Google Cloud Next 2023 developer conference held between August 29–31. For instance, the company only released Duet AI for Google Workspace, a competitor to Microsoft Copilot, on August 29, two-thirds of the way into the third quarter. So, it may be too early to determine whether Alphabet's cloud AI products will help it gain on Azure and AWS.
Suppose Google Cloud's AI products appeal to customers after they get a chance to try them, and an improving economy makes customers less inclined to achieve cloud cost savings; sales growth for its cloud business could be satisfactory over the next three to five years. The market may have overreacted to Google Cloud's revenue shortfall and will quickly forget this revenue miss if the company's AI efforts pay off in the long term.
The market undervalues the stock
The chart below shows Alphabet's consensus analyst earnings-per-share ("EPS") estimates between 2023 and 2028. The company has a five-year EPS compound annual growth rate of 17.36%.

The company trades at a forward price-to-earnings (P/E) ratio of 21.22 and a one-year forward P/E ratio of 18.37, far too low for a company of this quality. Suppose you consider the company's solid business model, strong track record of execution, leadership in the rapidly expanding field of AI, and high double-digit EPS estimates over the next five years; Alphabet deserves a higher premium for its EPS growth. The following chart shows the company's forward P/E ratios.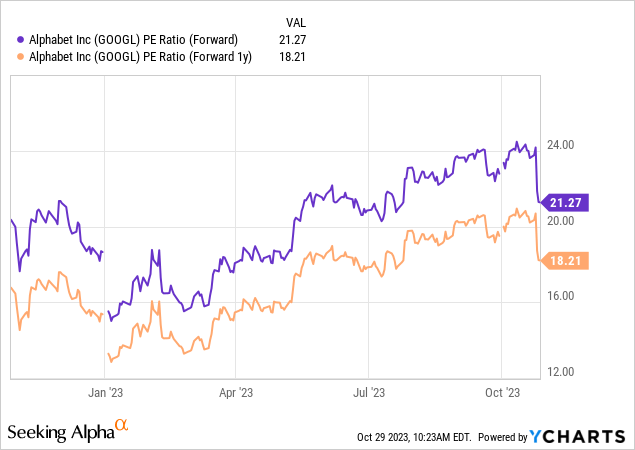 The following chart compares Microsoft and Alphabet's EPS growth rates and forward P/E ratios. This comparison shows that although Alphabet displayed a much higher EPS growth rate in the third quarter, Microsoft showed a much higher forward P/E ratio. While Microsoft deserves the higher valuation because of its more solid cloud numbers, Alphabet should trade at least a forward P/E of around 25. This valuation calls for a stock price of $143.59, 17.5% above Alphabet's October 27 closing price of $122.17.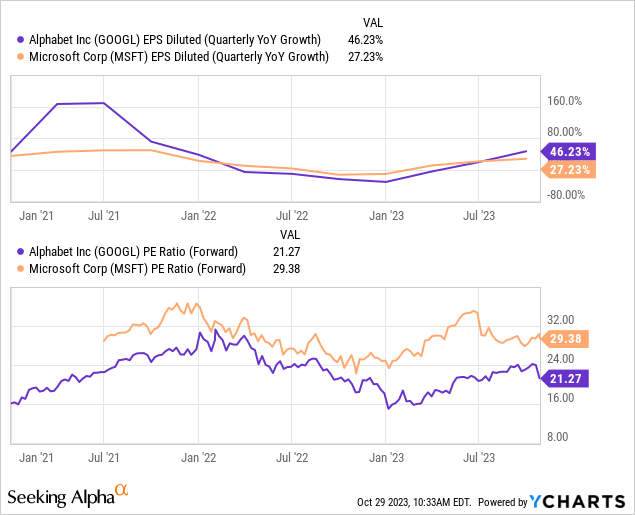 Last, Alphabet's GF Value of $144.74 was 18% above its closing stock price on October 27, 2023, signaling the market could be modestly undervaluing the stock. The GF Value is a proprietary calculation designed to measure the Fair Value of a stock.
Should you buy the stock?
Only two weeks ago, Alphabet's stock price was at its 52-week high of $142.38, up 60% for the year, and some investors wondered whether it was too late to invest. If you were one of those investors, the market has now given you another opportunity to add this AI leader to your portfolio. I recommend aggressive growth investors buy the stock at these levels.