It's no longer news that the overall earnings outlook has turned out to be more positive and favorable than initially anticipated a few quarters ago. The primary factor contributing to this positive earnings surprise has been the resilience of the U.S. economy in spite of the Federal Reserve's significant tightening measures.
While some market participants still harbor concerns of an impending recession, the market as a whole seems to have taken guidance from consistent and reassuring economic data and shifted towards a viewpoint of a gentle landing.
Readers who are familiar with our earnings analysis know that the aggregate earnings estimate revisions have stabilized since the beginning of Q2 2023, after a year-long trend of negative revisions. Since April 2023, earnings estimates for the full-year 2023 have declined by -0.34% for the S&P 500 index as a whole. However, if we exclude the Energy sector, estimates for the remaining 15 sectors would have risen by +0.7% during that period.
Positive estimate revisions have been seen in sectors such as Tech, Construction, Autos, Consumer Discretionary, Industrial Products, Retail, and Consumer Discretionary. On the other hand, the Energy sector has consistently faced downward revisions, leading to a -11.4% decline in aggregate 2023 earnings estimates for the sector since April.
These revision trends also apply to the estimates for 2023 Q3, with advanced results for this quarter expected to be released in the coming days.
Current expectations for S&P 500 earnings in Q3 suggest a decline of -1.5% compared to the same period last year, with revenues projected to be +0.7% higher. This follows a decline of -7.3% in earnings and +0.2% in revenues during Q2 2023.
The upcoming chart illustrates the year-over-year Q3 earnings and revenue growth relative to previous quarters and future projections: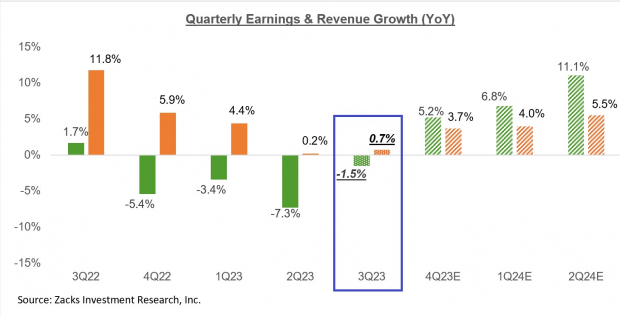 Image Source: Zacks Investment Research
As depicted, Q3 2023 is expected to be the final quarter of earnings decline for the index, with positive growth projected to resume from Q4 2023 onwards. Excluding the downfall in the Energy sector, earnings growth in Q3 2023 would actually be positive. Another chart illustrates the index's year-over-year earnings growth on an ex-Energy basis: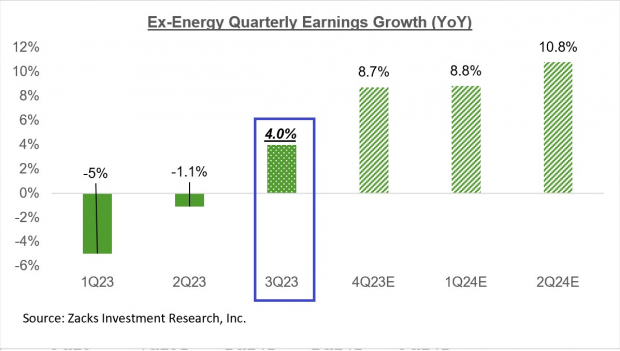 Image Source: Zacks Investment Research
Further analysis reveals that net margins are expected to decline for the 7th consecutive quarter in Q3. However, when excluding the Energy sector, net margins would show a modest increase compared to the previous year. The chart below provides visual representation of the year-over-year change in net margins: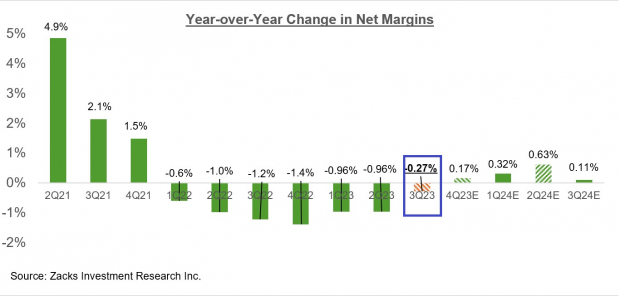 Image Source: Zacks Investment Research
An additional chart illustrates the earnings and revenue growth on an annual basis: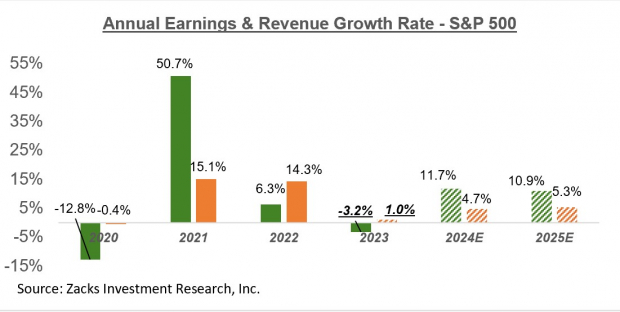 Image Source: Zacks Investment Research
This Week's Important Earnings Releases
This week's earnings calendar is relatively light, with Kroger (KR) being the only S&P 500 member expected to report results. Kroger will release its results before the market opens on Friday, September 8th. Other notable companies reporting this week include C3.ai (AI) and DocuSign (DOCU).