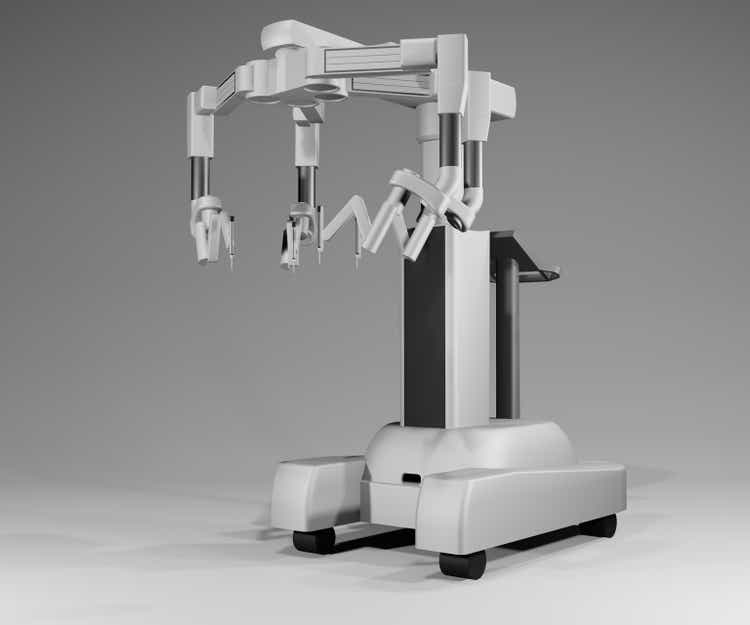 Intuitive Surgical (NASDAQ:ISRG) fascinates with its precise robot-assisted Da Vinci surgical masterpiece. These excel in performing challenging and time-consuming surgical procedures with exceptional accuracy.
The Da Vinci Surgical Systems are robot-assisting systems in which Intuitive Surgical previously held a robust monopoly. What fascinates is that they facilitate minimally invasive surgery through a console that controls the robot arm, enabling highly accurate operations compared to laparoscopic surgery. The Da Vinci is used in surgical procedures such as prostatectomies and hysterectomies. The advantage is that these precision surgeries contribute to shorter patient recovery times.
The need for precise invasive surgery will increase in the coming years and Intuitive Surgical is well positioned in this market. However, the initial investment of a Da Vinci system is substantial, around $2 million per system, with additional annual service costs. The annual service costs include a technical learning environment, practice setting, peer-to-peer education, program implementation, and more. For Intuitive Surgical, the annual service costs ensure a stable income stream, providing certainty to further innovate its Da Vinci systems.
The marvelous innovator in Intuitive Surgical provides certainty, with a firm position in the market. However, the threat of competition throws a spanner in the works. It is unfair that stock price has not been altered to reflect this threat, making investing less appealing.
A Changing Competitive Environment
The introduction of the first surgical robot, PUMA 560, in 1985 marked the beginning of a rapid expansion in the surgical robots market. Advanced surgical robots are now utilized in various procedures, from prostate cancer surgery to laparoscopy.
Intuitive Surgical released its first Da Vinci Surgical Robot 23 years ago and has now facilitated more than 13 million procedures. While the company has thrived on a strong monopoly position, other competitors have now emerged with similar systems, threatening its reign.
One such contender is Medtronic (MDT), which has introduced the Hugo Surgical System, providing an alternative to the Da Vinci. However, the stability of the Hugo system is questionable, with its sensitivity to vibration and movement due to the setup of its arms and console. Comparatively, the Da Vinci offers a more robust and stable solution.
Another competitor on the rise is Johnson & Johnson (JNJ), which acquired Verb Surgical, a company developing invasive surgical robots akin to the Da Vinci. Backed by Alphabet's substantial capital, Verb Surgical poses a significant threat once its robots receive approval. This will undoubtedly bring major challenges for Intuitive Surgical.
Strong Global Presence and Financial Stability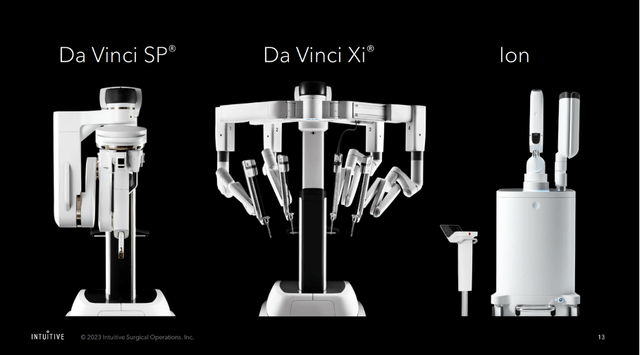 With over 8285 Da Vinci Surgical robots installed worldwide, Intuitive Surgical has a significant global presence. Growth remains steady, with the number of installed systems increasing by 12% in 2022. The demand for invasive robotic surgery is substantial, with a total of more than 13 million procedures performed by all Da Vinci systems. The steady growth in demand aligns with the medical robot market's projected expansion at a CAGR of 16.6%.
The financial strength of Intuitive Surgical is noteworthy, with over 79% of its revenue being recurring. The company maintains solid revenue streams, with a sound balance sheet and substantial capital for potential acquisitions. This stability, combined with a robust free cash flow margin, positions the company favorably in the industry.
The recurring revenue model, with service fees and instrument costs, contributes to the company's financial fortitude. The third-quarter results reflect this strength, with a 12% Y/Y increase in revenue and a commendable gross margin of 68.8%. Analysts anticipate continued annual revenue and EPS growth, further bolstering the company's financial standing.
A Questionable Stock Valuation
The stock valuation of Intuitive Surgical is a point of contention. With a forward P/E ratio of 47, the stock appears expensive compared to competitors like Medtronic. Additionally, the EV/EBIT ratio of 60 signals a rich valuation, raising concerns about potential downturns if growth slows down. The impending threat from Medtronic and Johnson & Johnson further compounds the risk associated with the current stock valuation.
While Intuitive Surgical holds promise in the industry, its valuation does not reflect the emerging competition, making it a risky investment. An adjustment to stock price in light of these threats is imperative to accurately represent the company's standing in the market.
Closing Thoughts
Intuitive Surgical's dominant position in invasive surgical systems is under threat from new competitors. While the market for medical robots is poised for significant growth, the emergence of strong contenders challenges the company's monopoly position. The rich valuation, coupled with the impending competition, presents a considerable risk for investors. Careful consideration and vigilance are necessary before making investment decisions in light of these changing dynamics.