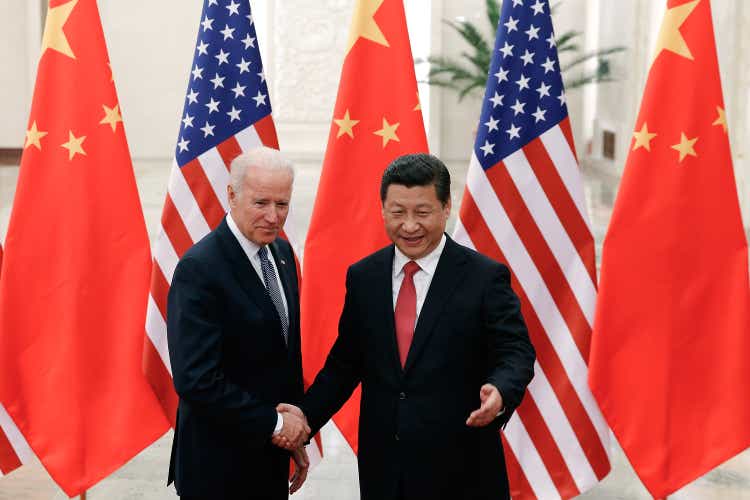 President Biden and Xi Jinping's Meeting: A New Hope for US-China Relations
It has been six years since Chinese President Xi Jinping set foot in the United States, visiting former President Donald Trump in Mar-a-Lago. Over recent years, the US-China relationship has grown worse. Biden and Xi plan to attend the Asia-Pacific Economic Cooperation (APEC) summit in San Francisco this Wednesday in an attempt to restore their relationship by tackling the trade wars, which have spiraled into areas of technology, geopolitics, national security, and more.
Despite the end of China's zero-COVID policy, the nation is experiencing slowing economic growth, a rise in unemployed youth, and its biggest fall in Chinese exports since the pandemic. China's trade surplus plunged from $102.7B in July of 2022 to $80.6B for the same period in 2023, as posturing took a new form following U.S. House Speaker Nancy Pelosi's visit to Taiwan. The visit resulted in Beijing retaliating by cutting off major communication channels with the U.S. Spokeswoman at China's foreign ministry, Hua Chunying, declaring, "The U.S. will certainly shoulder the responsibility and pay the price for undermining China's sovereignty and security interest." With APEC kicking off this week in hopes of stronger US-Chinese relations for 2024, and despite Morgan Stanley's warning against buying the dip in Chinese stocks, China's EV demand soars, along with investment into semiconductors, offering potential upside for Chinese stocks over the next year, a great portfolio diversifier.
Why invest in Chinese stocks now?
Despite a downward spiral in relations between the U.S. and China and negative sentiment in the Chinese market, Chinese stocks can offer upside amid its slowing economy. Where global volatility and inflation are eating into revenue and profits, China's market accounts for 29.89% of the MSCI Emerging Markets Index, which is modestly outperforming the MSCI USA Index over the last year, 10.80% versus 10.08% (as of 10/31/23), and the net returns of China's MSCI Index is outperforming the net returns of MSCI Emerging Markets and MSCI ACWI for the same period.
Offering diversification and an opportunity to tap China's 1.4 billion population, I've selected three China ADR stocks rated strong buys, with strong Factor Grades, which rate investment characteristics on a sector-relative basis.
3 Chinese Stocks with Quant Strong Factor Grades

As one of the largest and fastest-growing economies in the world, China's equities can offer attractive returns. Chinese equities experienced a surge in late 2022 as pandemic-related restrictions were lifted. Although some global investors fear Chinese stocks as some emerging-market portfolios strip China out of its funds, Chinese stocks still account for nearly 30% of the MSCI EM Index. Offering a strong Financial and IT focus, as the low-cost manufacturing model shifts gears toward innovative and transformative ideas in high-tech and growth opportunities, the second-largest economy is hard to ignore.
MSCI Emerging Markets Index Sector & Country Weights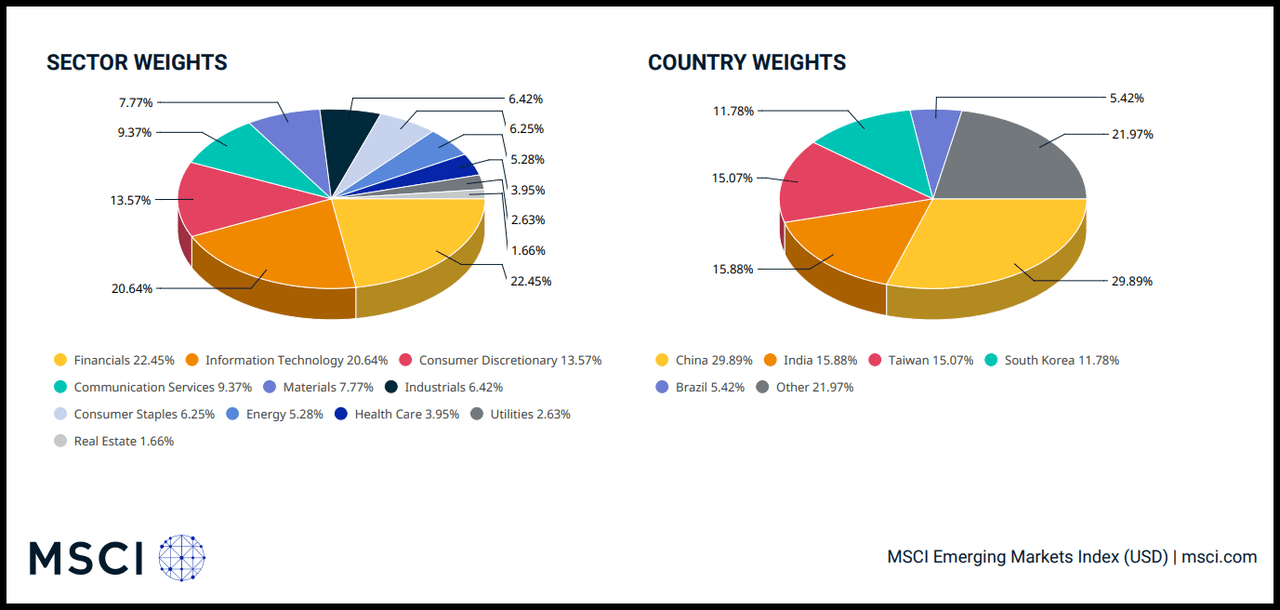 With more than $17 trillion in GDP, it is difficult to ignore the potential opportunity for the Chinese market. Some reasons to invest in China include:
Market Size
Growth Potential
Human Resources and Infrastructure
Innovation
Manufacturing
Emerging Industries
Although China's Q3 GDP growth experienced a modest 4.9% expansion – a potential opportunity to capture the upside – in a statement, China's statistics bureau said:
"The national economy continued to recover, and high-quality development was solidly advanced, laying a solid foundation to attain the annual development goals. We must also note that the external environment is becoming more complex and severe, domestic demand is still insufficient, and the foundation for economic recovery still needs to be consolidated."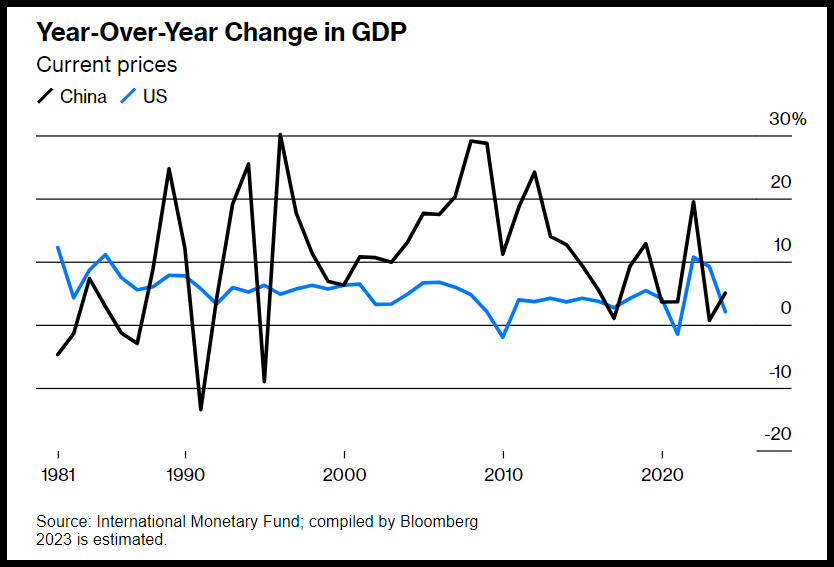 Despite the US and China emerging triumphantly from the COVID-19 recession, receding inflation with hopes of a soft landing may or may not complement the APEC meeting. As China continues to dominate the electric vehicle and semiconductor markets, as Wendy Cutler, former US trade negotiator, says, " I don't think there's any evidence that the administration is somehow softening their actions towards China." Although the overarching US-China relationship is based on economics, as the San Francisco meeting approaches, Biden and Xi's efforts at stabilizing their relationship and the market's interpretation remain to be seen, which is why there are risks to consider when investing in China ADRs.
Risks of Investing in China
As of 2021, fears of delisting Chinese stocks on the US stock exchange have become more of a reality, as China's number of delisted stocks has reached 2022 highs. COVID lockdowns have come and gone, resulting in major global economic impacts, but regulatory and geopolitical risks are ever-present. With China as a communist nation, ESG risks and fear of government manipulation or wanting more control over businesses, thus curbing monetization and limiting user data collection, pose concerns. Tighter monetary policy has allowed the U.S. dollar to maintain its relative strength against global currencies, conversely hurting foreign-denominated securities. Although risks are associated with investing in Chinese stocks, many opportunities exist for investors wanting to diversify their portfolios, investing in stocks in one of the fastest-growing economies in the world. Chinese stocks may be gearing up for a rally following the APEC summit.
My Top Chinese Stocks
The cumulative outflow of foreign investors from Chinese stocks from August 7th through October 19th was $22.1B, the largest in Stock Connect's history.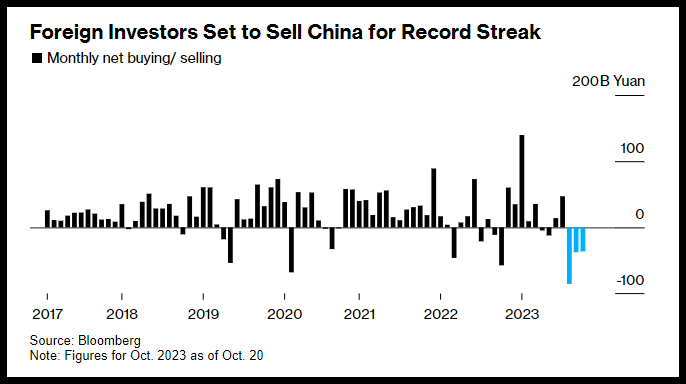 As one of the longest selling streaks, a third month of investor outflows from Chinese stocks, the meeting between President Biden and President Xi Jinping is overdue. Chinese stocks offer the diversification, many have strong fundamentals with the benefits of one of the biggest and fastest-growing economies. Known for advanced tech industries and varying products and services, Chinese stocks may be a worthwhile consideration for a portfolio, which is why I've selected the three stocks below using my quant-rating system. In assessing the universe of Chinese ADR stocks, the stocks in this article possess some of the strongest quant ratings and investment fundamentals. They possess solid combinations of collective metrics, including growth, momentum, and EPS revisions.
1. Alibaba Group Holding Limited (BABA)
Market Capitalization: $210.47B
Quant Rating: Strong Buy
Quant Sector Ranking (as of 11/14/23): 15 out of 535
Quant Industry Ranking (as of 11/14/23): 1 out of 31
Amazon's (AMZN) rival, the e-commerce giant and Big Data conglomerate Alibaba Group offers technology infrastructure and marketing platforms for business segments, including retail and wholesale. Despite falling 8% YTD and facing macro and geopolitical headwinds, BABA is up more than 18% over the last year while trading at a discount. BABA's valuation grade is B-, supported by a forward P/E ratio of 9.2x versus the sector's 14.06x and a forward PEG ratio of 64%.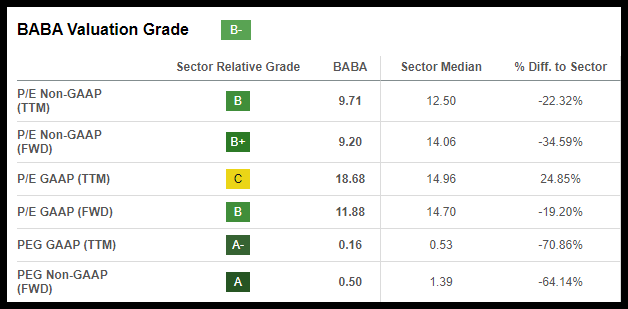 Despite increasing competition, BABA's network and consumer base are strong. Cost-cutting measures, consecutive earnings beats, margin expansion, and investment in artificial intelligence have aided the latest earnings results. Q1 2023 EPS of $2.41 beat by $0.38 and revenue of $32.45B beat by $1.25B. Direct sales and revenue increased by 21% due to increased profits from its customer management service. BABA's Digital Commerce Group experienced revenue increases of 41%, and with a new CEO with a "customers-first" approach, this Chinese stock is primed for upside.
2. New Oriental Education & Technology Group Inc. (EDU)
Market Capitalization: $11.23B
Quant Rating: Strong Buy
Quant Sector Ranking (as of 11/14/23): 2 out of 535
Quant Industry Ranking (as of 11/14/23): 1 out of 27
Offering educational services and test preparation, New Oriental Education & Technology Group's exceptional revenue growth and margin expansion make it a top Chinese stock consideration for portfolios. The stock has rallied +170% over the last year, and although it trades at a premium, as highlighted by its 'D' valuation grade, EDU crushed Q1 2023 earnings.