Earnings season may be winding down, but with several notable companies still slated to report in the coming weeks, the excitement is far from over. Among them, NVIDIA is set to reveal its quarterly results on November 21st, sparking anticipation and speculation in the market.
Looking back, we've witnessed several positive surprises during this earnings season, particularly from PepsiCo (PEP), Pinterest (PINS), and Shopify (SHOP). Their impressive performance has attracted significant buying pressure, signaling a favorable reception from investors.
PepsiCo (PEP)
PepsiCo has exceeded expectations, surpassing the Zacks Consensus EPS Estimate by 4% and reporting a 0.3% revenue surprise. The company's earnings showed a remarkable 15% year-over-year growth, while sales saw a 7% increase from the previous year.
Currently holding a Zacks Rank #2 (Buy), PepsiCo has seen notable revisions, with its current fiscal year's EPS estimates trending up by 4% to $7.55 per share since November of last year.
Continued business momentum has been a driving force behind these impressive quarterly results, with consumer strength prominently evident. The company's revenue trend is visually depicted below:


Image Source: Zacks Investment Research
PepsiCo's operating profit soared 20% year-over-year to $4 billion, primarily attributed to favorable net pricing and effective productivity savings. The success of the company's cost-cutting measures is further evidenced by its decision to raise its FY23 EPS and maintain its revenue outlook, projecting growth rates of 13% and 10%, respectively.
Pinterest (PINS)
Pinterest, known for its platform offering visual recommendations based on users' tastes, holds a Zacks Rank #1 (Strong Buy), with earnings expectations consistently on the rise across various timeframes.
The release revealed a 33% EPS beat and reported sales 3% above expectations. Additionally, monthly active users (MAUs) totaled 482 million, signifying an 8% year-over-year increase and sustained platform expansion.
The impressive revenue trend for Pinterest is outlined in the chart below: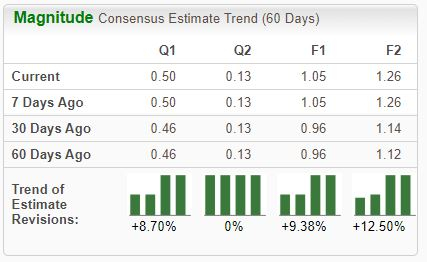 Image Source: Zacks Investment Research
Projections indicate a 70% earnings climb for the current year, accompanied by a 9% revenue increase. Looking ahead to FY24, estimates suggest an additional 20% earnings growth and a 16% sales increase.
Shopify (SHOP)
Shopify, a provider of a cloud-based e-commerce platform, has witnessed a staggering 980% uptrend in its fiscal year's EPS estimates over the past year, amounting to $0.54 per share.
The release showcased Shopify's substantial outperformance, surpassing the Zacks Consensus EPS Estimate by an impressive 130% and reporting revenue 4% ahead of expectations, significantly surpassing the previous year's figures.
Gross Merchandise Volume (GMV), a pivotal metric for investors, reached $56.2 billion in the quarter, marking a substantial 22% growth from the same period last year. The company's consistent beat of consensus expectations for GMV is visually apparent:


Image Source: Zacks Investment Research
Investors are required to pay a premium for Shopify shares, reflective of the company's high-growth trajectory. Currently, SHOP shares trade at an 11.3X forward price-to-sales (F1), which, while deemed expensive, is below the 22.7X five-year median.
Key Takeaway
As the earnings season draws to a close, we reflect on a period marked by numerous positive surprises, notably from PEP, Pinterest (PINS), and Shopify (SHOP). The market's overwhelming response signifies the significant impact of their quarterly results, capturing the attention and enthusiasm of investors.
If you're interested in exploring more potential investment opportunities, Zacks Investment Research has released a special report highlighting 4 promising oil and gas stocks poised for substantial gains in the near future. Head over to Oil Market on Fire to access this urgent report.
For those seeking the latest recommendations from Zacks Investment Research, you can download the 7 Best Stocks for the Next 30 Days report for free.
To read more on the article, visit Zacks.com.
Disclaimer: The views and opinions expressed herein are those of the author and do not necessarily reflect those of Nasdaq, Inc.