NVIDIA, a beloved stock among investors, is set to reveal its quarterly results, intensely anticipated in this Q3 cycle. The upcoming release signifies the finale of earnings season, with other prominent companies already sharing their results.
The conclusion of the Q3 cycle for the 'Big 7' has been truly impressive in 2023, thanks to a favorable sentiment shift.
All year long, analysts have been bullish on NVIDIA as they constantly raise their earnings expectations in response to the intense demand for AI chips. The stock has maintained the prestigious Zacks Rank #1 (Strong Buy) for most of 2023.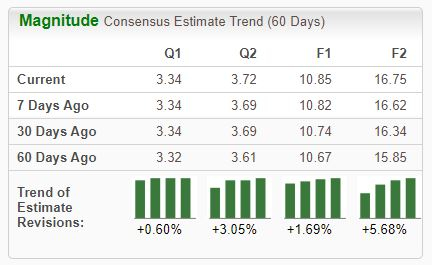 Image Source: Zacks Investment Research
NVIDIA is scheduled to report next week on Tuesday, November 21st, after the market's close. Let's delve into the expectations leading up to this eagerly awaited release.
NVIDIA Q3 Expectations
The estimated Zacks Consensus EPS of $3.34 for the impending release implies a remarkable 475% growth from the same period last year. This estimate has surged by almost 36% since the end of August.
Zooming into the top line, the Zacks Consensus Estimate of $16.1 billion hints at a staggering 170% year-over-year growth and has been revised 10% higher over the same period. Both these upward revisions are elucidated below.



Image Source: Zacks Investment Research
Data Center Focus
Attention will be predominantly centered on the company's Data Center results, encompassing the sales of its AI chips. It is prudent to expect NVIDIA to extensively discuss Data Center trends and demand, a key area of interest for investors.
Regarding Data Center sales, the Zacks Consensus Estimate presently stands at $12.6 billion, indicating a 230% surge from the same period last year and reflecting another record-breaking quarter. NVIDIA has outperformed consensus Data Center sales estimates in the last two releases, overshooting the latest estimate by nearly $2.5 billion.
In the Q2 release in August, Data Center revenue of $10.3 billion saw an outstanding 140% sequential growth and 170% year-over-year increase.


Image Source: Zacks Investment Research
NVIDIA is likely to once again deliver a robust quarter for Data Center sales, especially as numerous prominent technology companies continue rapid deployment of generative AI. NVIDIA is currently the go-to for AI applications, and with its track record of rapid innovation, it's unlikely to change significantly in the near future.
In fact, over 1600 generative AI companies currently rely on NVIDIA, underscoring the company's dominant position. The race for AI supremacy is well underway, and NVIDIA is firmly leading the pack.
Gaming Performance
Aside from Data Center, NVIDIA also derives a significant portion of its revenues from its Gaming platform (33% of revenues in FY23). The company's Gaming results comprise sales of its highly sought-after GeForce GPUs for PC gaming and GeForce NOW (Cloud Gaming Service).
Gaming revenues saw a strong uptick in the latest quarter, amounting to $2.5 billion and indicating a 22% year-over-year growth. For the impending release, the Zacks Consensus Estimate for Gaming revenue is $2.7 billion, signaling an impressive 68% year-over-year growth rate facilitated by easy comparisons.
The company's Gaming revenues experienced a noticeable slowdown following the general deceleration in video gaming post-pandemic, contributing to the sizeable growth anticipated. Nevertheless, NVIDIA has consistently surpassed consensus Gaming revenue expectations despite the aforementioned downturn, as shown below.


Image Source: Zacks Investment Research
Final Thoughts
It seems another strong quarter is on the horizon for NVIDIA, thanks to sizzling Data Center demand and an improving gaming industry set to propel it forward.
As for the valuation, NVDA shares currently trade at a 46.1X forward earnings multiple (F1), which is undoubtedly high but still below the 55.6X five-year median and the 93.5X five-year peak. Given the projected growth of the company, investors have been unfazed by the premium.


Image Source: Zacks Investment Research
Estimates indicate 225% earnings growth in the current year (FY24) on 102% higher sales. Furthermore, growth is expected to persist, with FY25 estimates indicating an additional 55% earnings growth on 48% higher sales.
Given the company's intense demand and the favorable revisions in earnings estimates, NVIDIA is clearly the stock to bet on if one wants to join the AI frenzy.