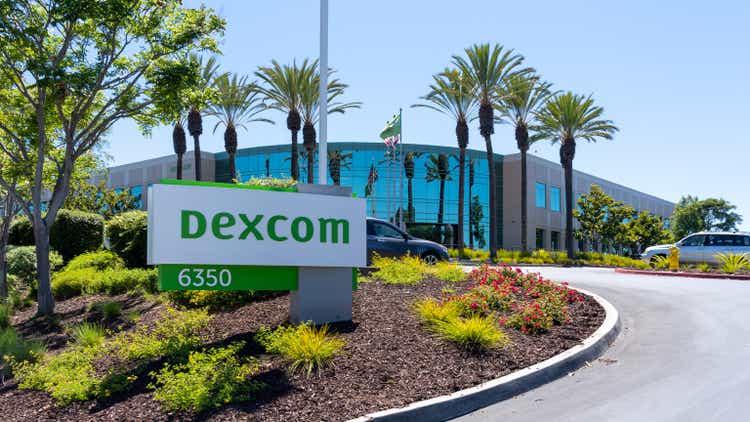 Introduction
I have to admit that the healthcare trade (in general) has been tough this year. High-flying stocks like DexCom (NASDAQ:DXCM), Danaher (DHR), and similar have dealt with significant headwinds.
This isn't necessarily because of poor financial numbers. While a lot of players are dealing with the impact of fading COVID-related demand, we're seeing a bigger focus on investors re-valuing stocks in light of elevated rates.
On top of that, uncertainty regarding weight loss pills (so-called GLP-1s) has done a number on almost every company that produces products and services for illnesses related to obesity.
Since I wrote the article Why DexCom May Be Up To 40% Undervalued, shares are down 23% (excluding the latest post-earnings rally).
Even worse, DexCom and some of its medical device peers sold off in recent weeks as the government is increasingly involved in the regulation of advanced medical devices.
Earlier this month, I wrote an article titled "The FDA Crash – Are Regulations Killing The Bull Case For Medical Devices And (IHI)?" on the medical devices industry, highlighting some of these risks.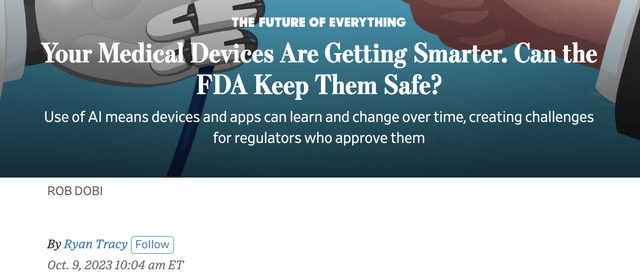 Here's a part of my takeaway:
The recent FDA announcement regarding the creation of a Digital Health Advisory Committee stirred the medical devices industry, causing a notable market dip.

[…] Despite regulatory fears, certain industry giants like Abbott Laboratories, DexCom, ResMed, and Intuitive Surgical show resilience and promising potential in navigating these challenges.

Long-term healthcare investors may find value in these players, as the FDA's increasing involvement is perceived to primarily focus on AI-related issues rather than significantly impacting the established medical devices landscape.
The good news is that we're now seeing a return to more bullish sentiment, fueled by DexCom's fantastic quarterly earnings that caused the stock to soar 15% in after-hours trading, after the announcement.
While I expect healthcare to remain volatile, the DexCom bull case looks fantastic.
So, let's dive into the details!
This Quarter Was Simply Impressive
In the third quarter, DexCom reported significant financial growth.
Worldwide revenue reached $975 million, marking a 27% increase compared to the third quarter of 2022. It was also $37 million higher than expected, as reported by Seeking Alpha.
On an organic basis, excluding currency and non-CGM (continuous glucose monitoring) revenue acquired or divested in the previous year, the growth was 26%. 26% organic growth isn't just impressive but an improvement compared to 2022 levels – higher growth on top of tougher comparisons.
That's extremely impressive.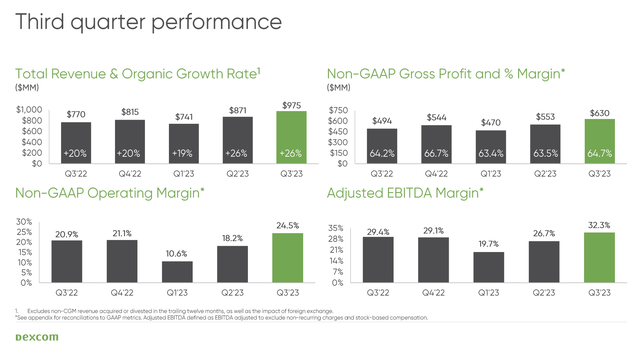 U.S. revenue for the quarter was $714 million, which is a 24% increase from the previous year, with notable success attributed to the G7 launch and expanded DexCom coverage.
This growth trend has continued for several quarters, and, according to the company, new customer start trends exceeded expectations.
International revenue grew by 33%, reaching $261 million in the third quarter.
International organic revenue growth was 30%, with a strong performance across European markets.
However, there was slower growth in the non-CGM business and relatively flat performance in Japan due to a transition to direct sales and the spin-off of non-diabetes product distribution.
Furthermore, as visible in the chart above, the third quarter gross profit was $630 million, translating to 64.7% of total revenue, indicating an improvement from the previous year despite higher inflation.
This increase in gross margin was due to better yields on the G6 and G7 platforms and a mix shift toward G6 customers.
Adding to that, operating expenses in the third quarter were $392 million, compared to $333 million in the same period of 2022.
DexCom has been successful in managing costs, generating over 300 basis points of operating expense leverage for the seventh consecutive quarter.
This cost management allowed operating income to reach $238.9 million or 24.5% of revenue, a new quarterly record for the company.
Again, in this inflationary environment where some players are still struggling with supply chain issues and significant margin differences between products, I'm very impressed by this performance.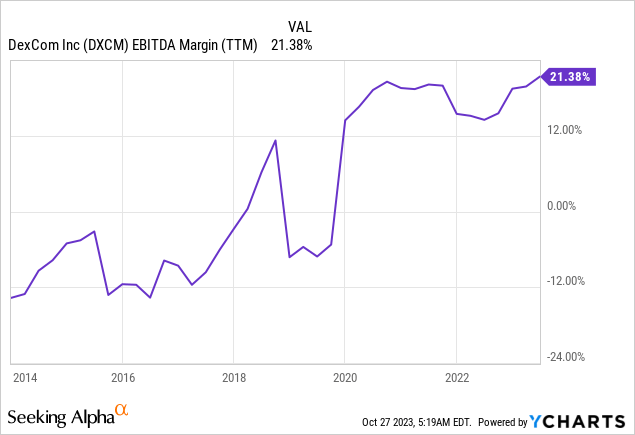 DexCom closed the quarter with over $3.2 billion in cash and cash equivalents while highlighting its ability to generate consistent and growing free cash flow.
This is correct. Next year, the company is expected to lower net debt to $1.4 billion, which translates to a 1.2x net leverage ratio. Thanks to this healthy balance sheet, the company announced a $500 million buyback program.
Free cash flow is expected to gradually rise to $900 million by 2025, which would indicate a 2.7% 2025E free cash flow yield.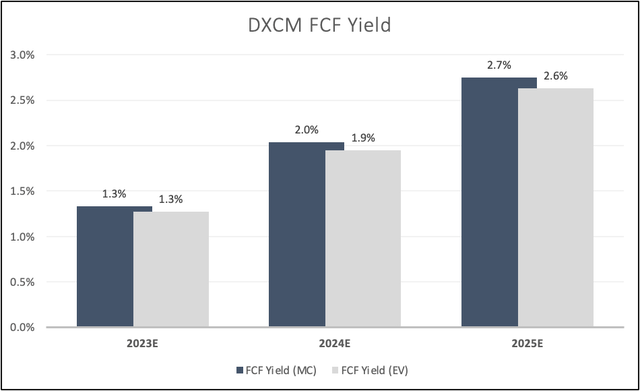 2.7% is not a lot compared to some mature dividend (growth) companies, but it's a fantastic number for a company with sky-high (expected) growth rates, which brings me to guidance.
Strong Guidance & Industry Fundamentals
DexCom raised its full-year 2023 revenue guidance to a range of $3.575 billion to $3.6 billion, implying a growth rate of 23% to 24% for the year.
This updated guidance reflects an increase of over $60 million at the midpoint compared to previous guidance and is $165 million higher than the initial guidance at the start of the year.
The company also increased its non-GAAP gross margin guidance to approximately 64% and raised non-GAAP operating and adjusted EBITDA margin guidance for the year to around 19% and 28%, respectively.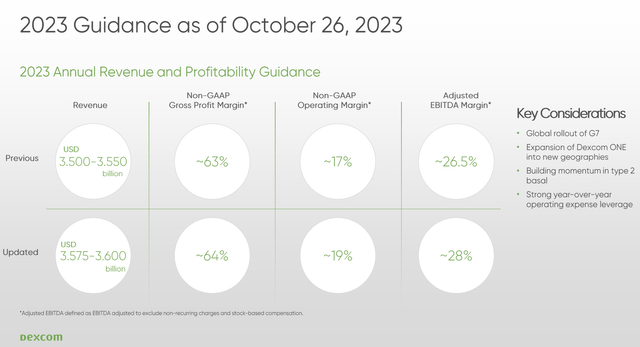 With this in mind, during its earnings call, the company reflected on some of the developments in its industry and business portfolio.
For example, the rollout of G7, DexCom's flagship sensor, has been a significant driver of success.
G7's focus on simplicity and affordability has attracted a substantial number of new customers and prescribers.
Notably, a majority of G7 customers are new to DexCom, and the company has rapidly expanded its prescribing community, with nearly 18,000 physicians prescribing DexCom products who were not doing so before G7's launch.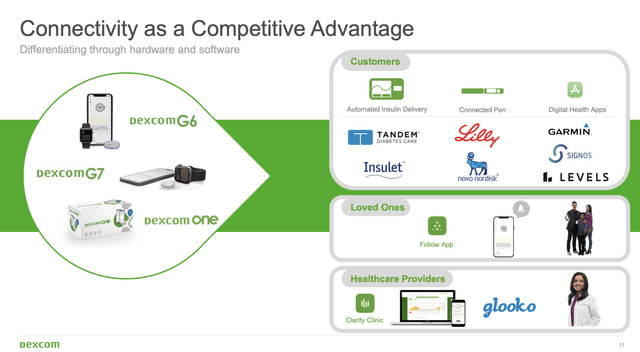 While DexCom operates in a highly competitive industry, these are developments that I hinted at in my prior article, as it seems to be gaining market share in key areas.
The company is also improving the capabilities of its tools.
Monthly software updates have improved features such as connectivity and alarm personalization, simplifying communication between the company and its customers. The company is dedicated to providing a user-friendly and engaging experience.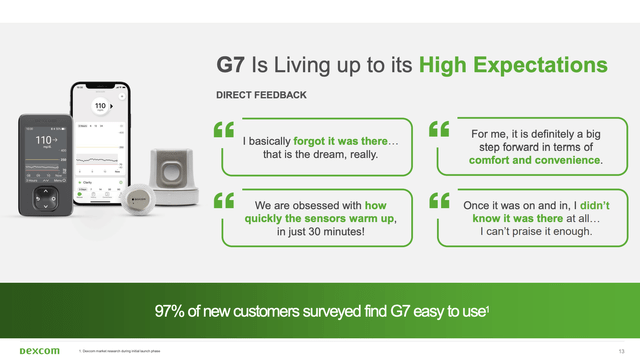 According to its management, DexCom has gained market share across all reimbursed channels and patient segments in the U.S. since the launch of G7, even attracting interest from non-reimbursed channels.
Medicare coverage was extended in mid-April to include those with type 2 diabetes using basal insulin and certain non-insulin individuals with hypoglycemia, covering nearly seven million people.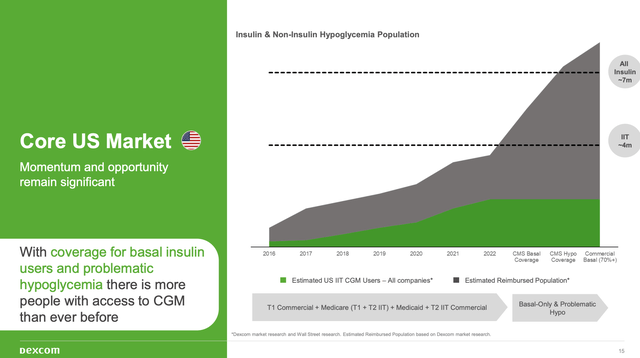 Commercial coverage for this group is also increasing. The broader coverage has led to a significant uptick in new patient starts, particularly in the Medicare segment.
Similar dynamics are observed in international markets, where DexCom continues to gain influence.
DexCom ONE secured reimbursement for all people on intensive insulin therapy in France.
Currently, the company is working to expand its commercial scale and flexibility, converting key international markets from distributors to direct operations to provide better support and focus.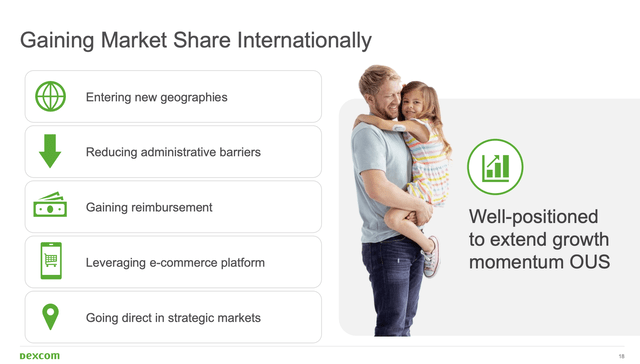 In 2022, 74% of the company's sales came from the United States, which shows the tremendous growth potential this company has in non-U.S. nations.
Additionally, and in light of GLP-1s, it seems that my expectations have been confirmed. Weight loss drugs do not necessarily compete with DexCom. They may even increase demand for DexCom's products!
According to the company, it is seeing increased interest in the integration of continuous glucose monitoring with new drug therapies.
Claims data indicates that CGM usage grows faster among patients on GLP-1 therapy, reinforcing the complementary nature of DexCom CGM across all therapy regimes in diabetes care, which should take away a lot of overblown fears that DXCM is running into trouble due to GLP-1s.
Valuation
DexCom hasn't gone anywhere since 2020, as the post-pandemic surge priced in too much growth in a very short time.
Now, the stock is down 28% year-to-date, which is pre-earnings.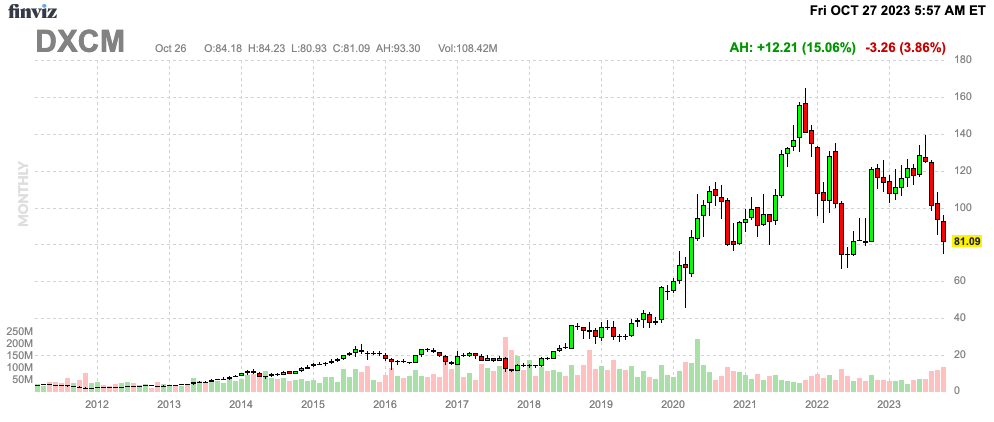 As the chart above shows (number at the top), the stock is up 15% after earnings, which would make it one of the strongest surges in recent years.
That's completely warranted, I think.
The company is defying GLP-1 fears.
Margins are rising.
Organic growth is accelerating versus prior-year levels.
Demand fundamentals remain solid.
Innovation is leading to a bigger market share.
Currently, DXCM is trading at 34.8x 2023E EBITDA. That number quickly drops to 21.7x using 2025E expectations. As we can see below, the company is expected to maintain >20% annual EBITDA growth through 2025 (and likely beyond).
As I wrote in my prior article, this should allow the company to trade at 40x EBITDA for the next few years until it becomes a more mature company. The company used to trade at 80x EBITDA.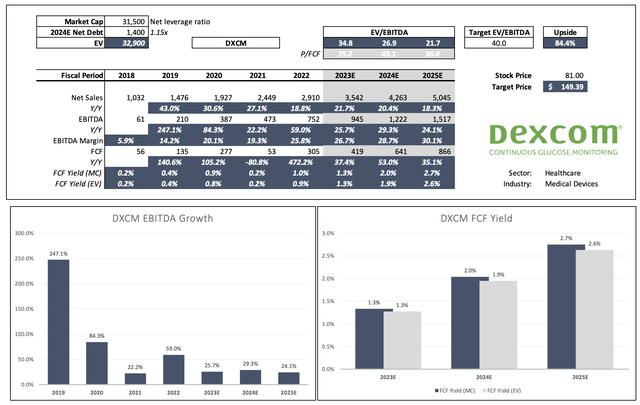 Hence, I remain bullish with a $150 stock price target. That's 84% above the pre-earnings price.
The consensus price target is $131, which I expect to be raised in the next few weeks (due to strong earnings).
However, please be aware that DXCM is prone to elevated competition. While the company is doing a stellar job growing its market share, disruption risks are elevated for companies that mainly focus on one healthcare area.
So, even if you believe that DXCM is right for you, I would not go overweight.
Takeaway
DexCom's Q3 performance is undeniably impressive, with organic growth rates exceeding expectations. The company's strategic focus on international markets and expanding customer bases indicates resilience in a changing healthcare landscape.
The latest earnings report and increased revenue guidance for 2023 are signs of DexCom's strength. While concerns linger, the stock's post-earnings surge is a promising indicator.
With strong growth prospects and an attractive valuation, I remain bullish, with a price target of $150.
However, it's wise to be mindful of elevated competition and potential disruptions in the healthcare sector when considering your investment strategy.