When it comes to making investment decisions, investors often rely on the recommendations of Wall Street analysts. The opinions of these sell-side analysts can impact the stock price of a company. But how reliable are these recommendations?
Before we delve into the reliability of brokerage recommendations and how they can be used to your advantage, let's take a look at what Wall Street thinks about Salesforce.com (CRM).
Brokerage Recommendations for Salesforce.com (CRM)
Salesforce.com currently has an average brokerage recommendation (ABR) of 1.79, based on recommendations from 38 brokerage firms. The ABR is calculated on a scale of 1 to 5, with 1 being a Strong Buy and 5 being a Strong Sell. An ABR of 1.79 falls between Strong Buy and Buy.
Out of the 38 recommendations, 23 are Strong Buy and 2 are Buy, accounting for 60.5% and 5.3% of all recommendations, respectively.
Brokerage Recommendation Trends for CRM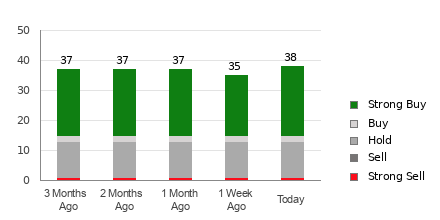 Check price target & stock forecast for Salesforce.com here>>>
While the ABR suggests buying Salesforce.com, it's important to note that relying solely on brokerage recommendations may not be the best investment strategy. Numerous studies have shown limited success of brokerage recommendations in predicting stock price movements.
Why is that? Brokerage firms often have a vested interest in the stocks they cover. This can result in a positive bias among their analysts when rating a stock. Research has found that for every "Strong Sell" recommendation, brokers assign five "Strong Buy" recommendations, indicating a misalignment of interests with retail investors. Therefore, it's best to use these recommendations to validate your own research or use them as an additional indicator alongside other successful predictors of price movement.
One such indicator is the Zacks Rank, a proprietary stock rating tool with a track record of success. The Zacks Rank categorizes stocks into five groups, from Zacks Rank #1 (Strong Buy) to Zacks Rank #5 (Strong Sell), based on earnings estimate revisions. It has been observed that trends in earnings estimate revisions correlate strongly with near-term stock price movements.
Zacks Rank vs. ABR
Although both the Zacks Rank and ABR use a scale from 1 to 5, they are fundamentally different measures.
The ABR is calculated solely based on broker recommendations, displayed in decimal form (e.g., 1.28). On the other hand, the Zacks Rank is a quantitative model that utilizes earnings estimate revisions and is displayed as whole numbers from 1 to 5.
Brokerage analysts tend to be overly optimistic in their recommendations due to their employers' vested interests. In contrast, the Zacks Rank focuses on earnings estimate revisions, which have proven to be a reliable predictor of price movements.
Additionally, the Zacks Rank applies different grades proportionately across all stocks, ensuring a balanced distribution of ranks. The ABR may not always be up-to-date, while the Zacks Rank takes into account the most recent earnings estimate revisions.
Should You Invest in Salesforce.com (CRM)?
The Zacks Consensus Estimate for Salesforce.com's current year earnings remains unchanged at $8.06 over the past month. The steady consensus estimate reflects analysts' views on the company's earnings prospects, indicating that the stock may perform in line with the broader market in the near term.
Based on the recent change in the consensus estimate and other factors related to earnings estimates, Salesforce.com currently holds a Zacks Rank #3 (Hold).
It's important to approach the Buy-equivalent ABR for Salesforce.com with caution.
Zacks Names "Single Best Pick to Double"
From thousands of stocks, 5 Zacks experts have each chosen their favorite stock with the potential to skyrocket +100% or more in the coming months. Among the picks, Director of Research Sheraz Mian has selected one with the most explosive upside.
It's a little-known chemical company that has already seen a 65% increase over the past year and is still considered undervalued. With strong demand, soaring 2022 earnings estimates, and $1.5 billion for share repurchases, retail investors could jump in at any time.
This company has the potential to rival or even surpass other recent Zacks Stock Picks to Double, such as Boston Beer Company (+143.0% in 9 months) and NVIDIA (+175.9% in 1 year).
Free: See Our Top Stock and 4 Runners Up >>
For the latest recommendations from Zacks Investment Research, download the 7 Best Stocks for the Next 30 Days. Click to get this free report
Salesforce Inc. (CRM): Free Stock Analysis Report
Read this article on Zacks.com
The views and opinions expressed herein are the views and opinions of the author and do not necessarily reflect those of Nasdaq, Inc.