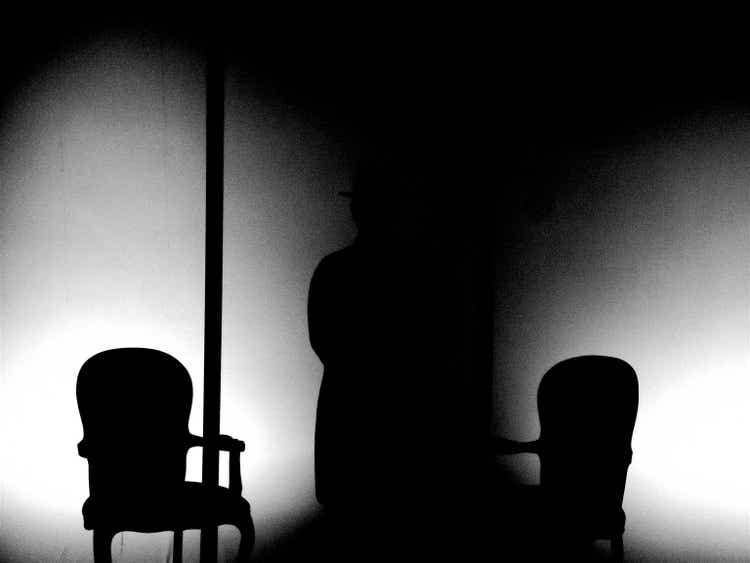 Spoiler Alert, Godot never arrives. My approach to this market has been its close adherence to seasonal patterns. The year-end rally is the most powerful seasonal pattern.
So far this year-end rally, which I have been expecting the emergence of for months, is looking like a dud. It's not too late for the market to rally into year-end but I am committed to radical honesty. I try (and so should you) to detach myself from falling in love with my forward projections so that I don't end up in a dead-end wondering what went wrong. That is the nature of this business, you need to have conviction but be ready to ingest new data in real time in order to adapt to the new reality.
That is what is so fascinating and frustrating about this ongoing enterprise since the pandemic. We all should know what the stock market is up against, a surging historic volatility in interest rates, and a looming recession, (one of these days) yes, we ARE going to have one, someday. The volatility in rates isn't all-new since the Powell pivot but now the bucking 10-year bond is more than stocks can seem to take.
The fact that a recession is always on the horizon as a possibility adds to the market's heaviness. We have inflation that has elevated prices permanently, we are counting on productivity to help boost salaries yet keep down a rising rate of inflation. The point is, once a price rises for anything it almost always stays there, or if it does retreat it is done at a near imperceptible pace. I am thinking about gasoline as an example. We know it retreats but do we jump up and click our heels when the price drops a penny? Some foods have become more reasonable again but only grudgingly. That adds to the struggle of the lower-level consumer.
Prices can hurt our stocks though as well
Look what happened to Exxon (XOM) and Chevron (CVX). For CVX the retreat was harsh but for its newly announced acquisition of Hess (HES) it was a fiasco. I am so glad I jumped out of HES once the deal was announced. It was a long-term investment to boot. My rule is never to sell unless the business model goes bad. I think the deal stank up the joint so I got out at 164. For me, HES was valuable for that gusher off the coast of Guyana. HES is a partner in risk at Guyana and now CVX takes its place. It was an all-stock deal with no takeover premium. Now it's trading at 134, and I wouldn't touch it another 10 points lower. John Hess controls 80% of the voting shares if memory serves, otherwise, I would expect Carl Icahn to get involved on behalf of the beleaguered minority shareholders. So I took my profits and moved them into APA Corporation (APA). In case you are wondering APA is fishing in similar waters off the coast of Suriname, which is geologically identical to Guyana. Why am I interested in offshore oil development right now? Isn't all the action in the Permian Basin? First of all, we can't just rely on the Permian, I will leave off the political restraints on exploration in the US and Gulf exploration. Yes, we are producing a lot of energy, however we need a lot more, to keep inflation down, and to choke off the petrodollars to those who chant death to America.
Geopolitics is no picnic
I guess that is a bit political, but geopolitics is another dead weight on the market's "animal spirits". Just to level set on the potential of Guyana, it will be producing 1M barrels a day. The costs are higher up front, it takes longer to produce but once it does it's a huge gusher. I expect similar for Suriname. Hey, didn't he (meaning "me") swear off the oil patch? Yes, yes, I did, but that was for trading. Trading the oil market these days is just too hard. Actually, any kind of trading, especially fast money trades, is really hard. You would think that when the big fish are swallowing the little fish the pickings would be easy in trading the oil patch. No such luck. Maybe I am trying to mash too many things together, so let's do a quick review, inflation is with us, even when inflation is supposed to back off, prices are not shrinking. Recession is looming with many earnings reports pulling back on forward guidance. Talk of cutting rates will only come once we see actual economic slowing. I repeated Tony Dwyer's pithy quote last week "Lower for Shorter" That sounds great for a second, until you realize that it is truly tied in with diminishing economic activity. That is not great for stocks, at least initially. This means that prices will weigh and are already weighing on the consumer. Auto loan delinquencies are rising, as are bankruptcies, and we are at the mercy of the "Bond Vigilantes" a la Ed Yardeni as in days of old.
We are back to the so-called quarterly refunding announcement which will reveal the extent to which the Treasury will ramp up sales of longer-term debt to fund a widening budget deficit. Those securities have been tumbling for weeks, even amid signals from Fed officials that they're "at or near" the end of rate hikes. The selloff sent yields to the highest levels since before the Great Recession — making longer-term Treasuries more costly for the government. Investors are eager to see whether officials maintain the pace of increase in longer-term debt sales they announced in the August plan. Bumpy auctions of some debt securities in recent weeks have only increased that focus.
If we are going to prepare for the worst I don't think general hedges are the way to go.
Stock picking is just as important on downside bets as they are on the upside. I would look for targeted individual downside plays. One that has been really working for me is reverse splits. Stocks that have fallen below $1 and are threatened with delisting. These names attract short-sellers like bees to honey. Spinouts have proven to be great short bets. You would think that at least one part of the entity being broken up would sell well, but lately, both sides have been punished. Kenvue (KVUE) spun out of Johnson & Johnson (JNJ) was a great example. Another recent example was WH Kellogg (KLG) and Kellanova (K).
So now that I have completely depressed everyone what if anything can I say that is constructive? It's time to go back to basics, to bottom-up stock picking. Buy really great names that should perform over time.
Take Alphabet as an example
The way Alphabet (GOOGL) was treated by the market as were other tech titans was eye-opening, falling more than 10%, despite reporting revenue and profit that topped Wall Street estimates. Investors focused on softer-than-expected performance from Google Cloud, which saw revenue increase by nearly 23% to $8.4 billion in the quarter. That missed Street estimates by about $200 million, sounds like a lot but it's only a .025% miss. On a conference call with analysts, Chief Financial Officer Ruth Porat said the cloud business was seeing the impact of "customer optimization efforts," cloud providers do work with customers to find savings. It's a win/win, customers are happy with the discounts and stay loyal. The savings are usually short-lived as platforms as a service always attract more workload from the digital transformation. The market seemed to be looking for excuses to abandon GCS, with the ridiculous claim that Microsoft (MSFT) Azure was taking market share. I say ridiculous because this is still a hugely expanding market with room for a lot of players still.
Alphabet (GOOGL) in spite of how poorly GOOGL has been treated, over time this stock is super cheap. We need it to be more than "cheap" we need it to generate cash and profits. GOOGL gushes that stuff. We need growth, GCS — Google Cloud grew 22% in an iffy market backdrop where everyone is expecting a recession. Much of GCS is focused on AI and HPC for the enterprise at a time where there's a backlash forming against "AI" on multiple levels but is especially vulnerable to the notion that "AI" is hype and Bard sucks. As an aside GM's Cruise driverless car has been throttled back in San Francisco, because of safety. Guess what, Waymo has no such issue with its AI. Just on so many levels GOOGL generates oodles of cash today and has a clear path to growth for the future in GCS.
I know that I am being super gloomy, but that usually means that we are at the bottom or near the bottom.
Let me brighten up the place a bit. The market is being driven by interest rates, which it nearly always is, except it could very well have overdone it a bit. I shared that on Wednesday we will have a better idea about what the coming debt auctions will be like. The treasury could actually get a handle on how to sell debt properly. It has been a long time since the market has been this sensitive to higher rates. Also, I didn't mention this but the Fed has still been executing on QT. They could ease up for a minute, and not crash the economy. Powell has the FOMC meeting this Wednesday, November 1. He doesn't have to come in guns blazing. It is amazing the effect a jawboning Fed can have on the market. Why would Powell do that? Because we could be close to a financial accident which could cause the credit market to seize up. Powell does not want that on his watch. He is on the razor's edge at being either the best Fed chief ever or the worst one in 100 years. Why am I saying financial accident? Look around you, we are on the edge of a worldwide conflagration, and an economy that could stop on a dime. So if the Fed can ease up just a tiny bit, then stocks are a screaming bargain. The 10-year could very well retreat 90bps and market participants trip all over themselves to buy growth stocks again. I will be happily buying GOOGL, ServiceNow (NOW), Meta Platforms (META), NVIDIA (NVDA), and all the rest.
Let's hold out a few days longer. If the shift in market attitude happens it could happen as early as November 1! Certainly, we have waited for Godot long enough.