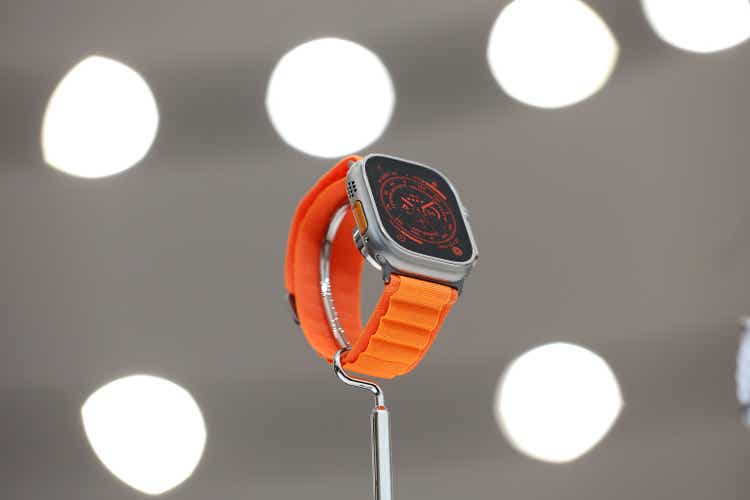 Update 6:15am on 10/27: Provides premarket trading update and Masimo's comment.
The share price of Masimo (NASDAQ: MASI) surged by 10% in premarket trading following its victory in a patent dispute with Apple (NASDAQ: AAPL) at the U.S. International Trade Commission regarding the Apple Watch. Apple's stock dipped by 0.7%.
The International Trade Commission ruling grants a limited exclusion order and a cease-and-desist order, effectively preventing Apple from importing certain Apple Watch models into the U.S.
The import ban is set to take effect in 60 days unless overturned by the Biden administration.
The ITC judge previously found that certain Apple Watch models infringed one of Masimo's patents related to the use of light sensors for measuring oxygen levels in the blood. Masimo, a medical technology company, filed a complaint with the ITC in June 2021 seeking to halt the import of Apple Watches.
"Today's ruling by the USITC sends a powerful message that even the world's largest company is not above the law," said Joe Kiani, Founder, Chairman, and CEO of Masimo in a statement. "This important determination is a strong validation of our efforts to hold Apple accountable for unlawfully misappropriating our patented technology."
This victory for Masimo comes after a mistrial was declared in a trade secrets trial against Apple regarding the Apple Watch in May. The jury failed to reach a unanimous decision, with six out of seven jurors reportedly in favor of Apple.
In its lawsuit, Masimo alleged that Apple improperly used trade secrets for a blood-oxygen monitoring sensor in the Apple Watch.