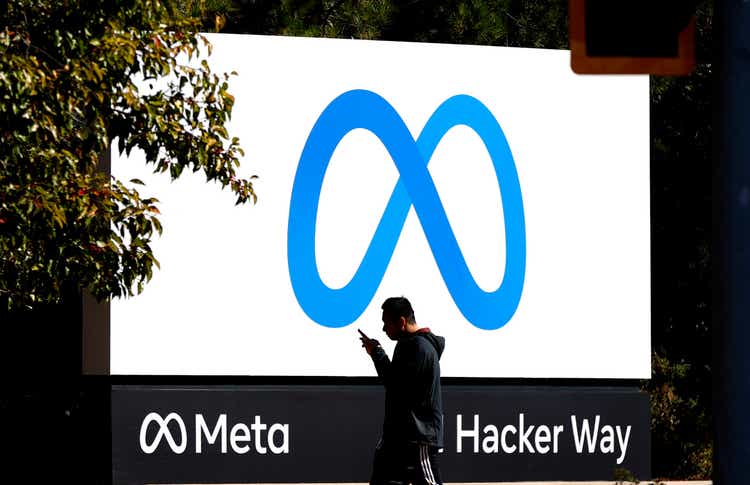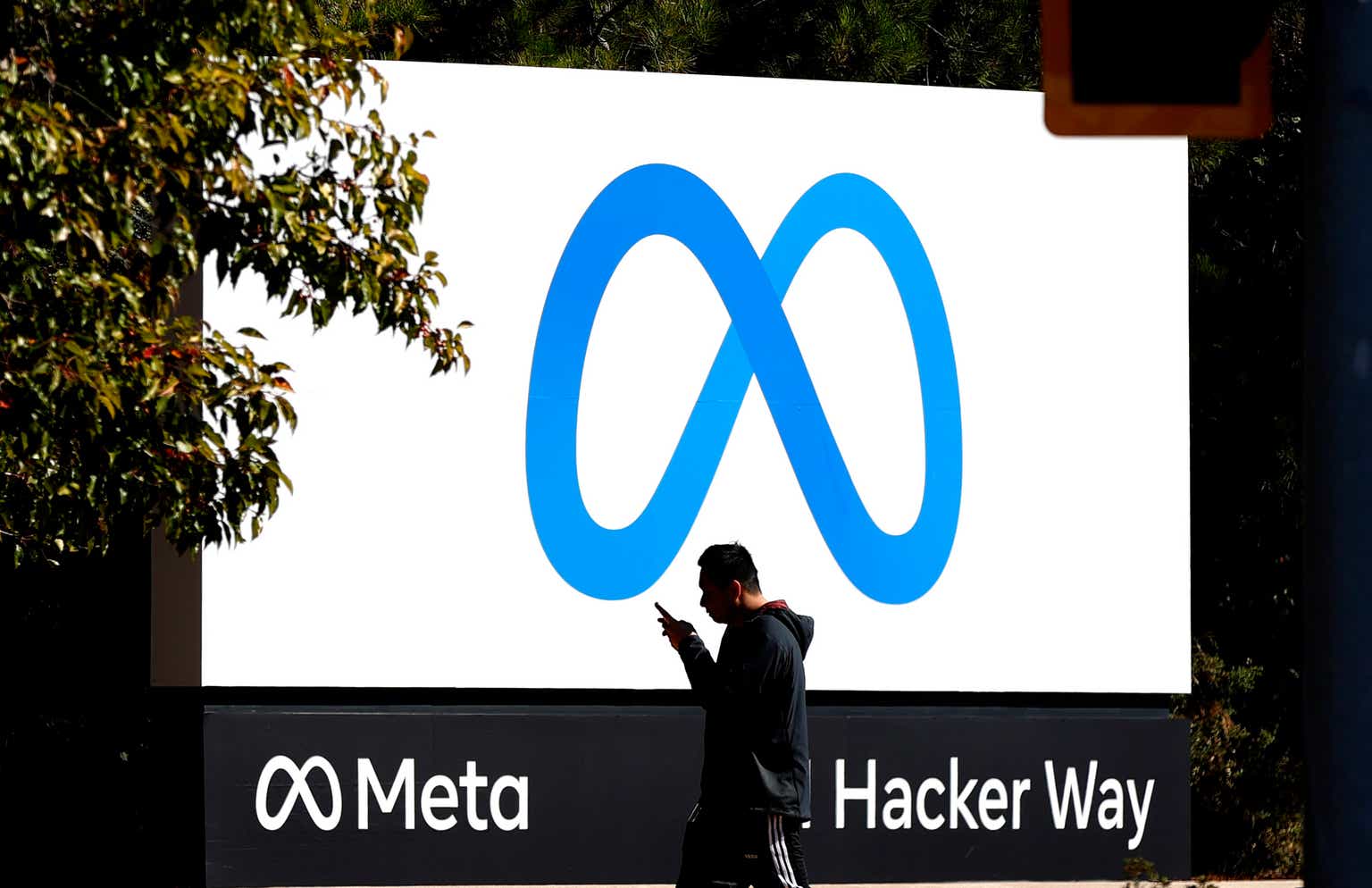 Shares of Meta Platforms (NASDAQ:META) fell 4% yesterday after the firm submitted a much better-than-expected earnings sheet for the third quarter. Meta Platforms, which last year suffered immensely due to a slowdown in ad spend on the social media platform, is seeing an impressive return of advertising spending, resulting in impressive revenue, free cash flow, and earnings gains. Meta Platforms generated a nearly 40% free cash flow margin, posted strong user gains, and submitted a very robust outlook for Q4'23 as well. META is still trading above the 1-year average P/E ratio, however, and I am holding out for a lower valuation level that I am more comfortable with before buying!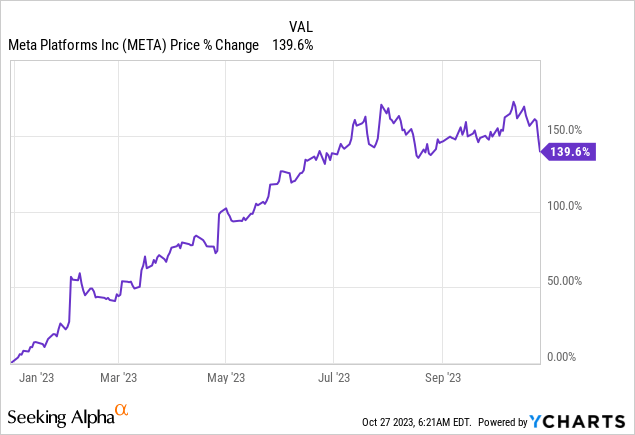 Rating profile
My last rating on Meta Platforms (from August 2023) was hold because the advertising business showed promise of a rebound, but shares appeared expensive at the time, Meta: Wait For A Drop Before Buying. With top line growth accelerating and free cash flow surging, I believe the risk profile has improved. My rating, due to valuation reasons, remains unchanged at hold, however.
Q3'23 earnings results beat estimates by a wide margin
Meta Platforms reported much better than expected results on both the top and the bottom line thanks to an acceleration of digital advertising spending on its social media platforms: Meta Platforms reported revenues of $34.15B (consensus: $33.5B). Adjusted EPS came in $0.75 per share better than the consensus EPS estimate of $4.39.

Accelerating strength in digital advertising
The strength of Meta Platforms' third-quarter earnings release was driven chiefly by a return of advertising dollars to the social media platform. The social media firm saw a massive reacceleration of growth in Q3'23 as its top line soared 23% year over year to $34.1B. Meta Platforms reported an 11% year-over-year top line growth in the second quarter, so the growth acceleration is quite significant.
The revenue trend in Meta Platforms' core advertising is favorable, but it isn't in Realty Labs, which includes the firm's metaverse projects. This segment continued to see revenue declines: Reality Labs generated just $210M in revenues in Q3'23, showing the third consecutive top line decline.

Meta's revenue, free cash flow and earnings surge in the third quarter has not only been driven by a return of advertising dollars to the social media company but implicitly also by a continual expansion of Meta Platforms' user base.
At the end of the September quarter, Facebook had 2,085M users on its platform, meaning the social media company added 21M users just in the third quarter. In total, Meta Platforms' Facebook daily active users, a key figure for measuring the relevance of an ad platform for advertisers, increased by 101M since the third quarter of last year.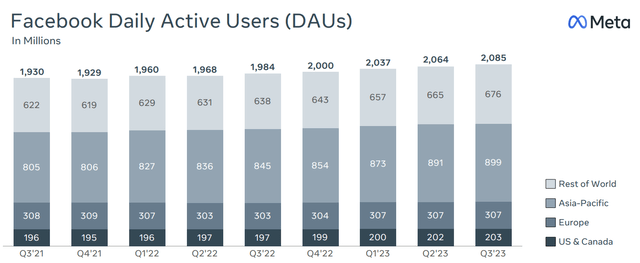 In my opinion, Meta Platforms is proving to investors (and advertisers) that its ad platform can still generate growth, despite new rivals — like TikTok — popping up on the scene.
Meta Platforms has launched its own version of TikTok, "Instagram Reels", and YouTube launched YouTube Shorts in 2020 to cash in on growing demand for short-form video content. TikTok, however, is a considerable force in the market, extremely popular with young users… and the company is projected to see massive top line growth in the next several years.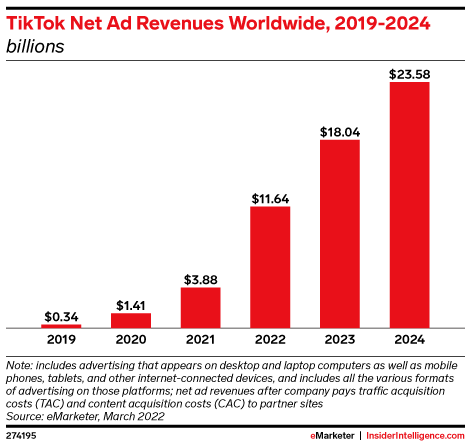 Given the large size of Meta's social media platforms, however, and considering that Facebook continues to grow its DAUs, I believe Meta Platforms will remain one of the most relevant advertising platforms for the foreseeable future.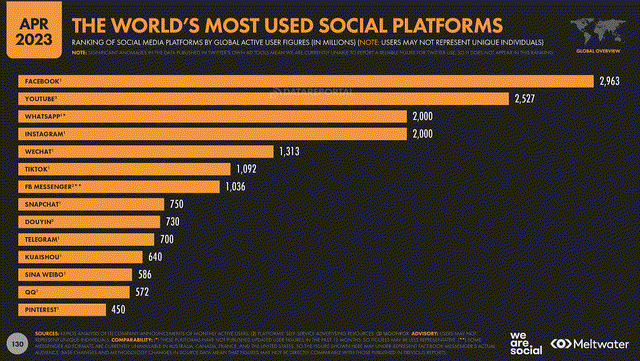 Free cash flow is soaring, margins are expanding on strong spending
Meta Platforms achieved $13.6B in free cash flow on $34.1B in revenues which calculates to a stunning free cash flow margin of 40%. The margin was even better than the FCF margin posted by Google which soared to 30% in Q3'23: Why Google Is A Bargain After Q3.
Year over year, the rebound in free cash flow was driven by a number of factors including a cutback in investment spending (on metaverse projects), strengthening advertising spending across apps as well as a 5%-expansion in Meta Platforms' user base.
| | | | | | | |
| --- | --- | --- | --- | --- | --- | --- |
| in mil $ | Q3'22 | Q4'22 | Q1'23 | Q2'23 | Q3'23 | Y/Y Growth |
| Revenues | $27,714 | $32,165 | $28,645 | $31,999 | $34,146 | 23.2% |
| Operating Cash Flow | $9,691 | $14,511 | $13,998 | $17,309 | $20,402 | 110.5% |
| Purchases of Property/Equipment | ($9,355) | ($8,988) | ($6,823) | ($6,134) | ($6,496) | -30.6% |
| Payments on Finance Leases | ($163) | ($235) | ($264) | ($220) | ($267) | 63.8% |
| Free Cash Flow | $173 | $5,288 | $6,911 | $10,955 | $13,639 | – |
| Free Cash Flow Margin | 0.6% | 16.4% | 24.1% | 34.2% | 39.9% | – |
(Source: Author)
Very impressive guidance for Q4'23
Meta Platforms expects $36.5-40.0B in revenues in the fourth quarter, which implies a top line Y/Y growth rate of up to 24%. The fourth quarter, including the holiday period, is typically a very strong quarter from an ad-spending point of view.
Valuation compared against other FAANG stocks
Following Meta Platforms' monster Q3'23 earnings release, I expect a significant round of EPS and top line estimate upward revisions in the near future. EPS estimates for next year have already more than doubled compared to the beginning of the year and the Q3'23 report is likely to result in further upgrades.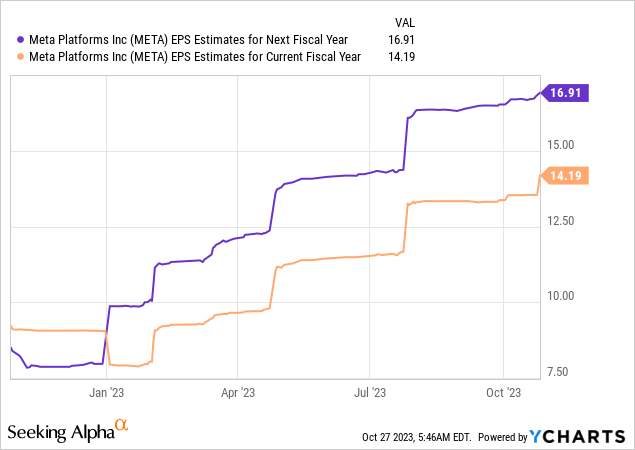 Given the absolute explosion in growth in the third quarter, shares of Meta Platforms have a more attractive valuation than before earnings. Shares of the social media company are currently trading at a P/E ratio of 16.9X. META is the cheapest FAANG stock that investors can buy right now but shares still trade above the 1-year average P/E ratio of 13.7X. The upsurge in ad-spending has been priced into shares of Meta Platforms since the beginning of the year, however, and I would wait until shares fall to ~$234 before buying.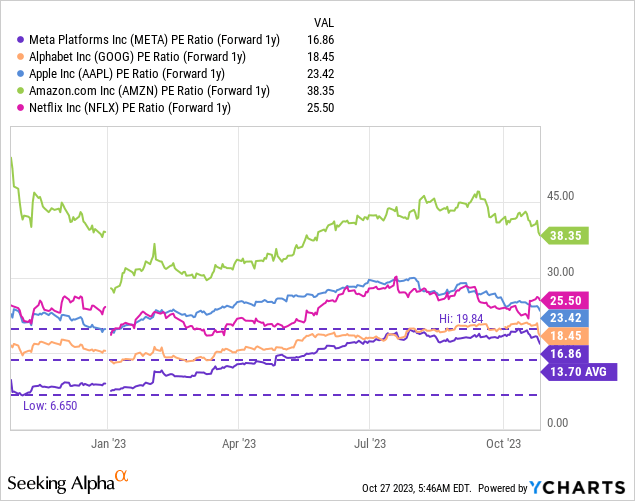 Risks with Meta Platforms
Competition in the social media space is heating up, although Meta Platforms has so far managed to grow its user base, despite the emergence of new rivals in the short-video format space, like TikTok. What would change my mind about Meta Platforms is if the social media company were to see a new slowdown in advertising spending or if its free cash flow margins were to contract.
Final thoughts
The reacceleration of growth in the core advertising segment, the expansion of free cash flow (margins) as well as a strong outlook for the fourth quarter, which implies up to 24% top line growth, made Meta Platforms' Q3'23 a monster earnings release. However, I am still neutral in terms of valuation as shares of Meta Platforms have had an enormously good run in the last year. I would consider buying into META at around $234 which is when the valuation would be more attractive (reflecting its average P/E ratio of 13.7X)!