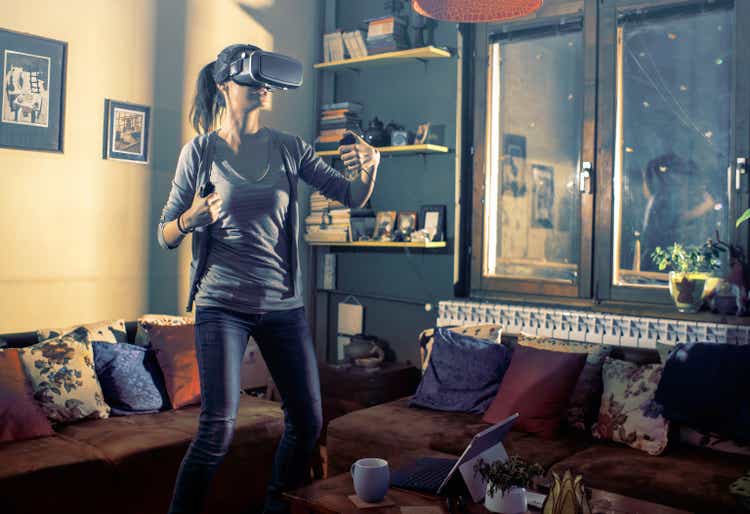 According to TF International Securities analyst Ming-Chi Kuo, Meta Platforms (NASDAQ:META) has likely reduced its shipment forecast for the Quest 3 mixed reality headset by up to 10% due to lower-than-expected demand.
Kuo wrote in a blog post that he believes Meta has cut its shipment forecast between 5% and 10%, and he expects a significant decline in shipments for the first quarter of 2024 compared to the previous quarter.
Kuo also noted that Apple's (NASDAQ:AAPL) Vision Pro, which is set to launch early next year, has a technical advantage of two to three years over the Quest headset. This advantage may impact consumers' purchase decisions in favor of the Vision Pro.
Seeking Alpha reached out to Meta for comment, but the company has not responded yet.
The Quest 3 headset was announced at Meta's Connect developer conference in September and is priced at $499, higher than the previous Quest 2 price of $300. It offers both virtual and augmented reality features, similar to Apple's upcoming Vision Pro.
Kuo previously projected Vision Pro shipments for 2024 to be between 400,000 and 600,000, lower than some market expectations. He also speculated that Apple may have postponed the low-cost version of the Vision Pro for a later release.
In July, it was reported that Apple had reduced its production forecast for the Vision Pro due to manufacturing difficulties.
Apple CEO Tim Cook confirmed that the Vision Pro is on track for an early 2024 release and stated that he personally uses the device regularly.
Shares of Meta rose more than 3%, while Apple gained more than 1% following the news.
Expert Quote:
"The reduction in the shipment forecast for the Quest 3 headset reflects the lower-than-expected demand. With Apple's Vision Pro having a significant technical advantage, it's likely that consumers will be influenced to choose the Vision Pro over the Quest."