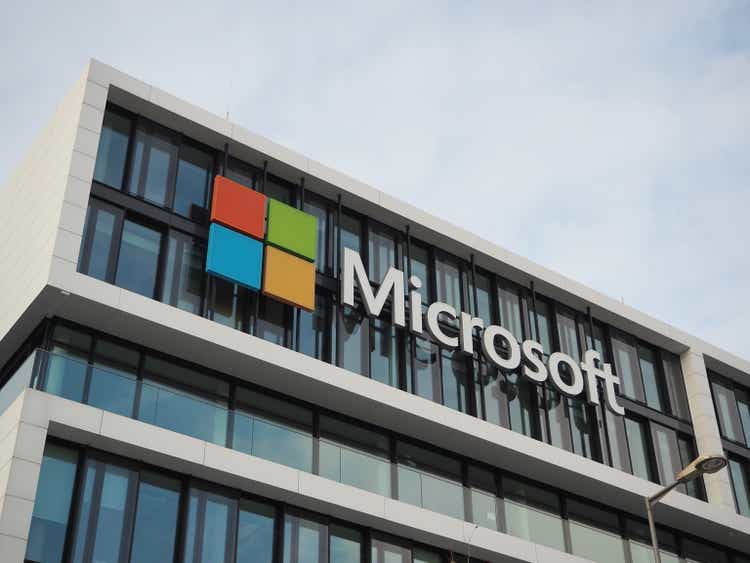 Investment Thesis: The Impact of Microsoft's Search Momentum on Google
Microsoft's latest quarterly results demonstrate its increasing momentum in search and online advertising. By leveraging AI-powered technology, the company aims to gain market share from its main competitor, Google. The Q1 2024 Earnings Call revealed that overall revenue rose 13% to $56.5 billion, showcasing Microsoft's push into the next era of search and computing.
Bing, Microsoft's search engine, has made significant advances in enterprise and formed a partnership with Meta. As a result, Microsoft is challenging Google's dominance in the search market and attracting users away from Google with its AI-powered Bing.
Bing's search share through Microsoft Edge has steadily increased for ten consecutive quarters. This growth reflects Bing's enhanced competitiveness compared to Google search. Bing's use of ChatGPT functionality has contributed to its success. While Bing's current share is still relatively small at 8.47% (as of August), it has grown by 22% since the beginning of the year, up from 6.91%.
One key driver of Bing's success is the integration of generative AI into the Bing platform on Microsoft Edge. The chatbot-enhanced Bing search experience has resulted in 1.9 billion conversations, providing users with more personalized and relevant answers. Microsoft aims to differentiate Bing from competitors by continuously expanding its AI capabilities and introducing new features.
Microsoft's recent additions to Bing include Dall-E image generation, which produced 1.8 billion images, and integration with Meta's chat platforms. By expanding these integrations, Microsoft aims to enhance Bing's AI features and make it the go-to search engine for users.
Bing's increasing AI capabilities and its integration with Microsoft's enterprise tools are enabling it to gain market share from Google. Microsoft's strategic approach positions Bing as a chat-powered, contextual search engine that offers unique and advanced features.
The figures below demonstrate the growth of Bing's search share and its impact on Google's dominance.
Robust Search Advertising Momentum
In addition to gaining search share, Microsoft has experienced a 10% growth in search advertising revenue (excluding traffic acquisition costs). This growth is attributed to increased search volume and the expanding share of the Edge browser.
Despite economic uncertainty, Microsoft's search advertising has remained resilient. The company's focus on AI-powered advertising solutions, which connect marketers with customer intent, has paid off. Many companies have integrated Microsoft's ad tech to enhance their chat commerce experiences, leading to strong demand for Microsoft's search advertising.
Google's concerns about Microsoft's progress in the search market are evident in the ongoing antitrust trial. Evidence presented during the trial revealed Google's efforts to maintain its position as the default web browser on Apple devices. Google's share of the search market has declined from its peak of 91.46% in 2018 to 83.49%.
With Bing gaining share, Microsoft's search ad business is expected to continue taking market share from Google Ads.
Microsoft is integrating Bing into its enterprise tools to provide a unique value proposition. By leveraging AI infrastructure and generative models, such as Azure AI, Microsoft aims to compete and win in the cloud search category. Bing powers AI-based search in Microsoft enterprise products.
Microsoft's Azure AI services have gained strong traction in the enterprise sector. The company's unified AI platform, which spans cloud and edge devices, gives it a competitive advantage as search shifts to the cloud. Microsoft's AI capabilities have been implemented internally and by third-party clients, further solidifying Bing's position as an innovative search engine.
Microsoft plans to fully roll out Office 365 Co-Pilot on November 1st. Co-Pilot searches will be powered by Bing, eroding Google's market share even further.
The powerful adoption of AI-infused offerings, like Co-Pilot, emphasizes Microsoft's commitment to capitalizing on the potential of AI.
"Our Copilot in shopping, people can find more tailored recommendations and better deals. We're also expanding to new endpoints, bringing Bing to Meta's AI chat experience to provide more up-to-date answers, as well as access to real-time search information." – Satya Nadella, Microsoft CEO
Microsoft's integration of Bing into its productivity stack, including Word and Outlook, enhances search and discovery capabilities. Microsoft's AI-first approach and its efforts to deliver a seamless search experience across its suite of products allow it to challenge Google's dominance in the search market.
Outlook: Sustaining Search Momentum with Azure
Microsoft expects continued growth in search advertising revenue excluding traffic acquisition costs, driven by increased Bing engagement. Azure revenue growth is forecasted to be stable sequentially. Azure's integration with Bing allows for increased search activity, creating a self-perpetuating cycle. Microsoft's AI software tools in Azure, powered by Bing, will contribute to the growth of Bing's search share.
"Revenue will continue to be driven by Azure, which, as a reminder, can have quarterly variability primarily from our per-user business and from in-period revenue recognition, depending on the mix of contracts… In Azure, we expect revenue growth to be 26% to 27% in constant currency with an increasing contribution from AI." – Amy Hood, Microsoft CFO
Microsoft's focus on consistently improving search relevance, expanding content, and driving adoption of its cloud-based solutions will be essential to maintaining its leadership position in the search market. Microsoft's unified AI approach and cloud-edge infrastructure provide a strong foundation for future innovation.
"If Microsoft can execute on search, through its other products, it can solidify leadership in the next frontier of search. But it will take consistent focus on delighting users and out-innovating Google. This quarter's results suggest Microsoft is on the right path. If Microsoft keeps this strategy and execution up, the long-run potential for the stock looks promising."
In conclusion, Microsoft's search momentum, driven by AI-powered technology and strategic integration with its suite of products, is poised to reshape the search market. Bing's advancements and increasing market share indicate a shift away from Google's dominance. As Microsoft continues to innovate and refine its search offerings, the potential for long-term growth and market leadership remains strong.