Note to the Reader
This is my third article covering Microsoft's (NASDAQ:MSFT) continued push into gaming and the build-out of its Game Pass service. In previous articles, I've noted how the business model of game distribution is ripe for innovation and the threat that Game Pass may have to future competition. In this article I'll continue that analysis by focusing on the impact Microsoft's move may have on its largest competitor in gaming, Sony (NYSE:SONY), and how these two appear to be moving down divergent paths.
Now, let's dig into my strategic analysis of these companies' gaming divisions.
Introduction
After a lengthy, often grueling legal process across multiple jurisdictions, Microsoft's long-anticipated acquisition of Activision has finally closed and Activision has been delisted from major stock exchanges around the world. The acquisition of Activision serves as Microsoft's largest takeover to date at $68.7B and it just might be its most important.
Under CEO Satya Nadella, Microsoft has become a dominant player across many technology verticals, no longer is it the maker of sleepy OS, and a sleepy office software suite. Microsoft is now dominates some of the fastest-growing categories in tech, notably Cloud computing and Artificial Intelligence.
While all its business segments play a role in shareholder returns, perhaps the most important for Microsoft investors over the past decade has been its push into cloud computing through its Azure offering.
After quickly identifying the need for cloud computing, Microsoft rapidly grew Azure's scale leading it to become the strong #2 player in a growing market with high barriers to entry. As a result of that foresight, the company has had extreme financial success and even better share price performance.
While such performance is impressive there's been at least one sore spot for investors, Microsoft's gaming ambitions…
After gaining massive market share in the glory days of the Xbox 360 Microsoft's Xbox soon fell behind Sony's PS4, and that trend has continued with the PS5 as gamers gravitated to what they felt was a better value proposition for their money.
Microsoft itself admits that the sales of its Xbox One were less than half of its arch-gaming rival, Sony's PS4. Such a huge miss for a company with a much stronger financial backing compared to Sony was a headscratcher for many in the industry.
The success of the PS4 led to large share price gains for Sony as well, albeit to a lesser degree compared to Microsoft's cloud successes.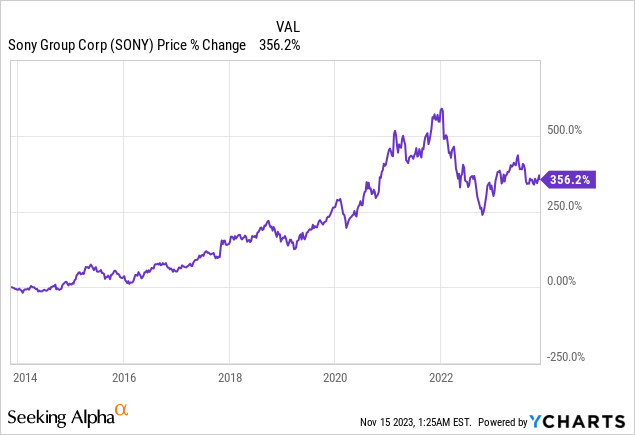 After what was a painful era for Xbox, and a stellar one for PlayStation both parent companies have embarked on their own strategies to compete for gamers in the next generation of video game consoles.
While both companies appear to be fighting for the same consumer they are employing vastly different strategies as I'll explore through the rest of the article.
Pivoting for the Next Era of Gaming
With the launch of PS5 and the Xbox Series X in 2020, we entered the latest generation of video game consoles with both companies poised to fight hard for market share. But this time around, things just feel different, it's no longer about which company has exclusive access to DLC, or the coolest ads on TV, this time these gaming stalwarts' strategies appear to be truly diverging.
Let's start with Sony.
After a difficult PS3 launch which saw customers flock to the cheaper Xbox 360 Sony learned an important lesson, value matters. To right those wrongs, in the PS4 era, Sony undercut Xbox One on price and offered a simpler game-sharing expense whereby sharing games with friends would be limited. Xbox ultimately walked back its proposed changes to game sharing but the damage already took place.
Capitalizing on a larger customer base this time around Sony built rapport with the gaming community by releasing state-of-the-art, console-exclusive, AAA games like The Last of Us Part 2, and Spiderman. While expensive to make, these games were massive successes for the company and helped lock consumers into the PlayStation ecosystem. It sent a message: PlayStation originals are high quality.
Old vs New
For subscriptions, the company offers PlayStation Plus service whereby gamers get access to a couple of free games a month and PlayStation Plus Extra, a subscription service with a limited catalog of, usually, older games that are free to play for paying members.
But let me be clear, I believe Sony's subscription offerings are much closer to an afterthought than a priority. I say that because the games in the PlayStation Plus Extra subscription are typically much older games, or much lower in budget.
You can think of Sony's gaming ambitions as similar to the old model of the movie businesses: you make a great movie and sell tickets in hopes of a great profit. In Sony's case, they seem to understand what resonates with their consumers and make excellent games that speak to that market.
Microsoft
Microsoft is different, they don't seem interested in the old model, to me it's clear that Microsoft has its sights deadlocked on replicating what Netflix (NFLX) has accomplished in the realm of gaming whereby a large number of subscribers pay a fixed recurring fee to access a wide swath of games vis-a-vis its Xbox Gamepass.
But the gaming industry has not been as easy of a nut to crack compared to linear TV and movies. Perhaps warry to avoid a similar situation to what happened to cable TV with Netflix, gaming companies have been much more reluctant to license their titles, especially new titles, to game streaming services like Gamepass and PlayStation Plus Extra.
The Importance of Scale
Ultimately for a subscription service to work you need the content that consumers want, there are only so many gamers interested in playing outdated or indie games, instead, consumers usually want the latest big hitters, they want to play the 'Call of Duty' of the world.
So if you can't license the content, that leaves one costly option: acquire the maker. This is exactly what Microsoft has chosen to do, first with Zenimax for $7.5B, the maker of Elder Scrolls, Fallout, and Doom, and then later with Activision, maker of Call of Duty, Overwatch, and Candy Crush.
Microsoft is not alone in the gaming land grab we find ourselves in, Sony has been active too with its acquisitions of Bungie, the creator of Halo and later Destiny for $3.6B last year, and Insomniac Games (maker of the new Spider Man games) in 2019.
That said, Sony's moves are dwarfed by Microsoft's.
Between Zenimax, Activision, and Mojang (maker of Minecraft) Activision has spent nearly $80B dollars acquiring gaming IP. That is more than the entire market cap of Nintendo (OTCPK:NTDOY) just to put that into context. With a war chest, the size of Microsoft's PlayStation is forced to compete differently.
But before I dive into where I think things will go from here let's take a moment to examine the financial performance of these gaming/tech giants.
Revenue Growth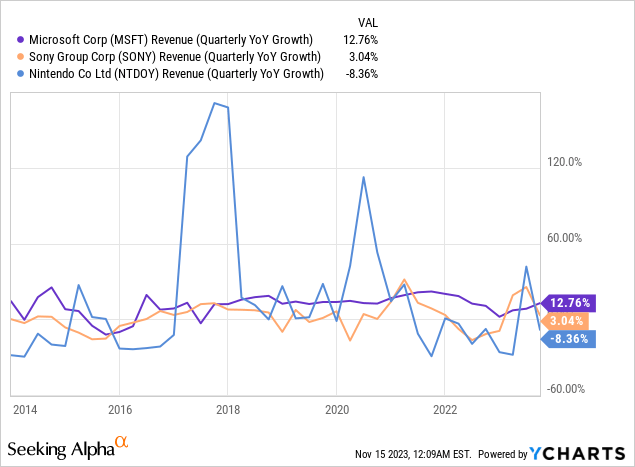 Let's first take a look at the cyclicality of these companies vis-a-vis their topline growth history, I'll be including Nintendo in these comparisons as well to provide another perspective for us that we can use to compare these businesses.
Looking at the chart above, the first thing you might notice is just how volatile Nintendo's topline growth is often oscillating between double-digit growth and double-digit declines. While tough to stomach as an investor, in my view, this is to be expected as it reflects what has historically been the status quo of business in the gaming industry, whereby revenues rapidly soar/fall based on the success/failure of individual launches.
While it is not exactly a gaming pureplay, Sony is much more exposed to gaming as a percentage of its earnings and revenues as compared to the much larger Microsoft. As such, it is to be expected that the topline performance at Sony would be more volatile compared to Microsoft but less so compared to Nintendo. Looking over the past year, Sony's topline grew just 3%.
And then you have Microsoft, one of the largest and most diversified mega-cap tech companies on the planet. Its various business units, notably its SaaS and cloud offerings serve as the backbone of its consistent revenue growth. As such, Microsoft's revenue growth has hovered around the high single digits to low double digits for much of the past decade. Over the past year, revenues grew at ~13%.
3-Year Revenue and Operating Income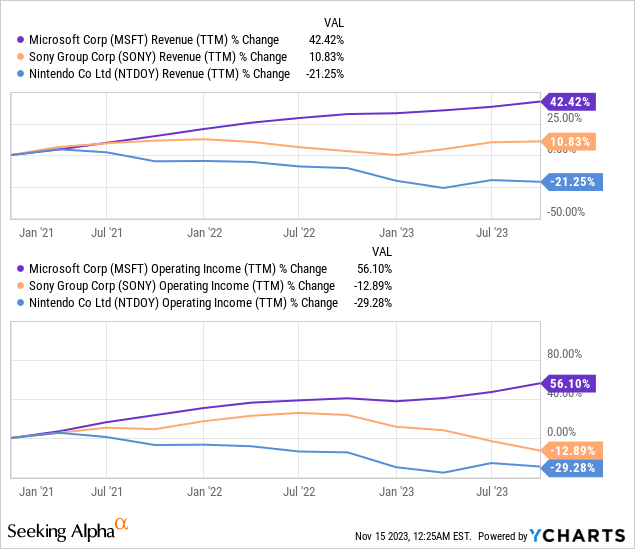 It's almost hard to believe but the launch of the PS5 was already 3 years ago… but what is perhaps more difficult to believe is the vastly different financial performance of these 3 companies since then. Since the winter of 2020 revenues at Sony are up just 11% and down 21% at Nintendo. This poor topline performance resulted in operating income declining 13% and 29% at Sony and Nintendo respectively.
Seemingly the exact opposite trend is underway at Microsoft as revenues increased 42% and its operating income is up 56%. With growth like this, it's no wonder that Microsoft has mountains of capital at its disposal to acquire more gaming IP.
Microsoft simply prints cash.
Returns on Invested Capital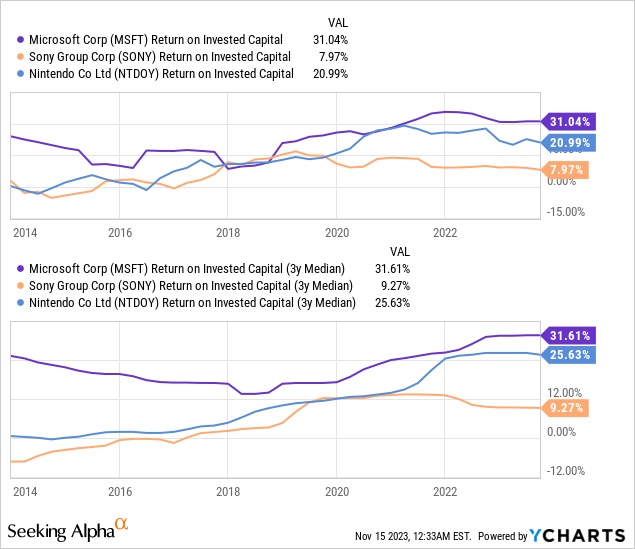 Turning to the next metric I'd like to highlight, returns on invested capital, we can see the trend of Microsoft's superiority continues. Given the capital-light nature of SaaS Microsoft boasts best-in-class returns on invested capital (31%) and has maintained similarly high rates for much of the past decade.
Interestingly, Nintendo too has an excellent track record for returns on invested capital 21% over the last year and 25% on average over the past 3 years. It's my view that this is likely due to the sheer strength of Nintendo's IP and limited non-gaming business exposure.
Finally, we have Sony, with its measly 8% returns on invested capital, these returns while low, are perhaps skewed due to Sony's larger exposure to capital-intensive industries like hardware. Still, a dollar invested by management at Microsoft and Nintendo compared to Sony has historically gone much further.
Valuation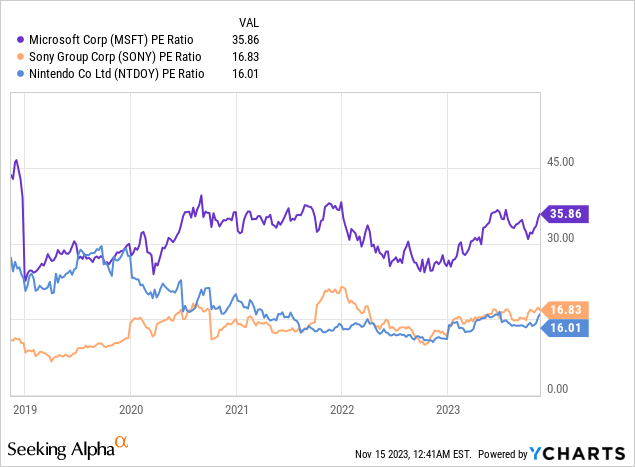 Unsurprisingly, with its best-in-class growth metrics and returns on invested capital, Microsoft also boasts the loftiest PE ratio at 36x earnings. Microsoft 36x dwarfs Sony and Nintendo's valuations of 16-17x earnings. Due to its track record, I think it's clear that Microsoft deserves to trade at a premium compared to either Sony or Nintendo but at 36x earnings, Microsoft's valuation is at the high end of its own historical range of 27-37x.
Compared to both Microsoft and their own historical ranges, at 16-17x Sony's and Nintendo's valuations would be much more compelling to a value investor. But current valuation is not all that matters, valuation gaps are not bound to close… there must be a catalyst.
Where Do Things Go from here?
As I've discussed at length now, Microsoft and Sony are going down diverging paths. One company, Microsoft, aims to create the Netflix of gaming and transform the gaming business from one of booms and busts into a recurring revenue stream; then the other company, Sony, aims to iterate on what made the PS4 so successful, not reinventing the wheel, offering AAA quality console exclusive games and providing the best value for the hardware.
I believe both of these strategies could work and I cannot see the future, that said, I do have a prediction, and it's one investors may not be so keen to hear.
I believe Microsoft can build the Netflix (2023) of gaming, but it cannot build the Netflix (2015) of gaming.
What do I mean by that? Who remembers Netflix of the mid-2010s, it was great, you had all of the most popular shows, a few low-quality Netflix original productions, and a deal to bring the latest Marvel movies, all for the dirt cheap cost of $9.99. In other words, you had a super high-quality offering at a dirt-cheap price.
Those days are gone now, Netflix is chock full of low-quality originals which are becoming more expensive to make, and licensing content is more expensive than ever. The value proposition for consumers is clearly much worse now compared to the golden days of Netflix.
See Microsoft was never able to build a "2015" version of Netflix, as gaming companies were far too wise to license their golden geese. This meant if Microsoft is to build the Netflix of gaming it must acquire expensive IP, and license expensive 3rd party IP. And even then it's likely that the catalog will not be a one-stop shop as it will surely miss out on large releases like Take-Two's (TTWO) highly anticipated Grand Theft Auto 6.
But this doesn't mean Microsoft's ambitions are doomed to fail, the Netflix of 2023 is a major cash cow. What is yet to be seen though, is if Microsoft's offering can grow its subscriber base without first having a fantastic gaming offering akin to Netflix's video content offering in 2015 paired with similarly fantastic pricing.
To sum it up, Microsoft's gaming strategy is clearly, to go big or go home.
Its massive studio takeovers and bolstering of its game pass offering is a huge gamble but one that could yield massive returns for years to come if executed properly. The alternative is a massive write down…
Sony's strategy seems to be much more straightforward. I'd sum it up as "if it ain't broke, don't fix it". To me, the largest risks for Sony are that their streak of successful game development grinds to a halt, or if they lose market share to a Microsoft Game Pass service which is aggressively priced to steal market share.
Final Thoughts
Microsoft's $68.7B acquisition of Activision signifies a transformative shift in its gaming strategy. Under CEO Satya Nadella, Microsoft has diversified into cloud computing and AI but faced challenges in gaming against Sony's dominance.
The PS5 and Xbox Series X launch marked divergent strategies: Sony prioritizes high-quality exclusives, while Microsoft aims for a gaming equivalent of Netflix through bold acquisitions. Financially, Microsoft outshines Sony and Nintendo. Microsoft's valuation reflects its superior financial standing, but challenges loom in acquiring content for a compelling catalog. Sony's strategy is conservative and focused on maintaining market dominance.
Given the relative undervaluation of Sony compared to Microsoft I believe Sony has more juice to outperform in the short term, but long term, I still prefer Microsoft due to the strength of its various business segments.
I rate Sony a "Strong Buy" and Microsoft a "Buy".
Thank You, Reader!
Dear reader, thank you for taking the time to read my article today, I hope it helped you gain some insight into the rapidly evolving landscape of the gaming industry. If you would like to discuss anything mentioned in the article please feel free to chime off in the comments and I will do my best to get a response to each of you.
Editor's Note: This article discusses one or more securities that do not trade on a major U.S. exchange. Please be aware of the risks associated with these stocks.