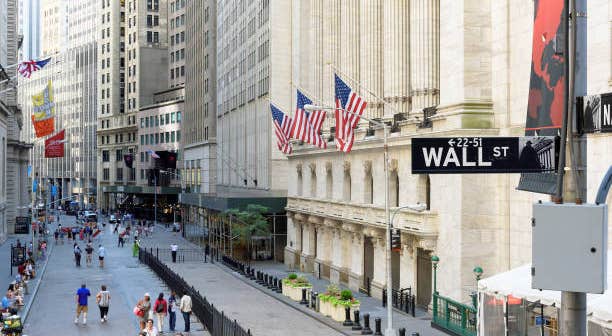 U.S. stocks traded mostly higher this morning, with the Nasdaq Composite gaining more than 100 points on Friday.
Following the market opening Friday, the Dow traded down 0.12% to 32,744.42 while the NASDAQ rose 0.82% to 12,699.50. The S&P 500 also rose, gaining, 0.24% to 4,147.09.
Check This Out: Amazon To Rally Around 55%? Here Are 10 Top Analyst Forecasts For Friday
Leading and Lagging Sectors
Consumer discretionary shares rose by 2.4% on Friday.
In trading on Friday, energy shares dipped by 1.7%.
Top Headline
Amazon.com Inc AMZN reported stronger-than-expected results for its third quarter on Thursday.
Amazon said revenue increased 13% year-over-year to $143.1 billion, versus the consensus estimate of $141.42 billion. The company reported quarterly earnings of 94 cents per share, up from 28 cents per share on a year-over-year basis, beating the consensus of 58 cents.
The company said it sees fourth-quarter revenue between $160 billion and $167 billion.
Equities Trading UP
Apollomics, Inc. APLM shares shot up 142% to $1.3750 after dipping 26% on Thursday. Apollomics announced report of activity of vebreltinib in glioblastoma multiforme with PTPRZ-MET fusion.
Shares of BIO-key International, Inc. BKYI got a boost, shooting 62% to $0.2789 after the company said ALPI Portugal Lda. has deployed AuthControl Sentry company-wide for enhanced data access security through BIO-key.
SeaStar Medical Holding Corporation ICU shares were also up, gaining 30% to $1.03. SeaStar Medical Holding said it is requesting to withdraw the registration statement because it has elected not to pursue the sale of securities pursuant to the registrant statement at this time due to prevailing market conditions.
Equities Trading DOWN
Siyata Mobile Inc. SYTA shares dropped 51% to $0.6350 as the company reported pricing of $1.6 million public offering of common shares.
Shares of Medicenna Therapeutics Corp. MDNA were down 28% to $0.18 as the company announced Nasdaq delisting and cutback of management team.
TransCode Therapeutics, Inc. RNAZ was down, falling 29% to $0.2970 after the company announced a public offering of common stock.
Also Check This Out: Top 4 Industrial Stocks That May Plunge In Q4
Commodities
In commodity news, oil traded up 1.6% to $84.54 while gold traded down 0.4% at $1,990.00.
Silver traded up 0.1% to $22.92 on Friday while copper rose 1.9% to $3.6520.
Euro zone
European shares were mostly higher today. The eurozone's STOXX 600 fell 0.1%, London's FTSE 100 rose 0.1% while Spain's IBEX 35 Index rose 0.3% The German DAX gained 0.4% French CAC 40 fell 0.5%, while Italy's FTSE MIB Index rose 0.2%.
Spain's economy grew by 0.3% quarter-over-quarter during the three months to Sept. 2023, compared to a revised 0.4% expansion in the prior period. Retail sales in Spain increased by 6.5% year-over-year in September.
The consumer confidence in France climbed to 84 in October from 83 in the earlier month. The manufacturing confidence index in Italy fell to 96 in October versus 96.4 a month ago, while consumer confidence declined for a fourth straight month to a reading of 101.6 in October.
Asia Pacific Markets
Asian markets closed higher on Friday, with Japan's Nikkei 225 gaining 1.27%, Hong Kong's Hang Seng Index gaining 2.08% and China's Shanghai Composite Index gaining 0.99%. India's S&P BSE Sensex, meanwhile, gained around 1%.
Profits earned by Chinese industrial firms dipped by 9.0% year-over-year to CNY 5,411.99 billion during the first nine months of 2023, compared to an 11.7% decline in the previous period.
Economics
Core PCE prices in the U.S. rose by 0.3% from the prior month in September. The annual rate, regarded as the Fed's preferred measure of inflation, fell to 3.7% in September.
Personal spending increased by 0.7% from a month ago in September versus a 0.4% rise in August.
Personal income in the U.S. rose by 0.3% from a month ago in September compared to a 0.4% increase in August.
Now Read This: How To Earn $500 A Month From Willis Towers Watson Stock Following Upbeat Earnings