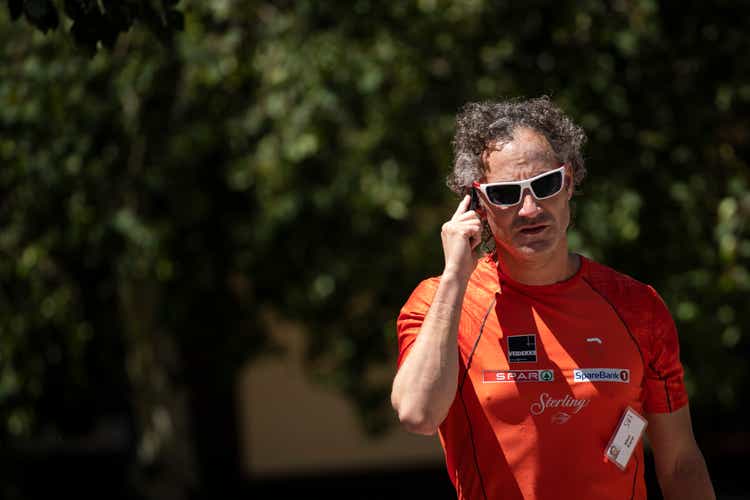 The Unbelievable Potential of Palantir
In this analysis, I will unravel why I believe Palantir Technologies, Inc. (NYSE:PLTR) is on an incredible trajectory, even after its substantial rally of over 169%. According to my calculations, if analysts' estimates come to fruition, the stock could soar to $49.6, showcasing remarkable upside potential. However, despite appearing slightly overvalued at 3.4%, Palantir still holds the promise of yielding annual returns of up to 18%. Considering these factors, I am confident in labeling Palantir as a "strong buy."
A Glimpse into Palantir's World
Palantir, a renowned software development company, specializes in data analytics, creating software designed to analyze extensive datasets and extract valuable insights. Reports even credit Palantir with involvement in uncovering events like the assassination of Osama bin Laden and the exposure of Bernie Madoff's Ponzi scheme.
Palantir boasts a diverse portfolio comprising Gotham, Foundry, Apollo, and the newly introduced AIP.
Gotham: Unveiling Concealed Patterns
Gotham is a powerful tool that reveals concealed patterns within diverse datasets, aiding users in identifying potential threats, fostering collaboration, and aiding in strategic planning and execution of real-world responses. It has garnered widespread adoption across various government functions and found practical applications in the commercial realm, particularly within the financial services industry for investigating fraud cases.
Foundry: Transforming Operations
Foundry serves as the central operating system for data, offering a unified platform to seamlessly integrate and analyze data, emphasizing speed for experimenting and testing new ideas.
Apollo: Facilitating Secure Software Delivery
Apollo focuses on expediting secure software deployment and updates within businesses. It was introduced as a commercial solution in 2021, orchestrating the continuous delivery of features, security updates, and platform configurations.
AIP: Advancing Artificial Intelligence
Palantir AIP, unveiled in August 2023, is an innovative product that offers automated responses to user queries, showcasing Palantir's commitment to advancing technological solutions and enhancing user interaction with artificial intelligence.
The Growing Data Analytics Market
The data analytics market is anticipated to reach a valuation of $655.53 billion in 2029, signaling substantial growth and underscoring the increasing significance of data analytics in shaping strategic decision-making processes across various industries.
Palantir's Financial Performance
Over the past six years, Palantir has witnessed remarkable growth, with an impressive average revenue growth rate of approximately 42.81%. Its net income has also shown decent growth, and the company is on the brink of achieving full year of GAAP profitability.
Palantir's margins have expanded significantly, indicating operational profitability. Moreover, the company's financial strength is highlighted by substantial cash reserves totaling $3.2 billion and an absence of long-term debt.
Valuation Insights
The company's potential fair value ranges from $49.6 to $18.8, showcasing a broad spectrum of potential upside. Despite a slight overvaluation in one model, Palantir presents an opportunity for solid annual returns.
Risks and Conclusion
While there are risks associated with potential reliance on non-GAAP metrics by analysts, I recommend a "strong buy" rating for Palantir, considering the potential minimal downside and substantial annual returns. The company's financial performance and valuation both point towards an incredible growth story, representing a rollercoaster ride of unbelievable potential.